Weekend Engagement - Reflecting On The Society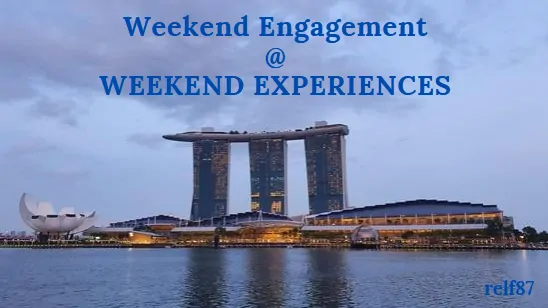 Name three things that have changed in society which you wish had not, and explain with examples.
This prompt caught my eye, not just because it was interesting, but it was quite apt for my current situation. I had been on a break on and off in the past month, and even though I was busy exploring the world, there were still pockets of free time where I could do some reflections about life in general.
So much have changed over the past one or two decades. Much has been for the better (I think, at least for me), but there's always "side-effects" or unintended consequences. So here's three things based on my personal life experiences.
The society has become too fast-paced.
Because of internet and wifi on our phones, news that happen in America for instance will be known in Asia in a matter of seconds. Two decades ago, when internet wasn't widely accessible, we will probably only see it on the news a day later via the TV. But because of this, there is an expectation that people need to be constantly on their phones, and people expect quick replies on Whatsapp, emails, whatsoever. Sometimes I could be away from my phone for a few hours, and when I return, I see a long list of notifications on my phone. Unread messages, unread emails, notifications from apps, it's kinda scary and annoying at the same time. Haha. So sometimes I do wish to have a life that is of a slower pace, a life where we could spend less time being glued to our phones, replying to messages or watching the latest Tiktok that has gone viral, as we walk on the streets.
The workplace has become less friendly.
Hmm this might just be more of a personal experience and might not apply to everyone. Over the years, I feel that the workplace has been become less friendly. In the past, there was more of a community spirit where colleagues tend to mingle more with one another and the workplace felt like a second family away from home. These days, it feels that everyone is there to get their job done and go home. The relationship between colleagues are mostly professional and does not extend beyond working hours. Maybe it was due to Covid and all the distancing measures. Maybe it was the hybrid working arrangement and people just didn't get enough face to face time due to telecommuting. Or maybe it's just me.
People spend too much time comparing themselves with others.
As the society progresses, people tend to become more affluent and there will always be a segment of the population that would splurge on branded goods, be it cars or bags. There's nothing wrong with this, but the issue comes when other people start to compare themselves with others, which could be their richer friends, or successful Youtubers who have become millionaires, and then feel dejected about themselves. I think the presence of social media contributed to this phenomenon. With all those reels and stories, people could easily share their latest holiday photos in Maldives or their latest purchase at the Gucci store, and all their friends would be able to see them. In fact, I see some of this on Hive too, where there are people who compare the amount of votes/rewards they get for their posts versus others. It sounds cliche, but we are all running our own race and there's really no need to compare too much. Be contented with what you have and believe in yourself! :)
So that's all for my sharing this week! Hope you enjoyed reading and let me know if you have any comments! Have a pleasant week ahead!
---
---