I Will Pay You To Sign UP To Splinterlands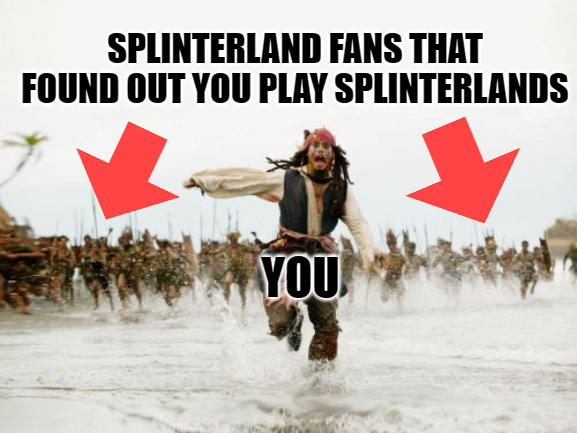 Readers: "Are You Crazy?"
RentMoney, "Yes I AM"
In case you stumbled upon this post but have no clue what Splinterlands is lets give a brief explanation. Splinterlands is a blockchain game built on the HIVE Network. The Splinterlands game utilizes NFT's for game play in tournaments & freestyle battles known as Ranked Play. These NFT's have monetary value and can be traded in game or on many different secondary markets. Game play will reward you with NFT's and other in game assets. Splinterland tournaments that offer up an array of rewards are being played daily.
Readers: "Ok, I'm Interested?"
RentMoney, "Good lets get started"
When signing up to Splinterlands each and every player is automatically signed up as an affiliate (subject to change) and can start earning affiliate rewards right away. To do this one only needs to copy their affiliate link (found under your profile section at Splinterlands) and share it with others. If the person you share your affiliate link with clicks your link and purchases the Splinterlands game you will be rewarded with 500 Credits. Credits are used to purchase in game assets such as NFT's and Potions.
Readers: "That's interesting"
RentMoney, "Yes It Is"
The rewards paid to affiliates do not come from the sign up themselves but from Splinterlands. The exchange goes like this (1) Affiliate link shared and new player found (2) New player purchases the Splinterlands game for $10 USD (3) Splinterlands pays the affiliate link owner 500 Credits for bringing a new player to the game. Everyone is happy, the new player gets their game, Splinterlands acquired a new player and the affiliate has made 500 Credits.
Readers: "How Do I Get Paid?"
RentMoney, "Patience My Friends"
What I have decided to do is pass my initial affiliate earnings to you. Yes YOU, the person who is reading this and plans on using my affiliate link to purchase the Splinterlands game. Its important to note that Splinterlands does not allow transfer of credits so I will have to improvise. Since 500 credits is equal to $0.50 USD after I confirm that you have used my affiliate link to sign up to Splinterlands I will send you a Splinterlands card that has a current value of up to $0.50 USD. You can even pick which card. If this offer interests you sign up and purchase the Splinterlands game using the below link.
After clicking the above link and purchasing the Splinterlands game for just $10 USD come back here to this post and let me know you did so in the comment section. I will then check to see if your name appears on my affiliate list. If it does I will send you your requested Splinterlands card (A value of up to $0.50 USD). If you did not request a card I will send random card(s) that hold a total value of up to $0.50 USD to your newly created account. This offer is valid for all players creating and purchasing a new Splinterlands account. Offer is subject to change without notice.
---
---