LeoFinance: Advertisement Adds Done Correctly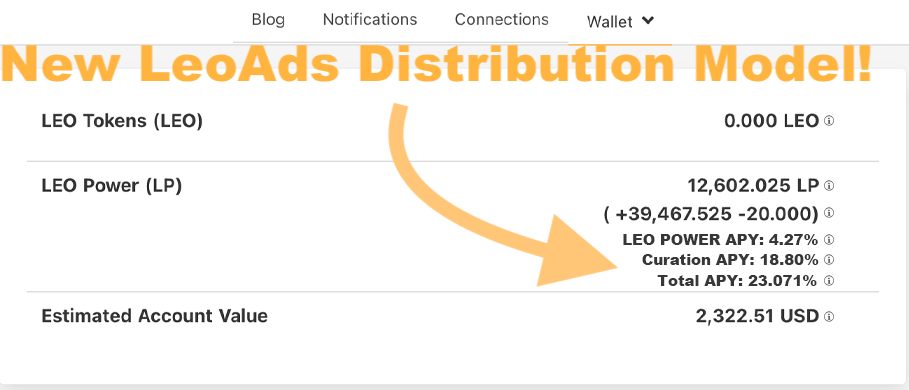 What Is LeoFinance:
LeoFinance is a frontend that allows its users to interact with the Hive Blockchain. One can earn the cryptocurrency token named LEO for creating and curating content from the LeoFinance site. One can also earn the Hive Blockchains native tokens known as HIVE and HBD when creating and curating content from the LeoFinance site. Content posted from the LeoFinance site is to be cryptocurrency or Finance related. To post content to the LeoFinance frontend from any Hive Blockchain interface simply use the tag #LEOFINANCE in your tag section of your created content. The LEO token can be traded on any of the Hive Blockchain related dex(s) such as LeoDex, Hive-Engine and Tribaldex. The LeoFinance team is responsible for creating popular Hive Blockchain apps such as LeoDex and HiveStats.
Purchase LEO On:

No-one likes seeing pesky and annoying adds plastered all over their favorite site. This is especially true for those who have emersed themselves withing the blockchain world. Seeing one or two neatly and conveniently placed isn't the worse of scenarios but I think most will agree regardless of where ads are put they are annoying. The biggest annoyance with ads is usually owners of sites place too many of them up. They usually bring very little value to the users of any given site but inline the pockets of the add creators and site owners. I'm here to tell you that LeoFinance has tossed all that on its head and has implemented friendly well placed adds that give back to its community. Just days ago the LeoFinance team announced the new LeoAds Mechanic that gives add revenue to its token stake holders. To visit the official announcement post click anywhere on this highlighted link.
What Is Ad Revenue
Ad revenue is the money apps generate from in-app advertising. App ad revenue is calculated by multiplying ad impressions by eCPM. The term eCPM is short for "effective cost per thousand impressions," which is the ad revenue generated per 1,000 ad impressions. There are two sides to eCPM: monetization and user acquisition. On the monetization side, eCPM is a metric used to measure an app developer's ad monetization performance. Some adds may also pay a percentage of money spent from anyone who clicks said add and makes a purchase (This is known as an affiliate payment).
LeoAd Revenue Share
The automated LeoAds system take the ad revenue each month (it's paid in BTC), buy LEO on one of the 4 exchanges it is listed - whichever has the cheapest arbitrage price (wLEO, bLEO, pLEO or LEO) - then stake it all as LEO POWER into the accounts of everyone already holding LEO POWER.
Ad Revenue Current Worth
(The LeoFinance) Ad revenue varies greatly month-to-month, but it almost always surpasses this $4,000 figure. This means that we're on track to bounce in this range - this is also without much focus on growing LeoFinance.io in terms of our core KPI. We need to focus on this more as a team and community and our recent hires for head of bizdev and head of growth are our full-time hires who will help make this a reality. Quote Source: https://leofinance.io/@leofinance/introducing-the-new-leoads-mechanic-or-leo-power-balances-will-begin-growing-with-built-in-apy-from-leofinance-ad-revenue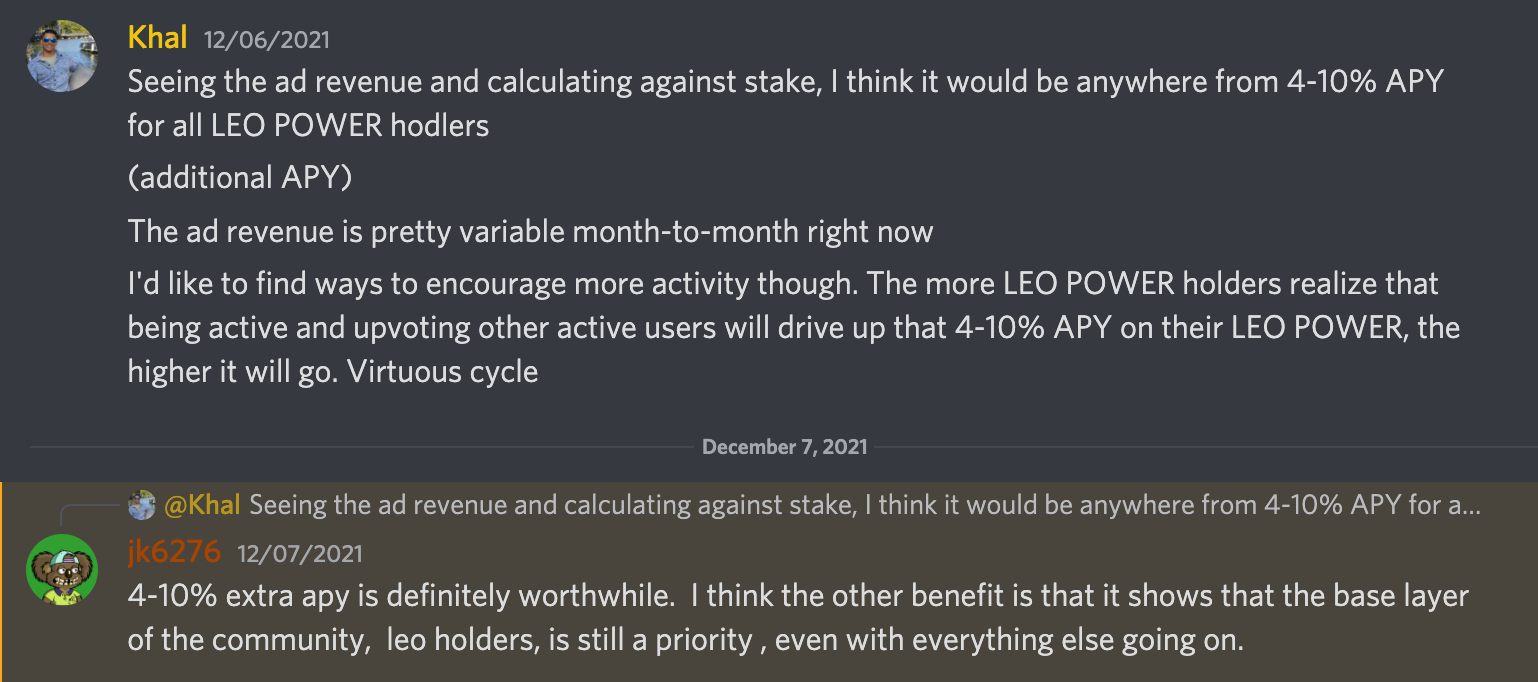 I have to agree with @jk6276, 4-10% APY is something that is definitely worthwhile. The fact that the creators and team members of LeoFinance are willing to give add revenue to the community and not pocket said revenue speaks volumes. Reading such progress to me screams, We are here for the long run and we want the community and stake holders to be part of our success. I was already bullish on everything LeoFinance related but its things like this Ad Revenue share that tell me I'm attempting to back the right horse. A good project is a good project and can bring ROI but a great project needs inventive community driven people behind it and LeoFinance has just that. This type of mindset can also be seen in the Splinterlands community which include the DEV's, Teammembers and General Community and we all know how successful Splinterlands has become and continues to be. LeoFinance is on that same path of success and has been for some time.
RentMoneys Final Thoughts:
This is an interesting implementation due to many reasons but for me one of the most interesting things about this Ad Share that LeoFinance is implementing is the amount of revenue generated is directly decided by YOU who also just so happens to be the person who directly benefits from the earned funds said ads produce. The more YOU and others use the LeoFinance frontend to interact on the HIVE Blockchain the more ad revenue that will be built that gets shared with Leo Stake holders (YOU). Its an overall brilliant system that feeds positivity into itself and the overall Leofinance community.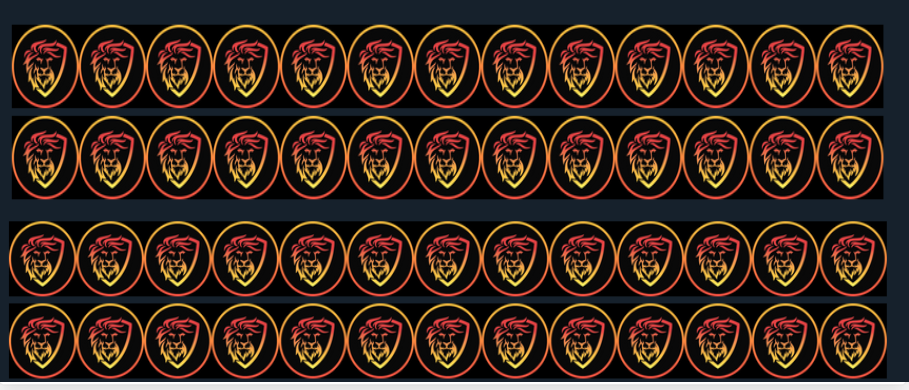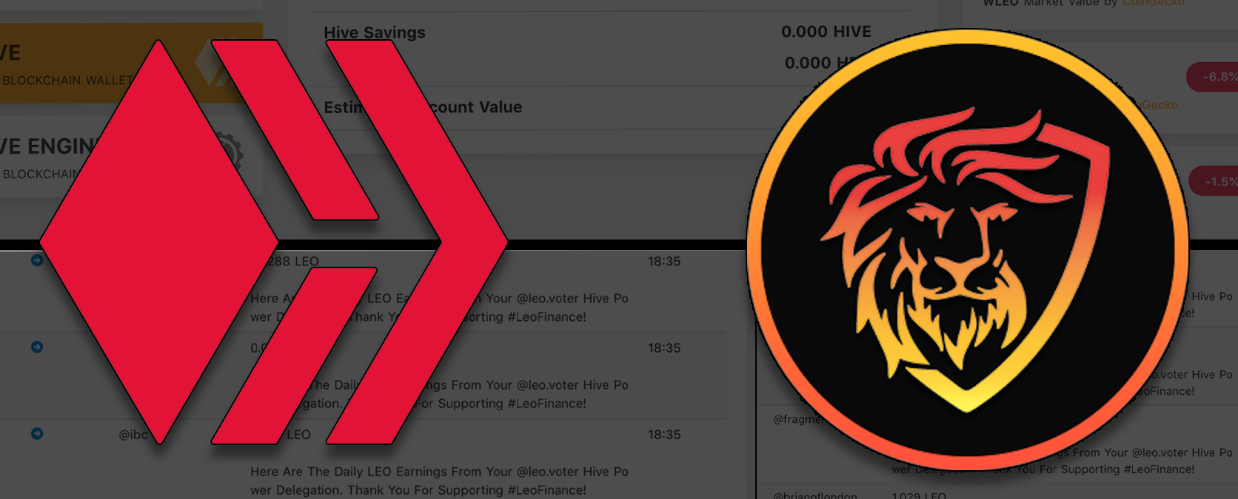 Posted Using LeoFinance Beta
---
---