Lets Power-Up Some Tokens (LPUD: 4/15/2023)

It's the 15th of April and that means its LPUD (Leo Power Up Day). LPUD is a day in which the LeoFinance community collectively power-up some LEO tokens (15th of each month). We do this to show support to the LeoFinance front-end and general LeoFinance community. Of course any day is a good day to power-up some LEO tokens (or any token for that matter). HIVE has a similar power-up day and that day is on the 1st of each month. I missed last months HPUD (Hive Power UP Day) so I will be doing both a Leo Token Power-Up and a HIVE Token Power-Up today. And while I'm at it I'll power-up some other tokens as well.
---
300 Leo Token Power-Up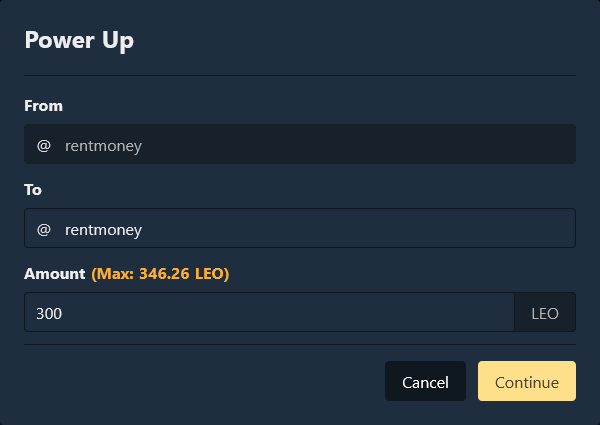 ---
After my 300 Leo Token Power-Up I went from having 5,486 Leo Power to having 5,786 Leo Power staked. I have set some goals at the start of the year of wanting to bring my Leo Power up to 7,500 (soft-cap goal) to upwards of 10,000 Leo Power. This is only the second month of powering-up 300 Leo Tokens. Previously my Leo Token power-up on LPUD was just 150. Next month I hope to increase my power-up amount so its more than 300 staked Leo Tokens. One of the ways I intend on doing that is delegating some more HIVE Power to LeoFinance. In return they payout LEO tokens to delegators. If you are interested in delegating to LeoFinance don't make the mistake of delegating to the account @leofinance (its an easy one to make). The official account for delegation is @leo.voter (16% APY).
---
Screenshot Source: https://hivestats.io


---
HIVE Token Power-Up
A few days back I traded my liquid DEC (Dark Energy Crystals) for HIVE Tokens. DEC is the in game currency for the HIVE Blockchain game known as Splinterlands. I managed to get a return of 317 HIVE Tokens so that is what I will be powering-up here today. To read all about my DEC:HIVE trade visit the following URL: https://hive.blog/hive-167922/@rentmoney/hive-goals-increasing-my-hive-token-holdings
---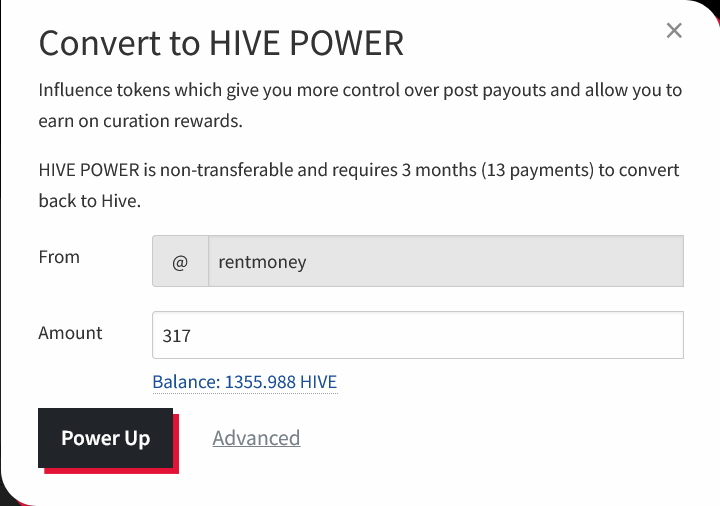 ---
After completing my HIVE Token Power-Up my total HIVE Power has become 11,746. An amount that is 3,260* away from my soft-cap HIVE Power Goal for 2023 of 15,000. In truth I hope to smash past the 15,000 mark but its hard to put a high goal down due to fluctuating price of HIVE. While I want to see the HIVE token value soar the truth be told the higher it gets the harder it is to attain. This is why I don't mind seeing dips in the HIVE tokens USD value. It gives us all a chance to stack some HIVE Tokens at a lower cost before its eventual run. Now lets go check my other tokens and see if I can find one that I can power-up and increase my influence within said community. Looking at my wallet on LeoDex I can see that I haven't powered-up any SPT (Splintertalk) tokens in awhile. Boom and just like that 100,000 SPT have now also been staked (Powered-Up).
---
SPT Power-Up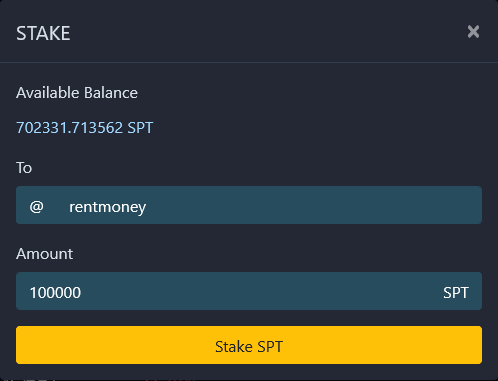 ---
What Is SPT? (Good Question) SPT is the native token of the Splintertalk tribe. A tribe that was built for players, investors and bloggers of the Splinterlands community. The Splintertalk tribe is solely focused on content created about the Splinterlands game. Creating and curating content from Splintertalk.io will allow you to earn SPT Tokens, HBD Tokens and HIVE Tokens. One can also earn SPT tokens on their HIVE Blockchain created content by using the Splinterlands and SPT tags on said content. Visit Splintertalk here: https://www.splintertalk.io/
---
What Is Splinterlands?
Splinterlands is a blockchain game built on the Hive Network. The game itself utilizes NFT's for game play. These NFT's can be won in battle and/or purchased from the official Splinterlands marketplace or many other secondary markets. Game play rewards players with cryptocurrency and in game assets. Click here to get started with Splinterlands.
---
Visit LeoFinance Today At https://leofinance.io/

---
Posted Using LeoFinance Beta
---
---