SPL LAND: Buy - Sell - Trade

---
Splinterlands land seems to once again be near the for-front of excitement for those who are in the Splinterlands community. PLOT prices have seen a spike in price both in USD worth and HIVE Worth. Just weeks back one could purchase a PLOT of Splinterlands (SPL) land for roughly $140 USD. That same plot will cost you $170* USD in today's market. With the HIVE USD worth being at roughly $0.42 that $170 USD cost equals to 403 HIVE Tokens. This has me thinking as to what is the best course for those of us who are holding PLOTS. Should we be getting ready to reposition? Should we sell now (400+ HIVE is no small amount). Should we be holding for the future benefits of land?
---
BUY
If you are currently in the BUY category you just might be purchasing PLOTS near bottom prices. HIVE has steadily held above $0.40 USD (with spikes and corrections throughout the past X Months) which means we need to spend less HIVE today than we did some months back to reach the $170 USD cost that is currently associated with purchasing a PLOT. I think it is reasonable to assume that PLOT prices will sky rocket the moment land is able to mint new assets for the Splinterlands game. Will we see 10X, likely not but a *25-50% gain is certainly very plausible. With this in mind this makes PLOTS a great investment opportunity for a quick flip and also a potential great investment opportunity for mid-long term holding. Personally I added two plots to my Splinterlands collection a few weeks back for these very reasons.
---
Trade
When trading I am of the mindset that it's always best to trade between two assets in which you want to own both of. This way if you get caught between a price hike or dip and need to readjust your trading strategy you won't be disappointed if you need to hold either or both assets. I apply this to trading PLOTS:HIVE. Purchasing a PLOT and listing it for sale for slightly more than you paid for it can greatly decrease the price of owning a PLOT. It does take patience and a certain level of risk but if you are a person who is involved with cryptocurrency, risk is something you will need to become comfortable with. One such risk is the HIVE token spikes in USD value thus your PLOT is worth less in HIVE but more in USD. Its possible PLOTS do the same (increase in USD value) leaving PLOTS cost more in HIVE than you received for your previous sale. Either of these outcomes could leave the trader holding a bag of PLOTS or a bag of HIVE. Thus the importance of trading between two assets in which you want more of.
---
Sell
I can see value in selling at 400+ HIVE. The reason: I believe that HIVE will easily reach $1.00 USD+ in the next bull run. While today HIVE USD worth is $0.42 I see HIVE's value way above that price point. Meaning when I see something selling for 400+ HIVE I'm not seeing a return value of $170 USD. I'm seeing the potential future value of the 400+ HIVE being earned which in my mindset is worth $400 USD+. All one needs to do to get that added value is hold the HIVE earned from the sale. Of course I could be wrong and HIVE never again reaches $1.00 USD per HIVE but that is an outcome that I find hard to envision. On top of that, over the past months/weeks the HIVE token has been spiking in price and then settling back down to the low $0.40 cent range. If one gets lucky they can sell a PLOT at 400+ HIVE and purchase it back in the 300+ HIVE Range. There are Many, many different possibilities to consider when selling.
---
Conclusion
As with many other times on my Splinterlands journey I have come to the conclusion there is no wrong moves when Buying, Trading or Selling Splinterland Plots. Only moves that garneir more profits than others. Which move will bring the most profits, no-one knows so hedge your bets accordingly. *Disclaimer: this post is for entertainment purposes only. Always do your own research before investing any of your hard earned currencies in any project. Always follow the golden rule of investing which is never invest what you can't afford or not comfortable with losing.
---
What Is Splinterlands?
Splinterlands is a blockchain game built on the Hive Network. The game itself utilizes NFT's for game play. These NFT's can be won in battle and/or purchased from the official Splinterlands marketplace or many other secondary markets. Game play rewards players with cryptocurrency and in game assets. Click here to get started with Splinterlands.
---
Trade Plots At
---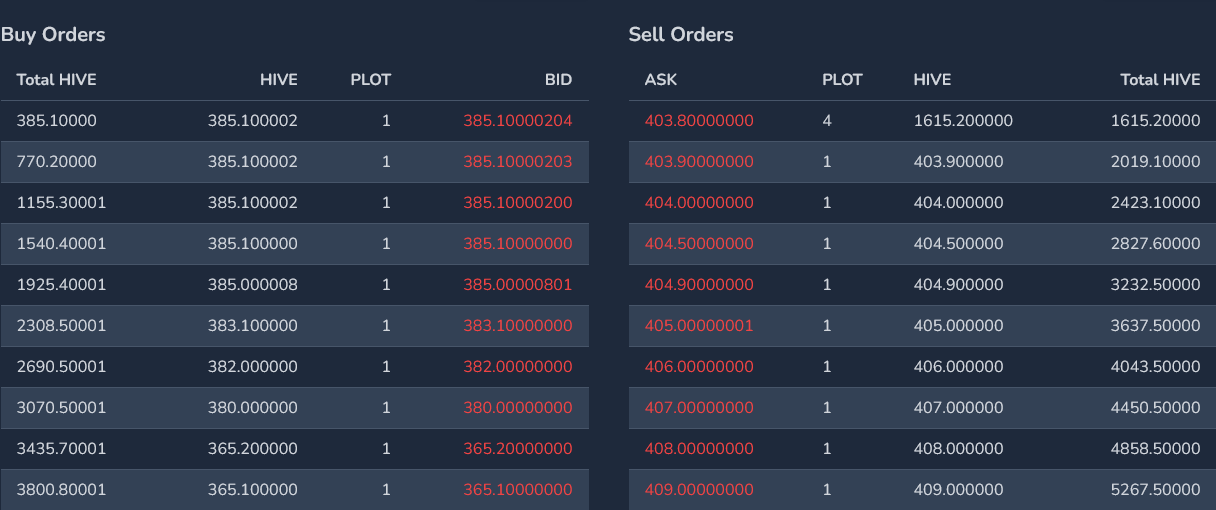 ---
Posted Using LeoFinance Beta
---
---