Our principal story [Eng - Esp]
The monkey plays with her babies on the high mountain, each of the babies seems so happy to jump and bounce.
The little one jumped and landed on the monkey's back because it alone couldn't jump that well, the monkey had to carry the little one so it could have fun too.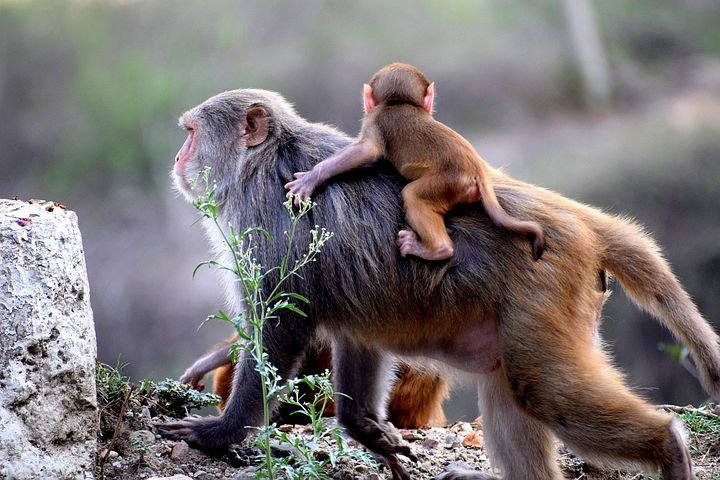 Image by balouriarajesh at pixabay
The hunters are here and they have heard that the monkeys go to the mountains to play with their babies, the hunters were looking for baby monkeys.
There were four hunters, one of the hunters shot at the monkeys, but it ran and covered the young ones.
The monkey landed on the tree they called the family tree, it was a tall bold tree that no one could see if something was hiding there.
But when these four hunters came to that forest, they saw the monkeys in the tree, two of the hunters opened fire, shot one of the monkeys and the young monkey fell down.
It didn't take long, they shoot another monkey, making it two, as they wanted to leave, since they had captured two babies, the monkey started a war with the hunter.
The monkey was ready to risk everything for the war, it broke off a large branch of the family tree and threw it at him, and the branch of the tree landed on one of the hunters.
The one carrying the two babies, the monkey went down and the hunter began to open fire, the monky was not afraid, although the bullets entered the monkey's chest, it was ready to die and did not stop until two of the babies were released by the hunter's.
The monkey injured two hunters with a large tree branch and took the young one's. while the other two hunter's ran away.
It didn't take long, the monkey left the hunter there and went away with it babies, the two hunters couldn't return home, they didn't die but they couldn't move the branch of the tree that was above their legs.
Two days passed and the two hunters returned to the forest to look for their brothers, found them and brought them up.
On the way home, it's no wonder they see rotten grapes being thrown at them.
They looked up and it was the baby monkeys that they shot at the family tree the other day, with their chemicals that couldn't kill the monkeys but only put them to sleep, to capture them alive.
That two baby monkeys have taken revenge on the hunter for frightening their life in the forest that is their home.
In the assembly hall, all the students were delighted, the students love their principal very much because he knows how to tell them a story that will make them happy every time he is in the assembly hall.
He dismissed the assembly on that fateful morning and all the students go to their classes.
Spanish
La mona juega con sus crías en la alta montaña, cada una de las crías parece tan feliz de saltar y brincar.
El pequeño saltó y aterrizó sobre la espalda del mono porque él solo no podía saltar tan bien, el mono tuvo que cargar al pequeño para que también se divirtiera.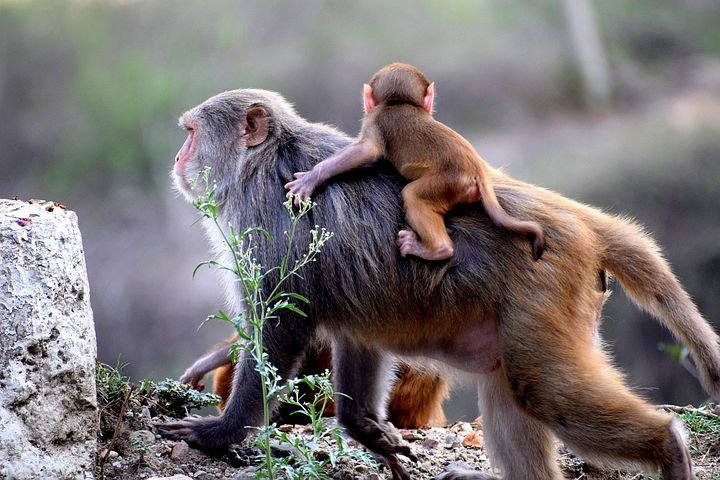 Imagen de balouriarajesh en pixabay
Los cazadores están aquí y han escuchado que los monos van a las montañas a jugar con sus bebés, los cazadores estaban buscando monos bebés.
Había cuatro cazadores, uno de los cazadores disparó a los monos, pero corrió y cubrió a los jóvenes.
El mono aterrizó en el árbol que llamaron el árbol genealógico, era un árbol alto y audaz que nadie podía ver si algo se escondía allí.
Pero cuando estos cuatro cazadores llegaron a ese bosque, vieron a los monos en el árbol, dos de los cazadores abrieron fuego, le dispararon a uno de los monos y el mono joven cayó.
No pasó mucho tiempo, le disparan a otro mono, convirtiéndolo en dos, como querían irse, como habían capturado a dos bebés, el mono inició una guerra con el cazador.
El mono estaba dispuesto a arriesgarlo todo por la guerra, rompió una gran rama del árbol genealógico y se la arrojó, y la rama del árbol aterrizó sobre uno de los cazadores.
El que cargaba a los dos bebés, el mono cayó y el cazador comenzó a abrir fuego, el mono no tuvo miedo, aunque las balas entraron en el pecho del mono, estaba listo para morir y no se detuvo hasta que dos de los bebés fueron liberados por los cazadores.
El mono hirió a dos cazadores con una gran rama de árbol y se llevó la del joven. mientras que los otros dos cazadores huyeron.
No pasó mucho tiempo, el mono dejó allí al cazador y se fue con sus bebés, los dos cazadores no pudieron regresar a casa, no murieron pero no pudieron mover la rama del árbol que estaba sobre sus piernas. .
Pasaron dos días y los dos cazadores volvieron al bosque a buscar a sus hermanos, los encontraron y los criaron.
De camino a casa, no es de extrañar que vean que les arrojan uvas podridas.
Miraron hacia arriba y eran los monos bebés que dispararon contra el árbol genealógico el otro día, con sus productos químicos que no podían matar a los monos sino solo ponerlos a dormir, para capturarlos vivos.
Que dos monos bebés se han vengado del cazador por asustarles la vida en el bosque que es su hogar.
En el salón de actos todos los alumnos estaban encantados, los alumnos quieren mucho a su director porque sabe contarles una historia que los hará felices cada vez que esté en el salón de actos.
Se despide la asamblea en esa fatídica mañana y todos los alumnos se van a sus clases.
---
---