How is the accumulation phase going?
Hello!
I've not posted for a while but I'm still reading you guys daily. I've not been out of the HIVEverse at all.
In fact, I'm concerned about not having enough HIVE for the next bull run. 10k is not going to be comfortable to hodl if HIVE moons. We have a whale accumulating HBD (buying hive from Binance) and the price is hodling strong the 0,40 $ mark.
20% apr isn't going to be the best stablecoin apr risk/reward without being noticed forever. I don't want a lot of people farming 20% apr, hopefully I have time to get my rewards for the whole 2023.
@lazy-panda is planning to accumulate more than 1 milion HBD and if everything goes as expected he/she may increase it to 4 milion. Huge numbers considering the small HBD supply available.
Let's do a recap about my plan for accumulating this 2023.
The 1st of January I posted that this was the plan: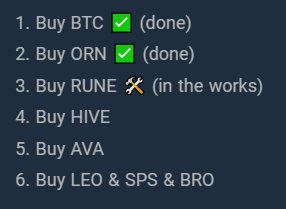 Where I am now?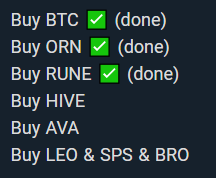 Now it was the turn to start buyin HIVE, but...
I will be accumulating more BTC instead of HIVE, but watching closely. If price dips, I will switch some to HIVE.
Worst case scenario is that BTC rises less than HIVE and I miss some gains. Best case scenario HIVE goes down and I can buy lower with BTC and USD.
I think I can manage my FOMO with this approach. I want 100k HIVE so badly!
Cheers!

Follow me on Twitter


Follow me on Hive


Follow me on Publish0x
Posted Using [LeoFinance Alpha]https://alpha.leofinance.io/@resiliencia/how-is-the-accumulation-phase-going
---
---