How is the accumulation phase going? Update!
Hello!
I've not been posting actively for a while, but I'm connected to the HIVE ecosystem daily.
In fact I've been involved in some of the new games that have been popping up lately.
I've invested some time and money at:
Golem Overlord

Terracore


Serfdom and sorcery (Discord game)
In some of the games I already had a nice yield and I expect to be in profit in all of the 3 games in the coming weeks. I already like what I'm seeing in all of them so, I will continue engaging in their communities.
Accumulation phase
Let's do a recap about my plan for accumulating this 2023.
The 1st of January I posted that this was the plan: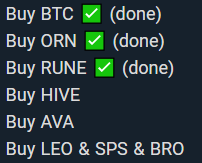 Where I am now?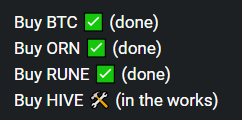 Plus, I'm also starting to accumulate LEO& SPS. AVA will be out of the scope, for now.
And probably I will be delegating some HIVE to the @brofi account to get some BRO really soon.


In fact, I'm not buying this 2 assets, I'm just not selling the rewards I'm getting for hodling LAND and delegating to @leo.voter
Summary
I will be buying HIVE like a mad man until I get to a point were I can start feeling comfortable. Probably around the 30,000HP mark. But the goal for this year is to get 100,000HP if the prices get near or lower the 0,30$ level.
By the end of the month when the HBD rewards come I will make the move to 20,000HP.
See you out there folks!
Enjoy! 😊
Posted Using LeoFinance Alpha
---
---