Fam Jam | Stanley Park Seawall | Bicycle Adventure | Vancouver, BC, Canada

---
Beautiful Stanley Park & Coal Harbour
---
Vancouver has many attractions worth a visit. The beauty of this city and all that comes with its popularity is no secret. Having spent most of my adult life here, there are not many main attraction-related items that I have not tried.
Until now...
This weekend, the girls and I decided to rent some bikes and ride the Seawall of Stanley Park. Having tried this last year with a friend of mine, I knew I had to bring the family to ride as well.
---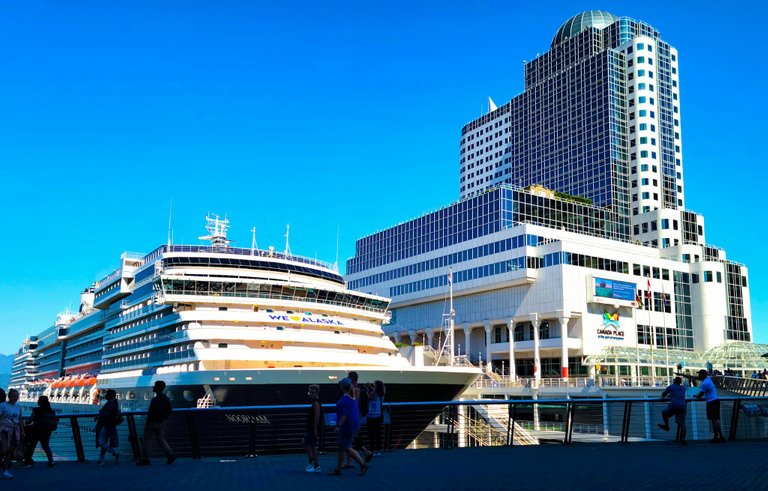 ---
Our journey starts at a great rental shop called "English Bay Bike Rentals". From there, it is about a 10km ride all around the park.
Once you get to English Bay beach area, you are greeted with these awesome statues. The group of statues are called "A-maze-ing Laughter" and they were created by Yue Minjun. They are created in Minjun's image "in a state of hysterical laughter".
Erected in 2013, they bring a lot of smiles to passerby tourists and locals. An inscription is engraved into the structures saying "may this sculpture inspire laughter playfulness and joy in all who experience it."
Something we all need in the world right now.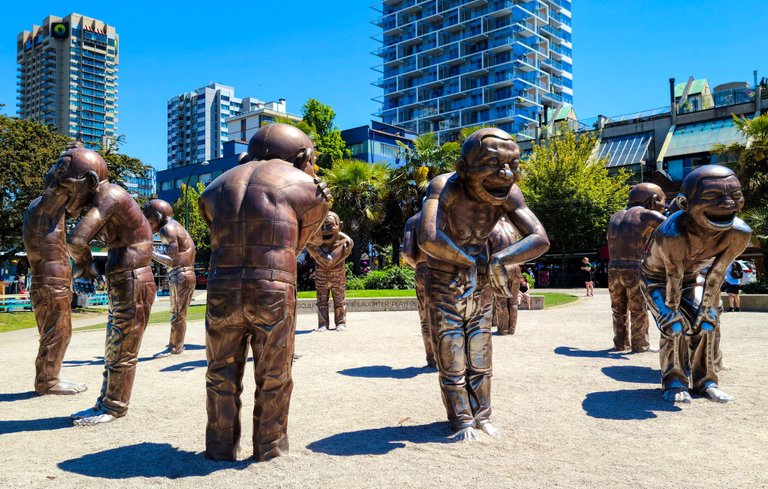 ---
This is a photo of my fiancee and daughter in front of English Bay Beach. In this photo, you can get an idea of why some refer to Vancouver as Canada's California. Beaches are found everywhere and this is the only climate in the country that can grow palm trees.
It is from this point that we started our 15 km ride. What a ride it was..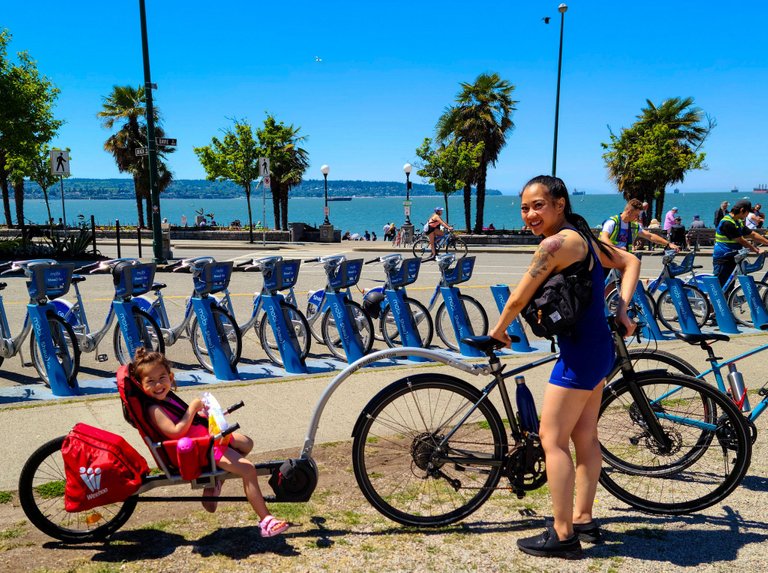 ---
After passing through the edge of Stanley Park to get to the Georgia Street entrance, the path begins with a beautiful view of the marinas in Coal Harbour.
Here we stop to load up on sunscreen, eat some Goldfish and take a few photos! Someone is looking pretty happy on her chariot.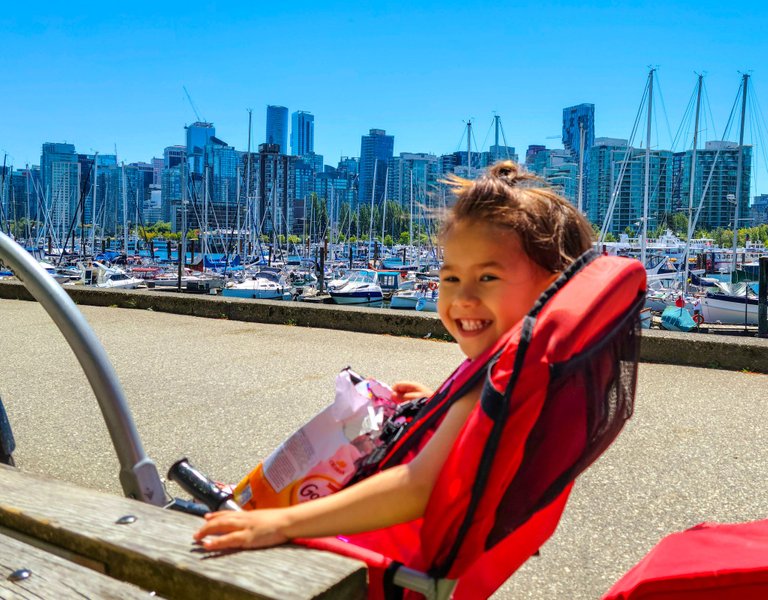 ---
Soon after a couple of bends, you arrive at the Totem Poles lookout/Parking Lot. This has always been a favourite photo spot of mine in the park. Over the course of 20 years, so much of the skyline has grown.
In the background, you can see the cruise ship industry is back as the Port Of Vancouver was packed.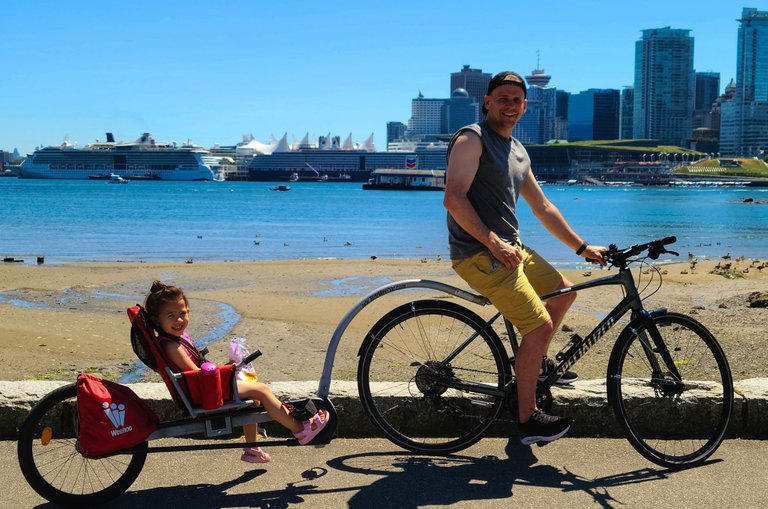 ---
Once you travel another km or so, you start heading out towards Lions Gate Bridge. This photo was taken from the lighthouse facing North Vancouver.
From this point, you get a great view of the bridge, West Vancouver and British Properties; which is the neighbourhood of homes built on the side of the mountain - the most affluent area of the Greater Vancouver area.

---
Just before getting to the bridge, there is this little saviour of a place called Lumberjack Cafe to help replenish your liquids, use the washroom, eat and relax.
We hadn't had lunch yet so we decided to get some fish and chips while Alise had a grilled cheese sandwich. Nothing fancy but the food was surprisingly really good for a little park cafe.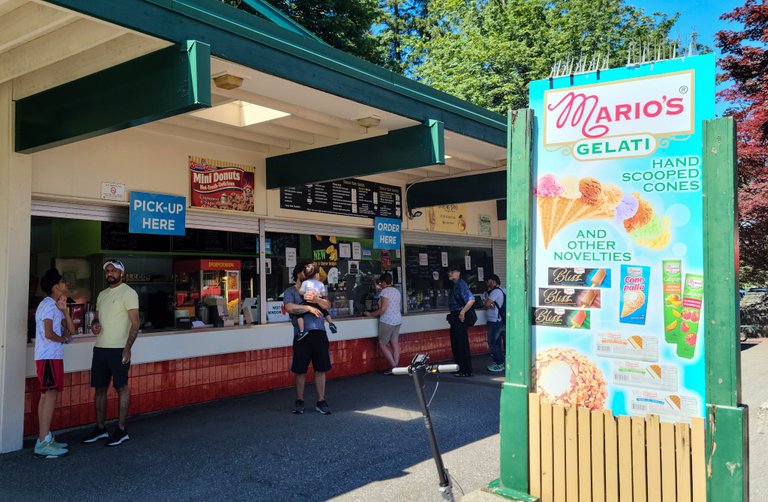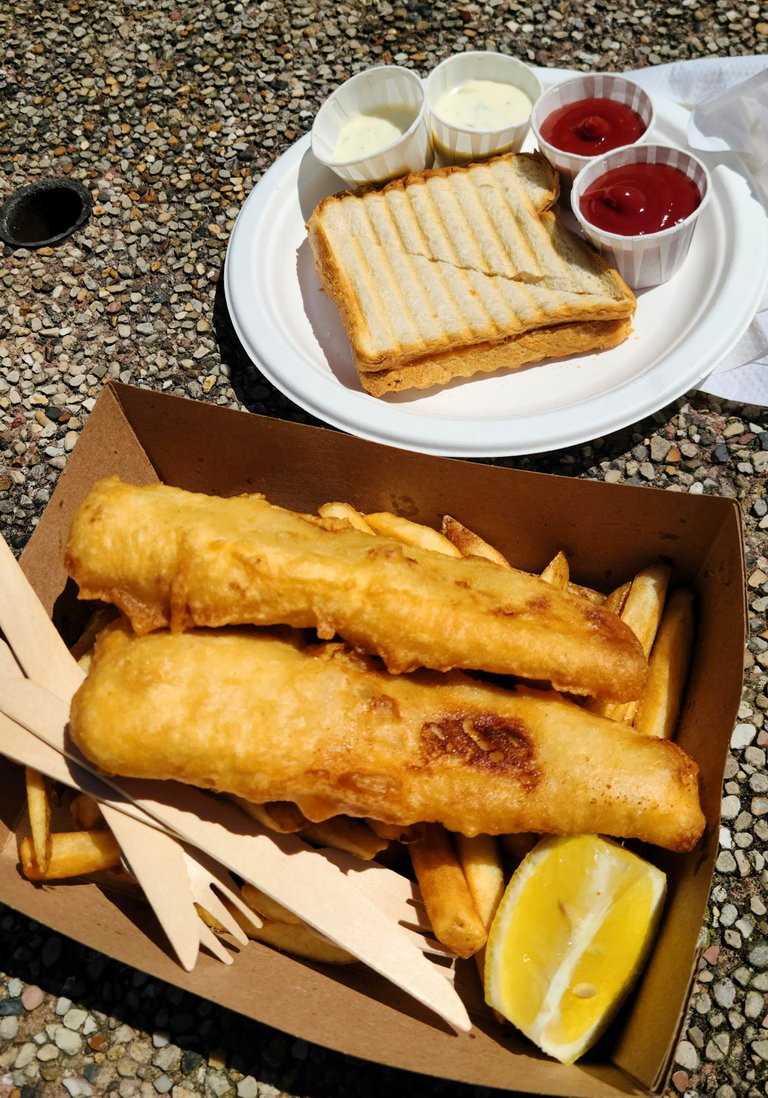 ---
Back on the path, it was time to cross under the Lions Gate Bridge. This has always been my favourite view of it. You cannot help but take the time to appreciate the creation of this large structure when standing underneath it.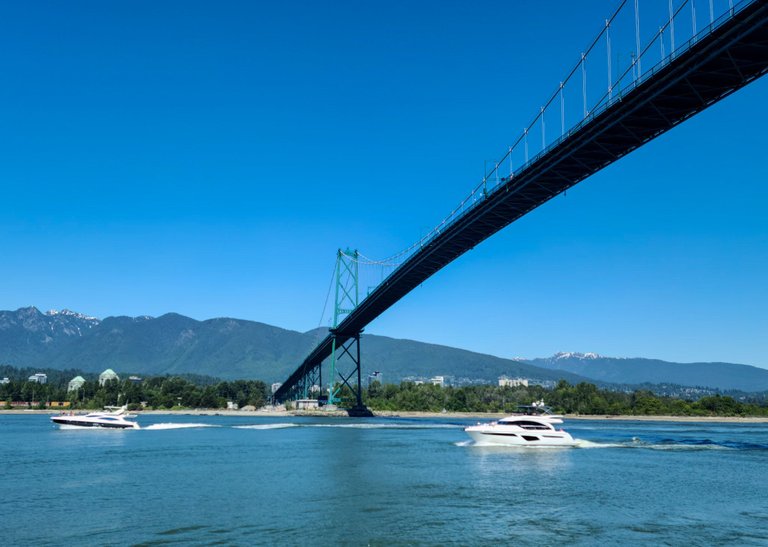 ---
If you look to the bottom left, you can see a little harbour seal stopping over to say hi!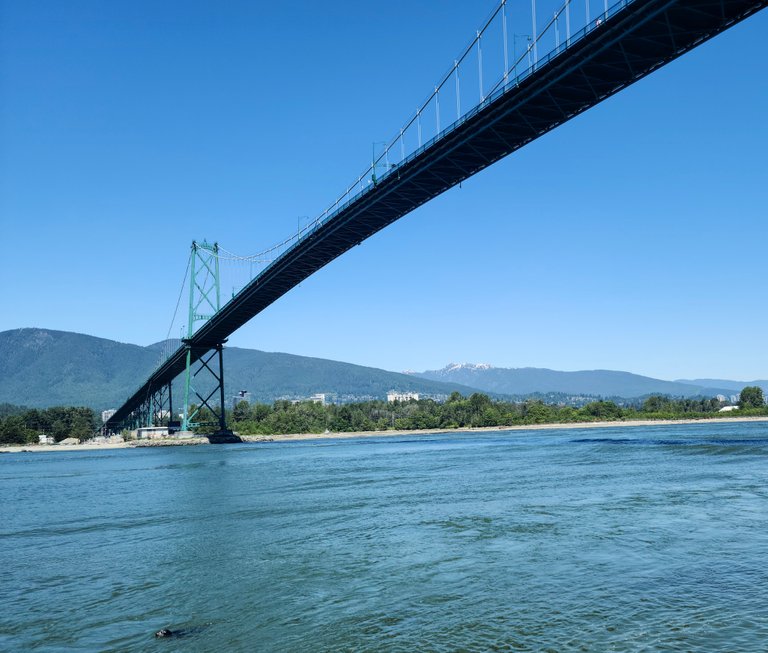 ---
By now we are nearing the halfway point at roughly the 5 km point. For this stretch, the path is carried alongside steep rock faces as we head towards the famous Siwash Rock.
---
This is a great view of what the Seawall path looks like. To the right, many cargo ships are anchored in the bay as you can see the inlet open up into the Strait Of Georgia.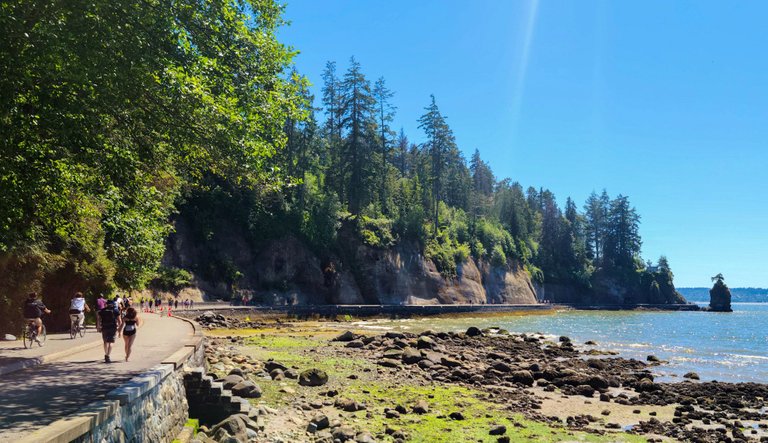 ---
The famous Siwash rock stands just to the outside of the path. It is a legendary monument among the Indigenous Squamish people with a long back story.
Mariners referred to it as Nine Pin Rock as it resembles a bowling pin.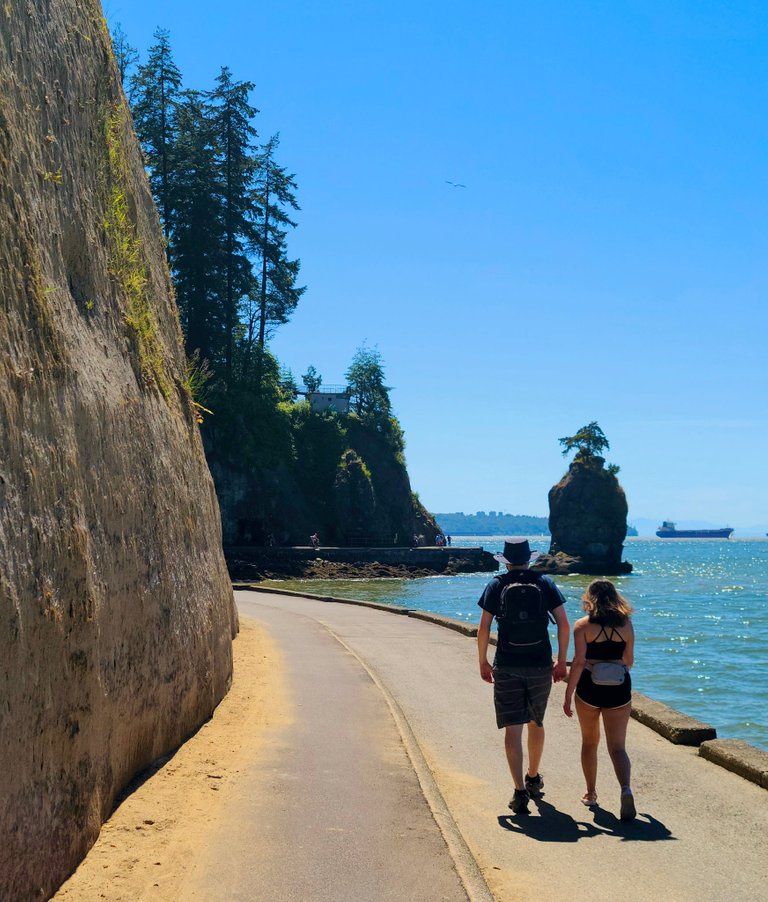 ---
Soon after you pass Siwash Rock, you ride by 3rd Beach. This beach is popular in the summertime and attracts old, young, families, partiers, or anybody just out to bathe in its beauty.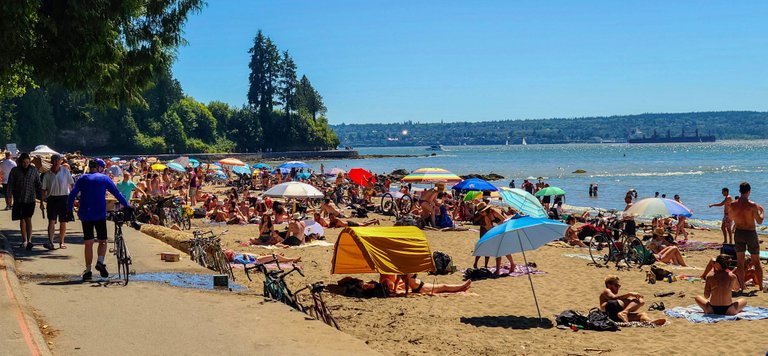 ---
At this point we are on our 8th kilometre of biking. Pulling my 4 year old was definitely getting the thighs burning. Time for a photo and breather!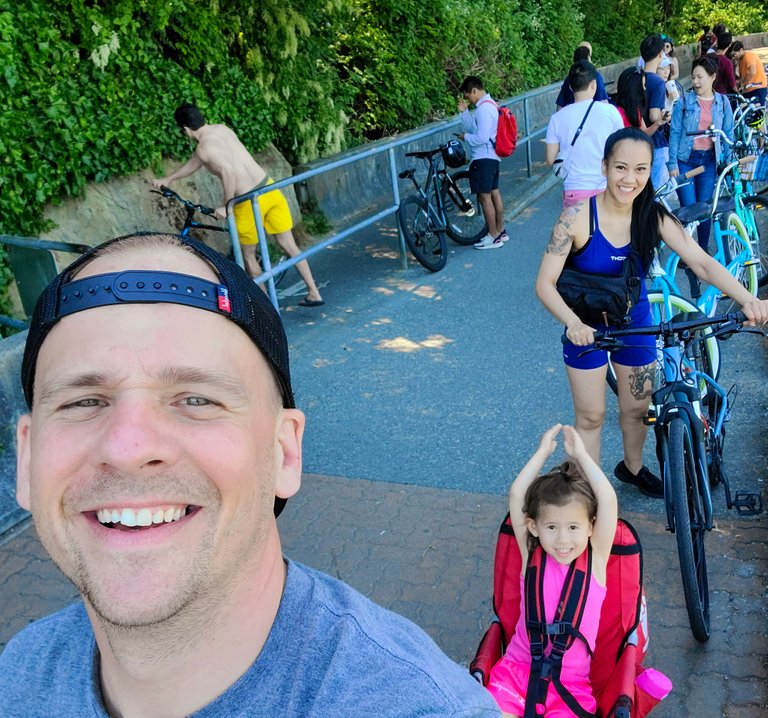 ---
Back on the road for the home stretch, here we arrive back at English Bay. I love this building so figured I would take a picture of it.
---
English Bay Beach is always busy. It is also home to the annual Celebration Of Light festival that brings different countries to compete in a fireworks competition.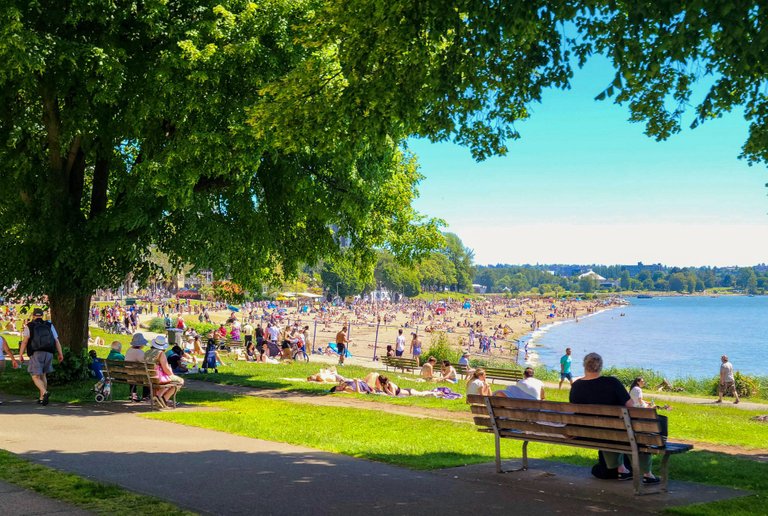 ---
At this point, we arrived back at the starting point to fill our parking meter. We still had a few hours left on our bike rentals, so we opted to take another adventure towards the Port Of Vancouver.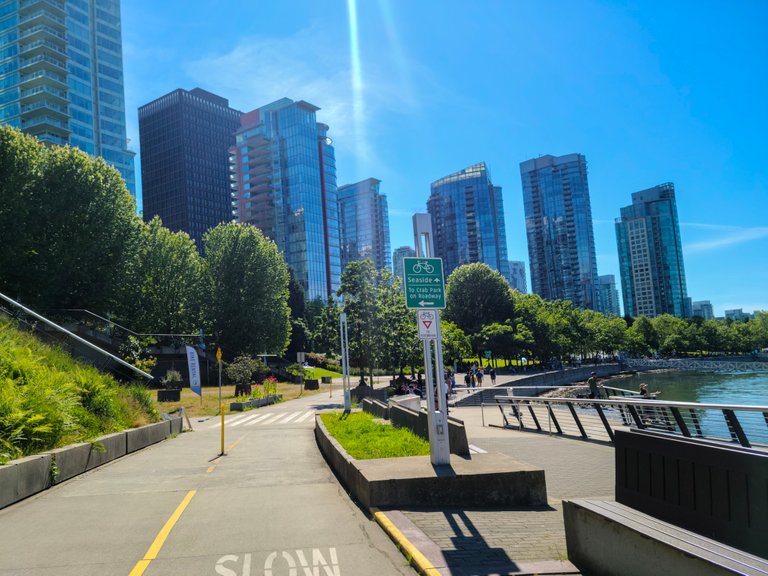 ---
We are glad that we did this side tour as it has changed so much since the last time that I had been on it. Upon coming out of Coal Harbour, it was a pleasure to see some cruise ships back in our water. The pandemic had put a halt to tourism in the city so it was refreshing to see a healthy does of tourists back enjoying what the city has to offer.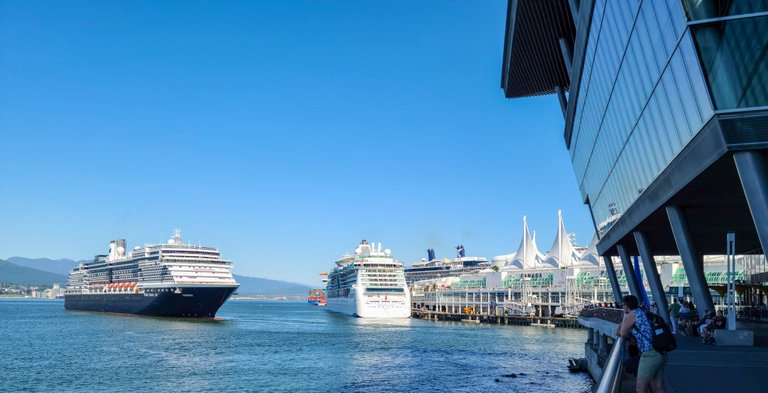 ---
The cruise ship to the left was a cruise taking off to Alaska just as we were riding up to it.
This area is the Port Of Vancouver, Pan Pacific Hotel/Canada Place with the Convention Centre close by.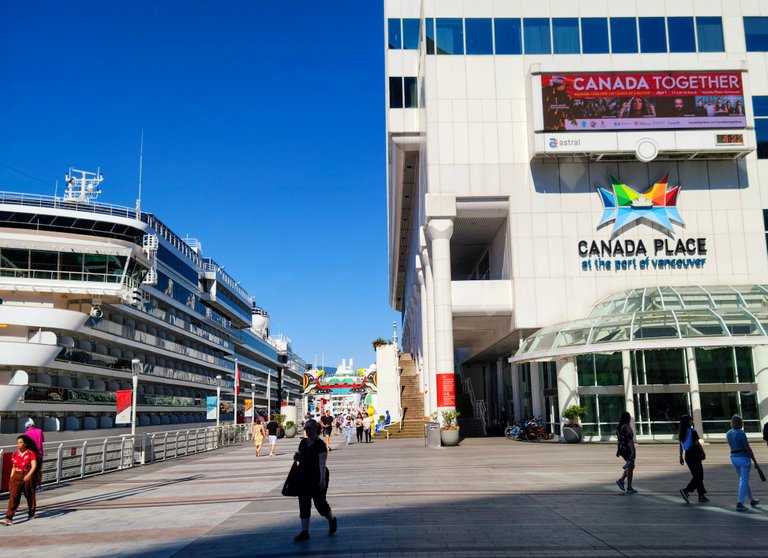 ---
From here, we decided to make our way back. We had about 3 more km's to make it back to the rental shop. This last stretch was a struggle as there was a lot of uphill riding and the legs were just used up for the day.
---
In Closing
Renting a bike and riding it around Stanley Park is an affordable, fun and memorable way to spend a day. It takes 2 hours at a casual pace.
On the way, you pass by:
Vancouver Aquarium
Totem Poles
Beaches
Cafes
Restaurants
Look Out Points
Rose Gardens
Hollow Tree
It is a strong recommendation to make an afternoon out of this activity. I cannot believe it took me 20 years to actually do it!
---
---