Lonsdale Quay | Shipyards District | Northshore| Vancouver, BC
What is Lonsdale Quay?
Located on the Northshore of North Vancouver, Lonsdale Quay consists of a 3 level intriguing artisan market, a district known as "The Shipyard District", and Waterfront Park, all of which include unobstructed views of Downtown Vancouver's gorgeous skyline, plus so much more.
Possibly the most sought-after aspect of the area, Lonsdale is home to a number of diverse eateries to satisfy whatever your palette is yearning for that day. Whether you feel like shopping, hitting up the salon, eating, having a drink, or taking your kids out, the Northshore has it all. It is recommended to visit with room in the belly for some table fare of the area.
---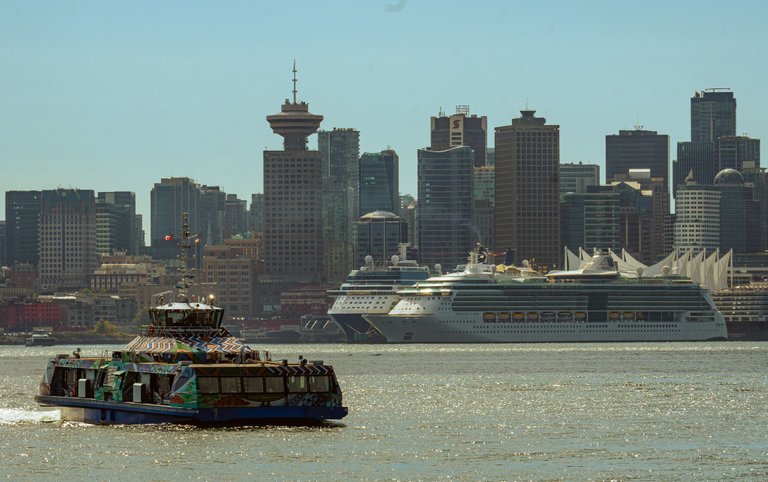 ---
Situated next door to the market alongside the Northshore in lower Lonsdale is home to a place called The "Shipyards District". The Shipyards are yet another unique aspect of all that the GVA has to offer.
With breweries, food trucks, spray parks, and shopping you are never without something to do along the Northshore in Lonsdale. For me, the business options are great, but what ignites my passion for this place, are the stunning views of the downtown Vancouver skyline, Stanley Park, Lions Gate Bridge and the mountains.
While you can drive and park in the area, I am going to share with you my favourite way to enjoy this experience. We will start from the train station near my house in Richmond, to the seabus boat downtown, then disembark in North Vancouver. This is one of my favourite day trips to do in this magnificent city.
Let's get into it..
---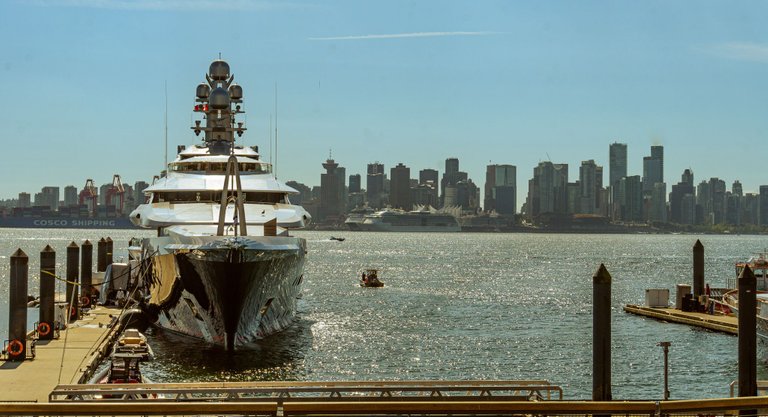 ---
Day Trip
---
Starting in Richmond, which is a city 16 km away from the Waterfront on Downtown Vancouver, we start off by parking at the nearest Skytrain station and take the Canada Line Train northbound towards the Seabus terminal where we will take the Seabus boat to the North Shore.
The Seabus is connected to the GVA transit system known as Translink. Your fare tickets purchased throughout the city are transferable with the Seabus making it a seriously cheap cost to get the views that you do as you ride over the ocean soaking it all in.
---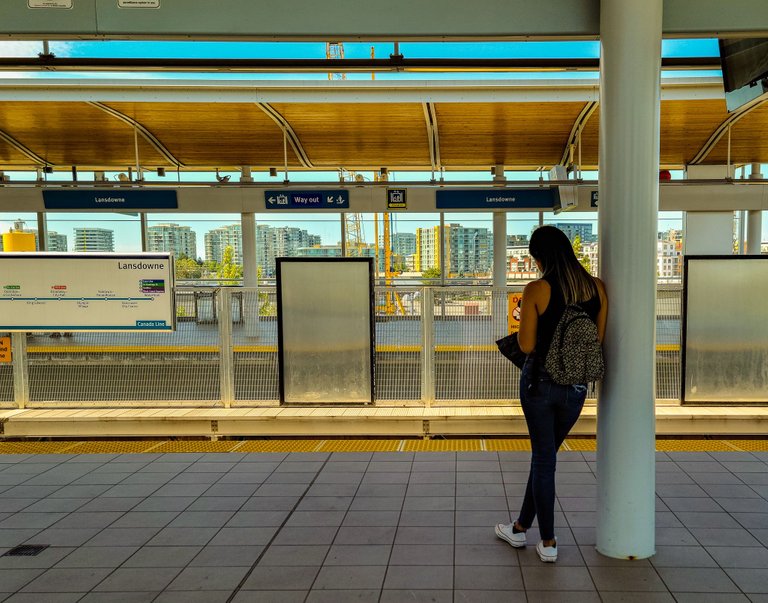 ---
After 10 stops and about 25 minutes later, you arrive at the Waterfront station where you take the escalator up from the tunnels to connect to the Seabus terminal.
This is a beautiful building worth stopping in to admire the details of the architecture.
---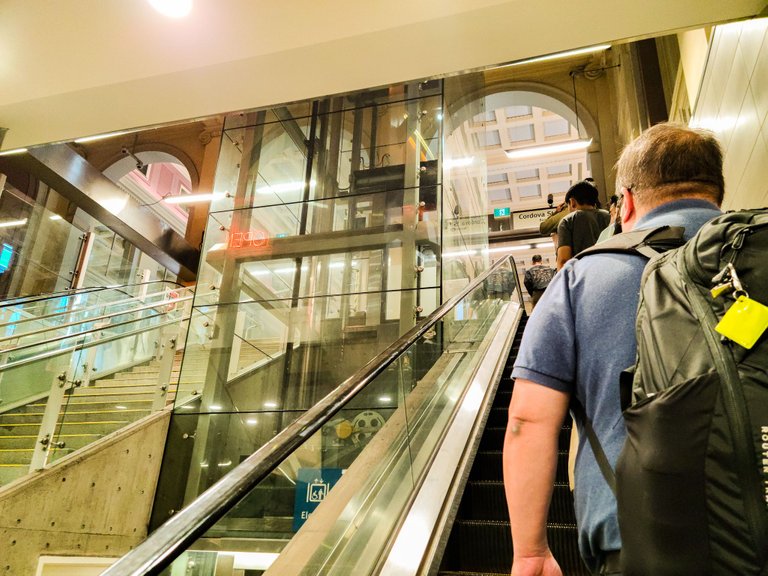 ---
As you can see, Waterfront Station has a stunning little interior worth stopping in for some photos. From here you can walk into the core of downtown, into Gastown as well as the Port of Vancouver to enjoy panoramic views, and the bustling activity consisting of people from all over the world.
---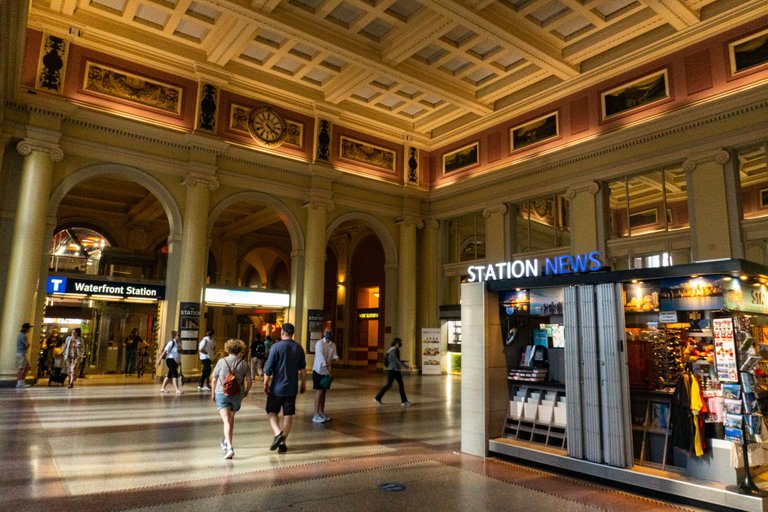 ---
The Waterfront Station is a major transportation hub linking many forms of getting around.
You can connect to the Expo and Millenium Line Skytrain routes to take you throughout the GVA area. Also, the West Coast Express Train boards here and takes you 70 km's away into the Fraser Valley.
If you are taking the transit system for the 1st time, be sure to stop at these machines to purchase your fare.
---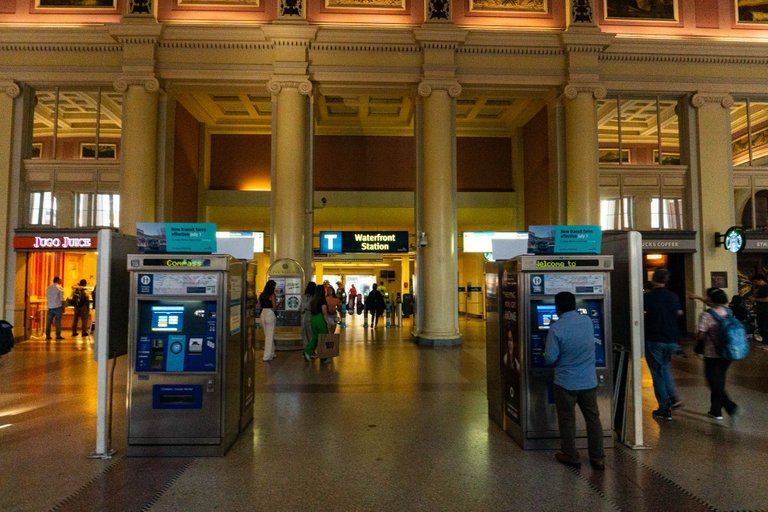 ---
Now that you have your ticket, you need to scan it upon entry past these gates. Make sure that you keep your ticket as it will be needed to scan out of your next stop.
---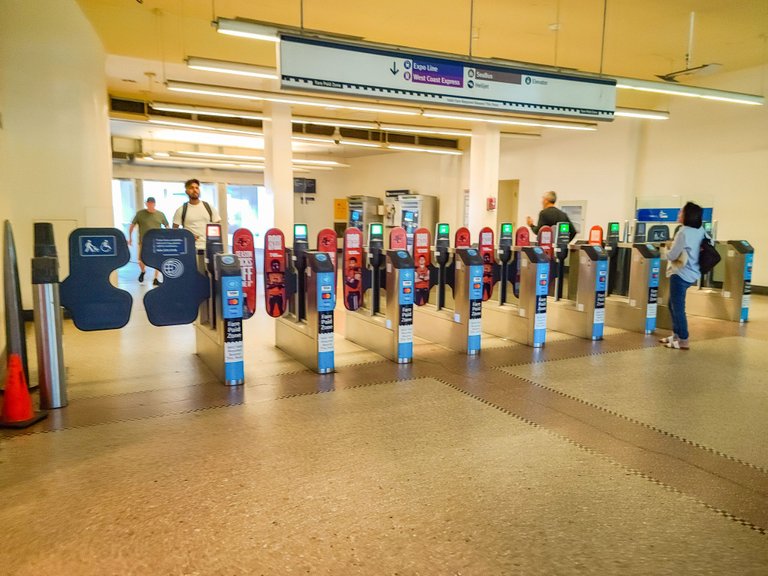 ---
Soon you enter a tunnel taking you to the Seabus station to make your way to North Vancouver. This pleasing walk sets the tone for what is in store for you.
If you are just looking straight ahead, you are going to miss out on a whole lot to be looking at. Let's be honest, nobody looks straight ahead down this walkway.
---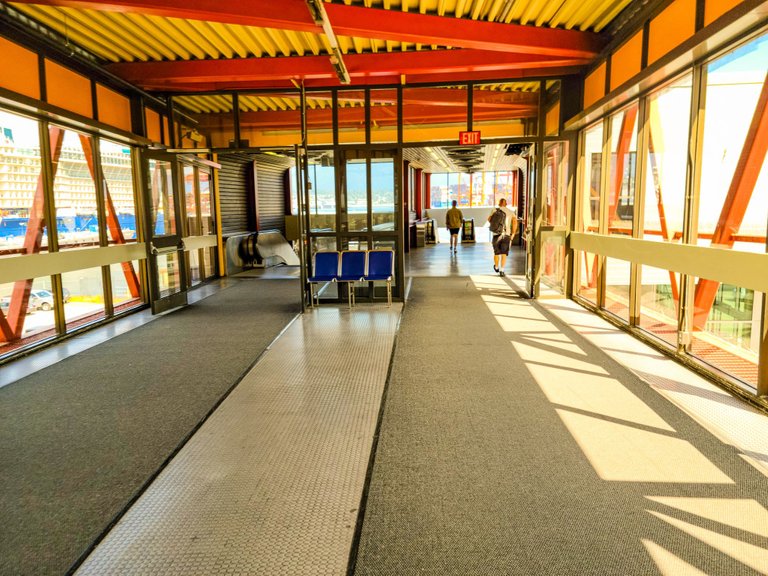 ---
With a glance over to the left, you have a great view of the Pan Pacific Hotel, Vancouver's Cruise Ship Terminal and the Canadian World Trade Center.
---
---
The right gives a nice view of historic Gastown and the rail systems around the perimeter. One side of the view gives a view of the oldest part of Vancouver, while the other side represents its current high-end feel and views of what keeps the economy rolling during this era.
---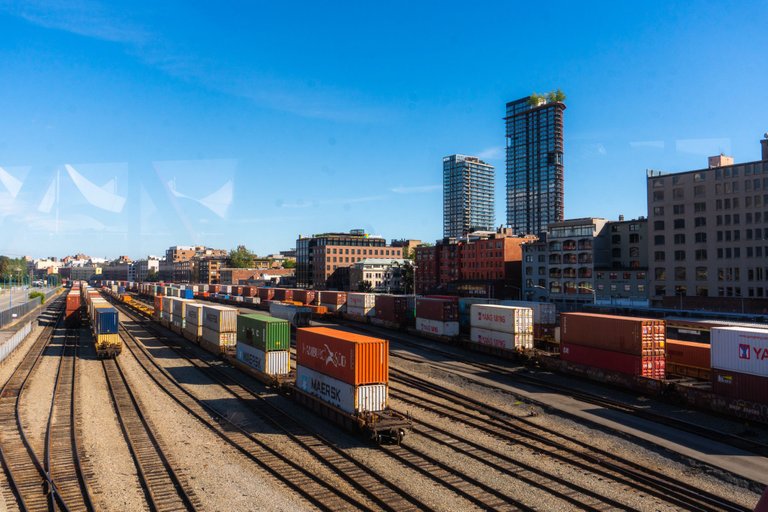 ---
The Seabus ride is just over 3 km, it comes around every 20 minutes taking passengers back and forth as a major commuter mode of transportation. This route transports roughly 6000 passengers a day.
---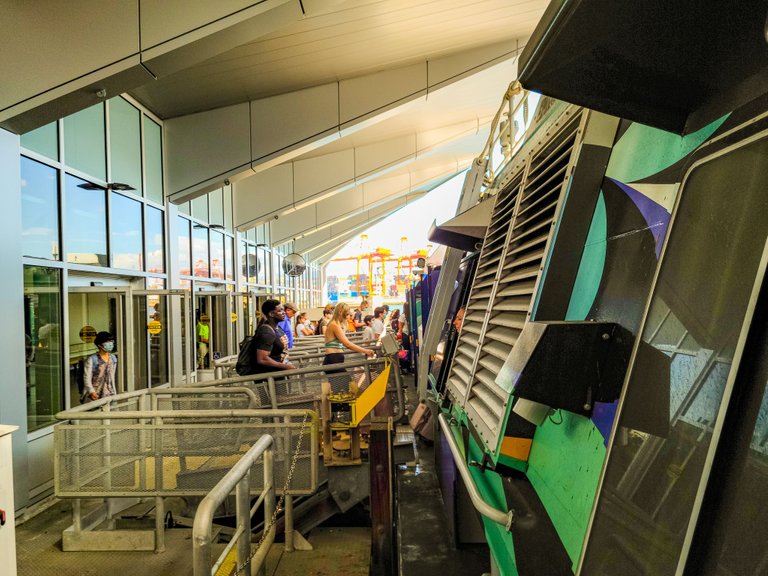 ---
Friendly Tip Of The Day:
It is wise to plan on boarding the Seabus on the furthest right door at what would seem like the rear of the boat. This angle is by far the best view facing downtown as you pull away.
---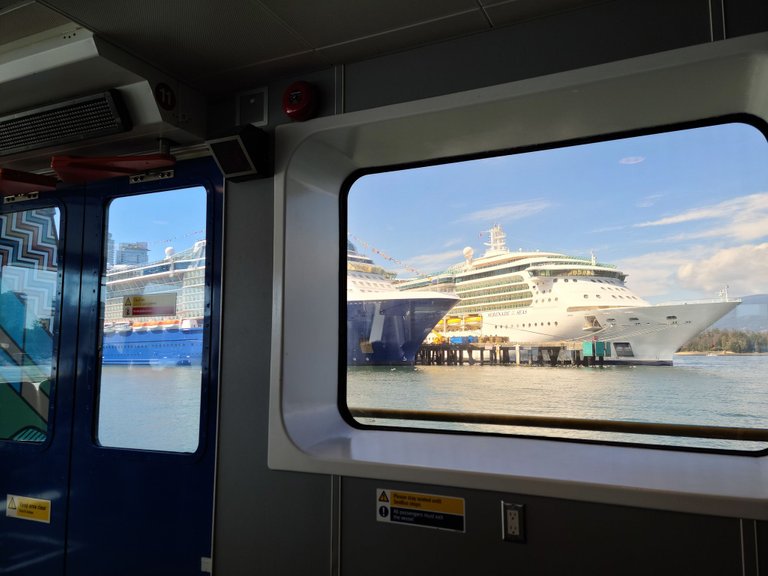 ---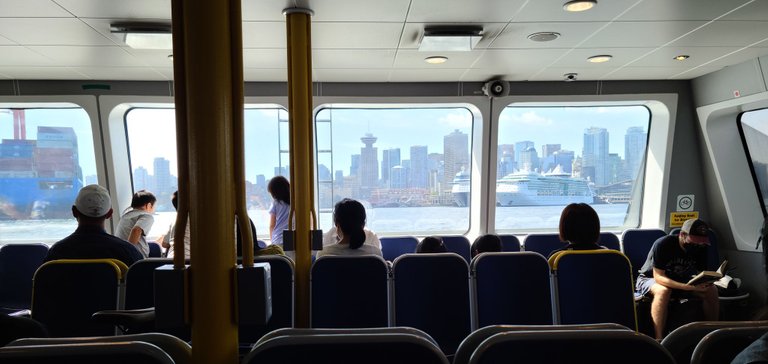 ---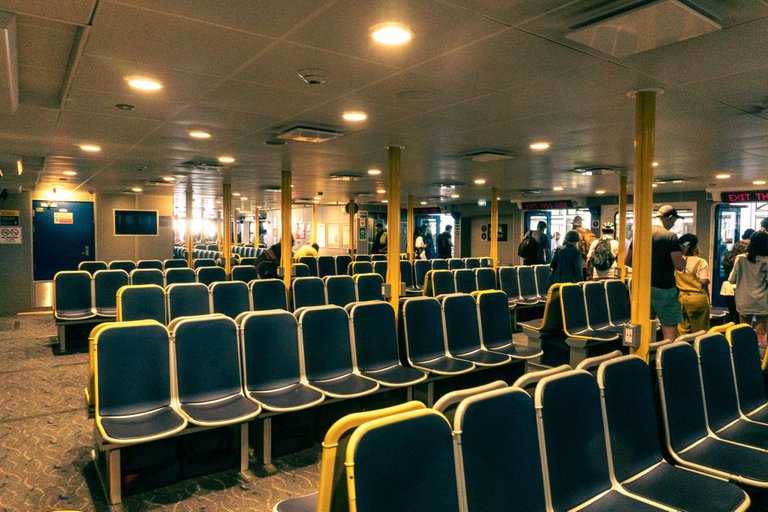 ---
North Shore Arrival
At this point, people usually feel as though they already got their money's worth. Truth is, we have not even started.
Vancouver has the best transit system in the country. Taking this route to the North Shore provides a more rich experience. You receive an intimate experience of how the locals move around and are immersed into Vancity culture, providing more than solely a tourist-directed excursion.
---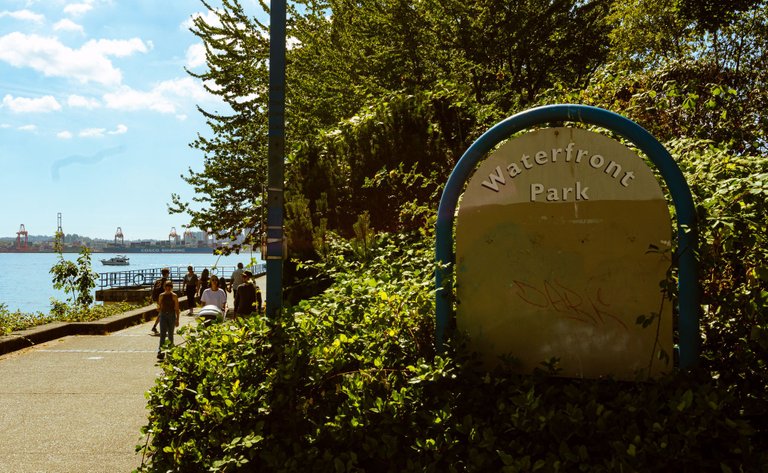 ---
As you walk through the tunnel to be released into the pleasure that the Northshore has to offer, start with making a left. Follow the sidewalk into the path guiding you down the shoreline to Waterfront Park.
---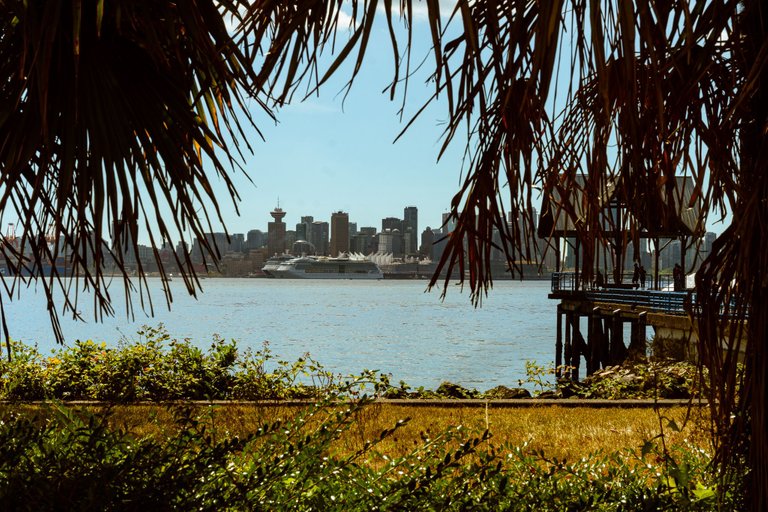 ---
Waterfront Park is home to many festivals and is frequented by many of locals to spend a day having a picnic, and soaking up the sun.
---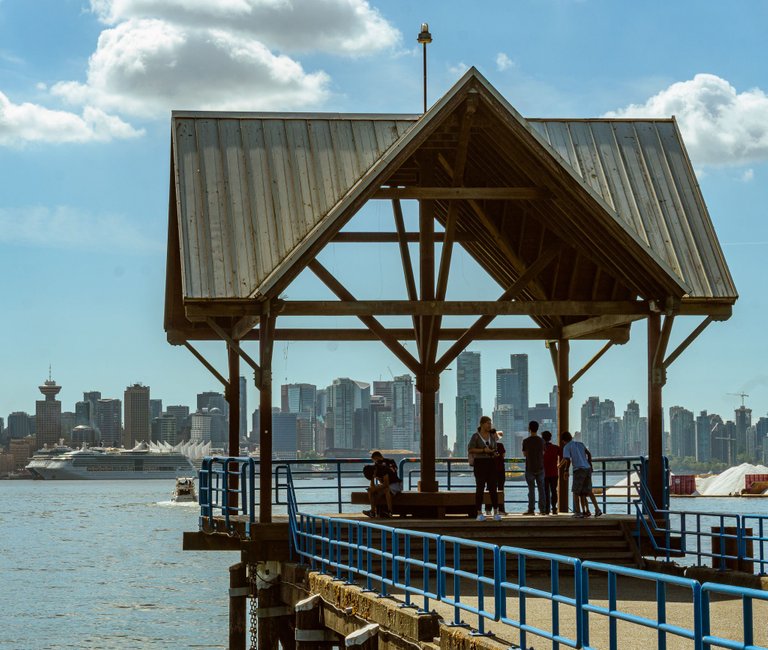 ---
This area is as photo-friendly as it gets. For over 20 years, I still walk around this area like a tourist. Vancouver is a never-ending kodak moment awaiting you to burn through loads of gigabytes snapping every corner you walk around.
---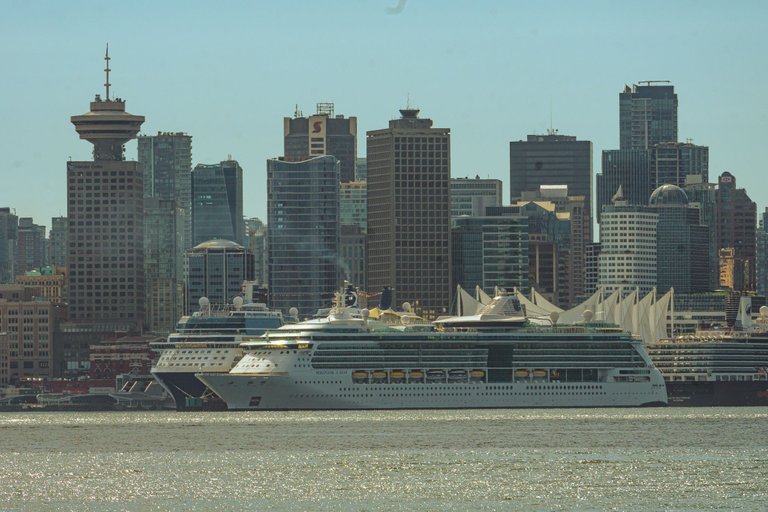 ---
If you sit down, minute by minute will provide you with traffic and new angles to put your pixels into.
---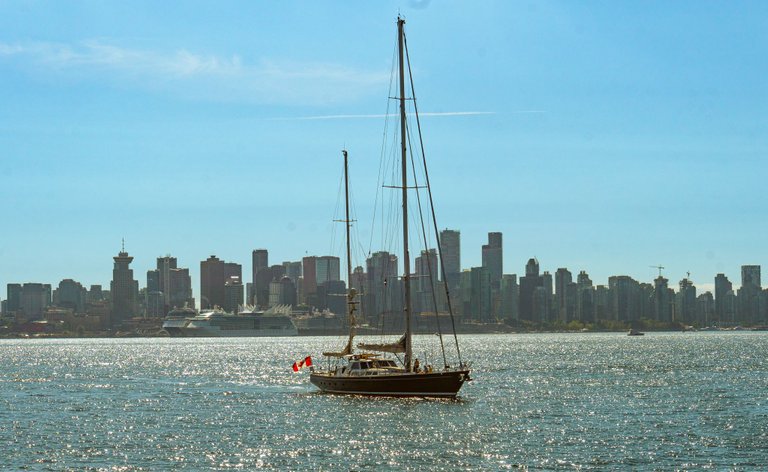 ---
After snapping up half your memory card, it is time to head over to an even more exciting part of the North Shore.
Walk back towards the Seabus terminal that you came from. Now keep walking into the laneway venturing into the other side.
---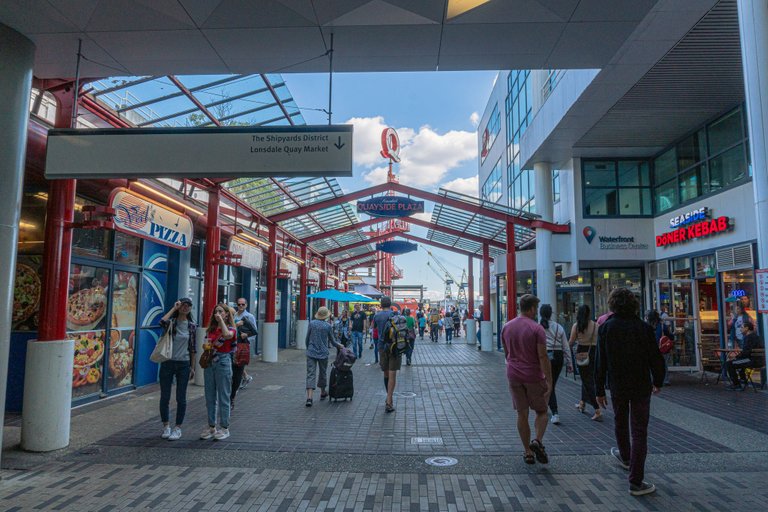 ---
Along this stretch, there are countless places to eat, souvenir shops, specialty coffee, entertainment, it goes on and on.
---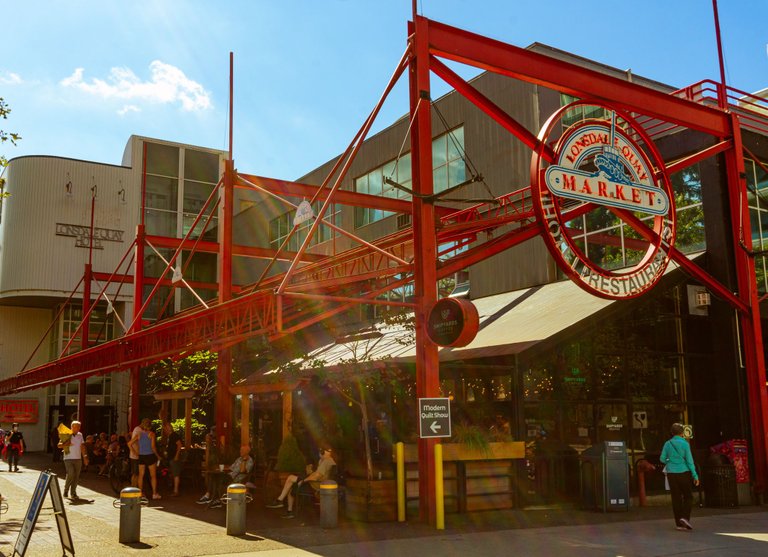 ---
You will soon approach the Lonsdale Quay Market building. Head inside and indulge. You will not be disappointed.
---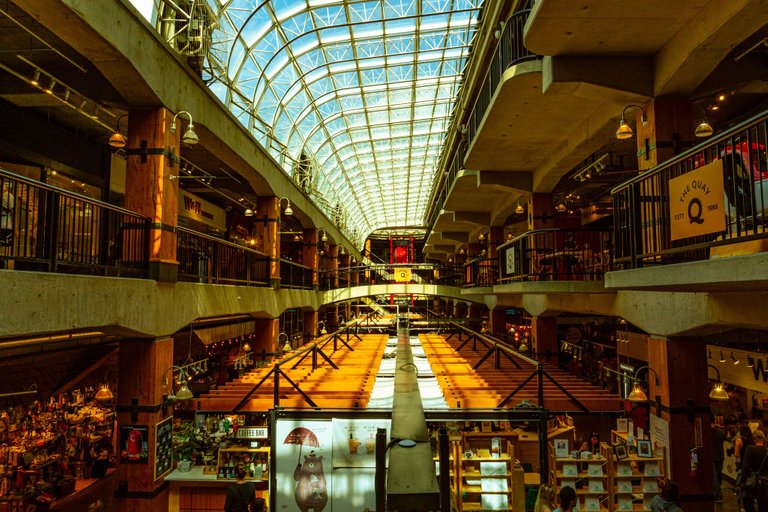 ---
If you are interested in diving into something local, this is the place for you. Fresh seafood (recommend Halibut), Smoked Salmon, local jams and spreads, maple syrup (so cliche), poutine, some 1st Nations amazing art, and desserts, this place will give you that West coast Canadian flex.
---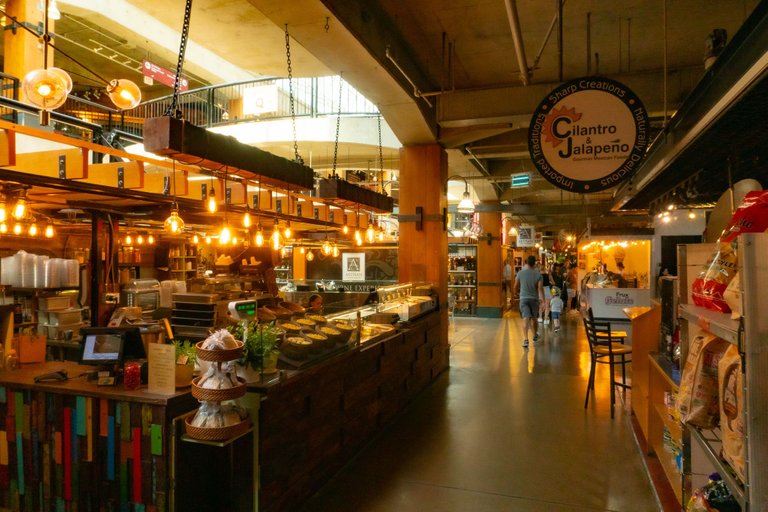 ---
After you filled your belly and had absorbed that Canadian Culture, say "eh" and head out the doors continuing to walk away from the Seabus terminal.
---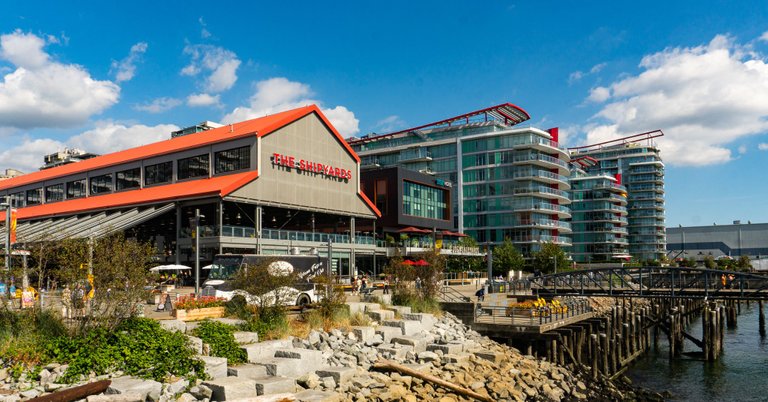 ---
Now you will be entering the Shipyards District. The Shipyards are amazing. When I first moved to Vancouver many years ago, I was not even aware that the Shipyards existed. The day that I realized what was on this side, it made me realize something that I did not know was possible.
The North Shore could get better, and did!
---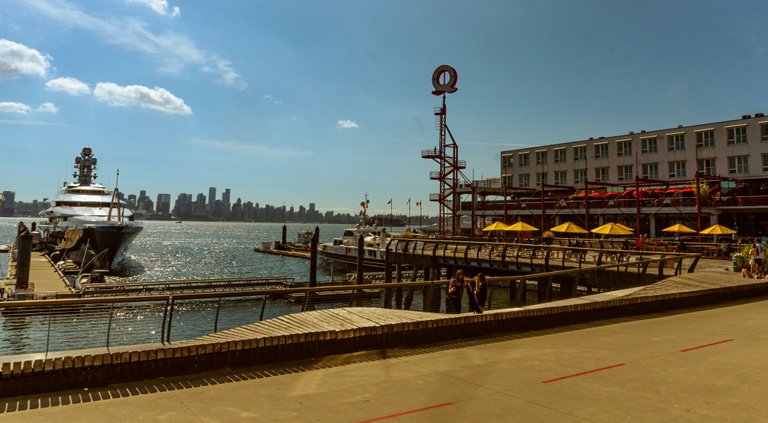 ---
Through this stroll, there are many bars and restaurants to eat at, but the layout of the outside area's makes you feel as though you do not want to sit inside. Below is an area with a thin water stream that kids can take their shoes off and run around in. It always puts a smile on my daughters face.
---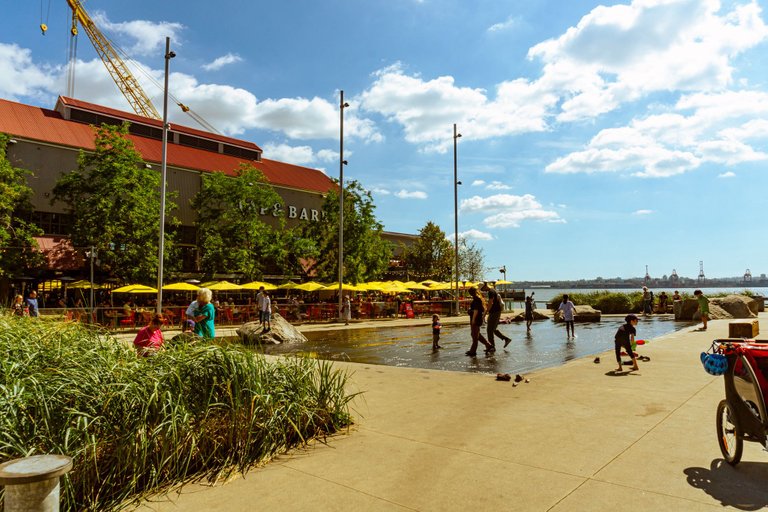 ---
Just around the corner from the stream is a huge area equipped with a mini spray park, ping pong tables, and more often than not, live entertainment to keep the ambience top notch.
---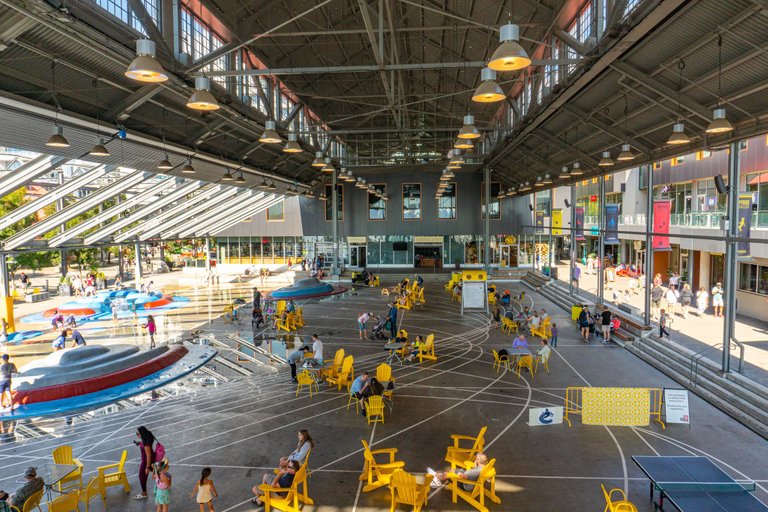 ---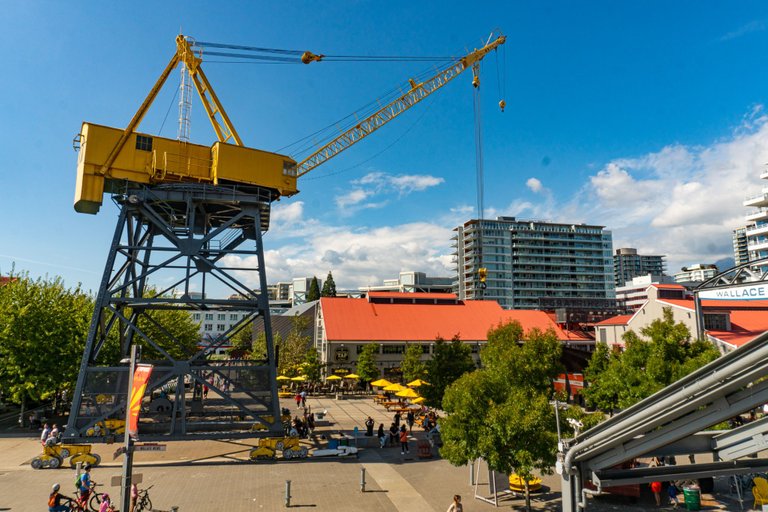 ---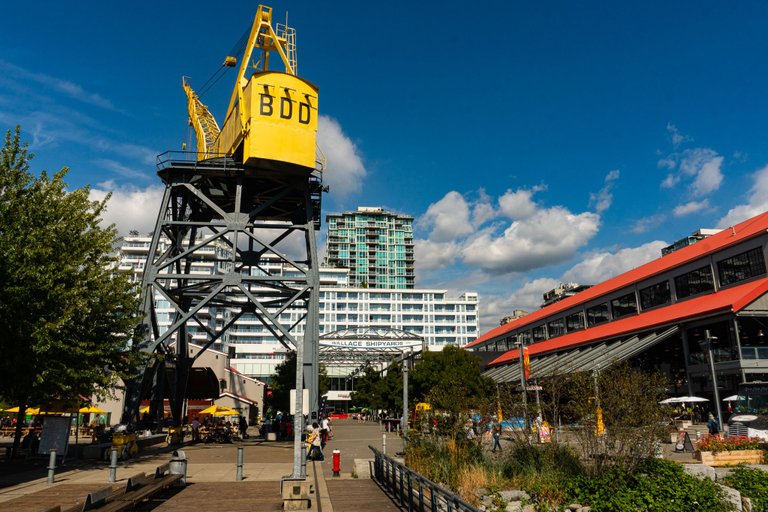 ---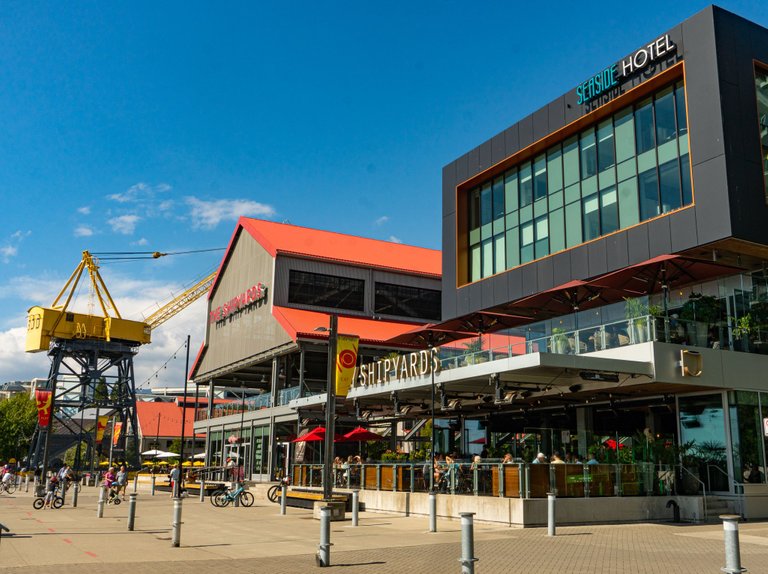 ---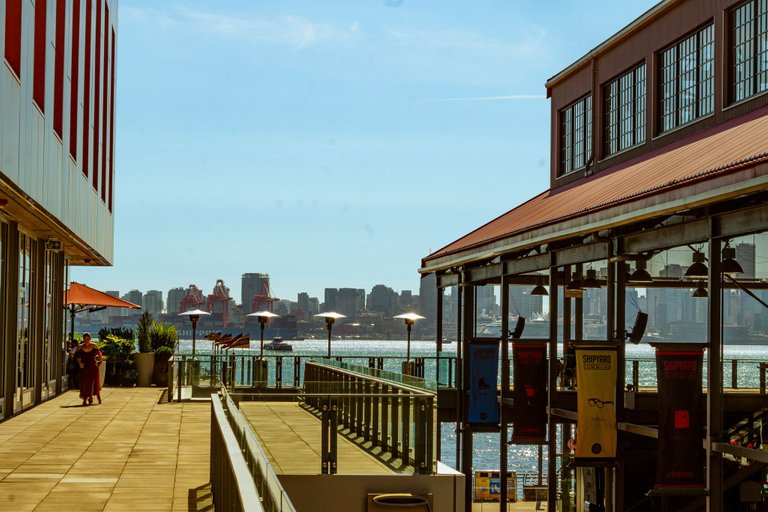 ---
The Views
As was mentioned multiple times in this post, the views of downtown Vancouver are 2nd to none from every angle on the North Shore.
Let's take a walk down the pier, do not forget that camera!
---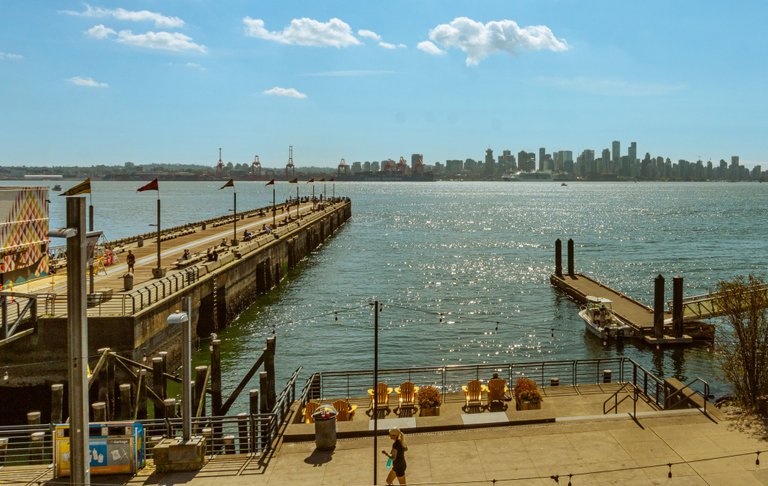 ---
Without being a nuisance, people watching can be fun in this area as there is no shortage of smiles to go around.
---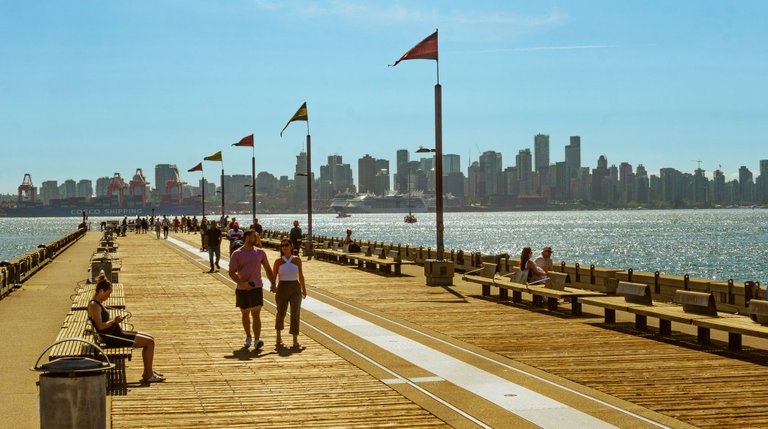 ---
Here is a view from the end of the pier, facing back towards North Vancouver. When you pan around from this spot, you will get a more abundant look at the mountains nearby.
---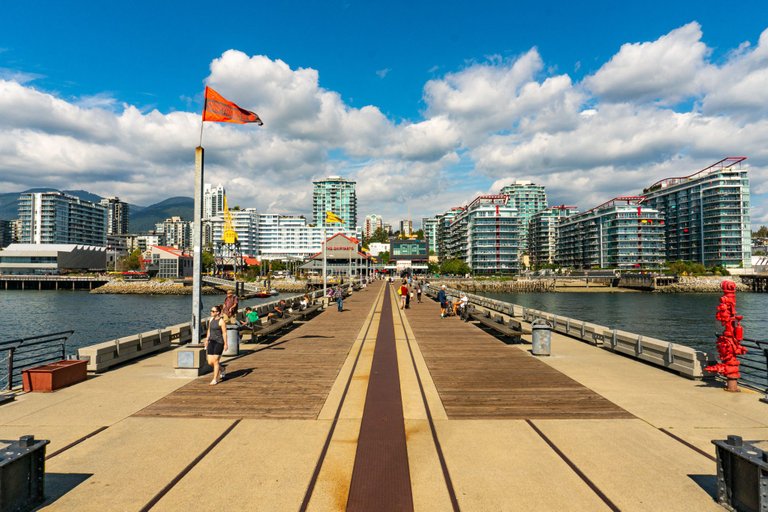 ---
If you still have some energy in those legs and battery life in your camera, keep walking along the shoreline. There is one more little stroll not far down to see the last bit of fun on this stretch.
---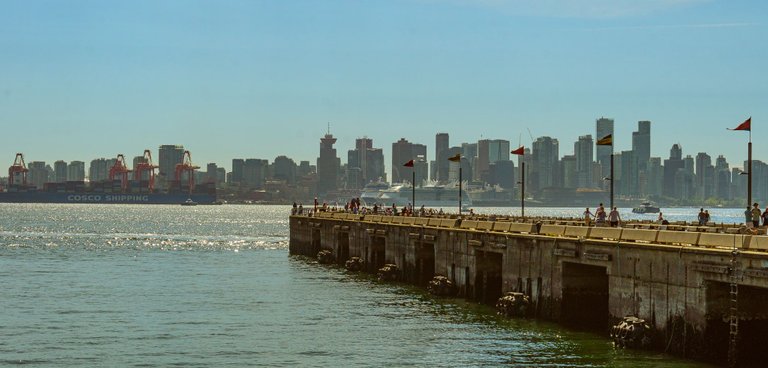 ---
Just next to the pier you will run into Seaspan and site for ship building and repairs. Yes, that is correct, the Shipyard District is not only a museum of sorts revealing the history of the area. Seaspan has an active Shipyard still doing business to this day.
---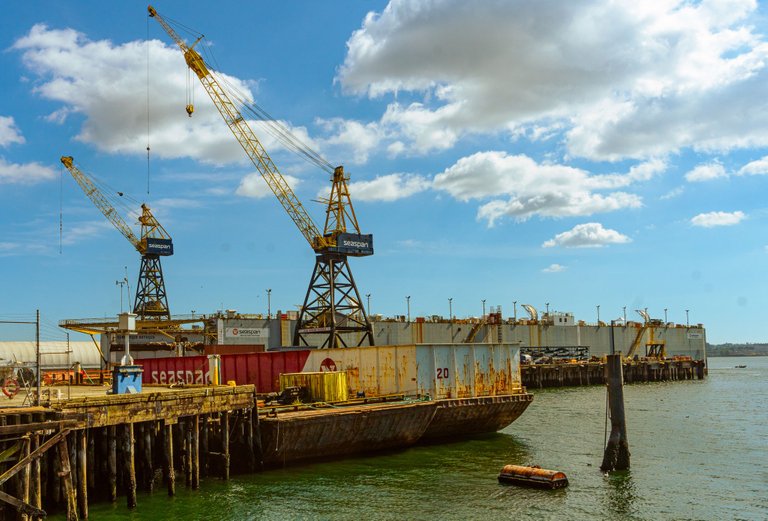 ---
This concludes this tour of the North Shore area. The best part is, if you took the best way via Seabus, you still get the boat ride back.
---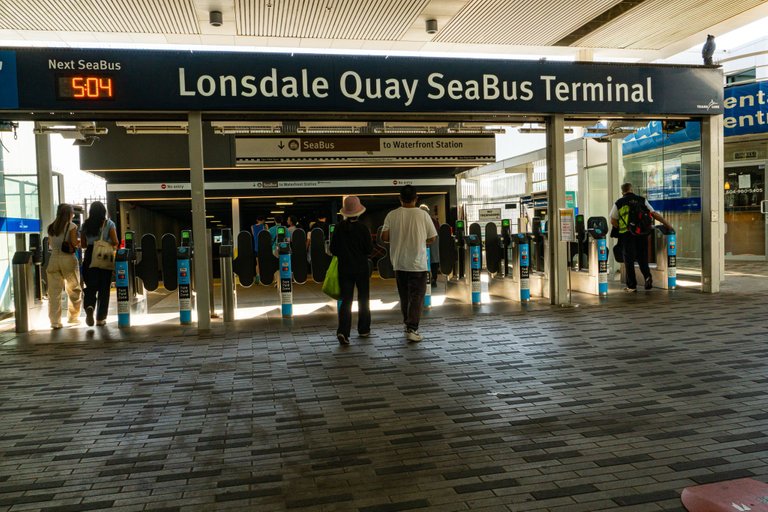 ---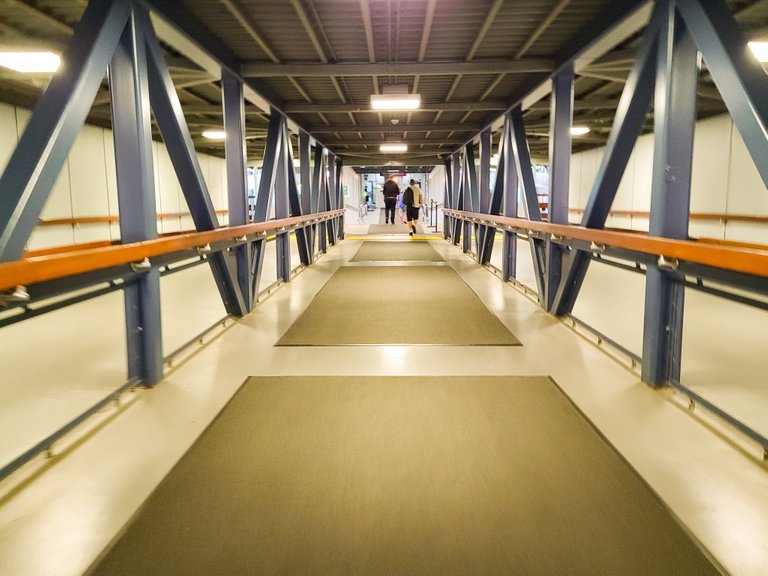 ---
At the end of the tunnel, you will see a digital timer, letting you know how long until the next Seabus will be leaving this side. There will be times that it says one minute and you find yourself jogging down to make it in time.
---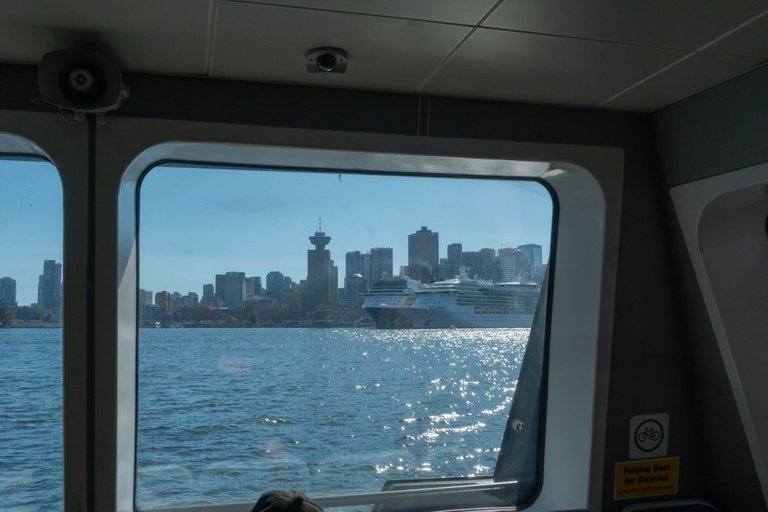 ---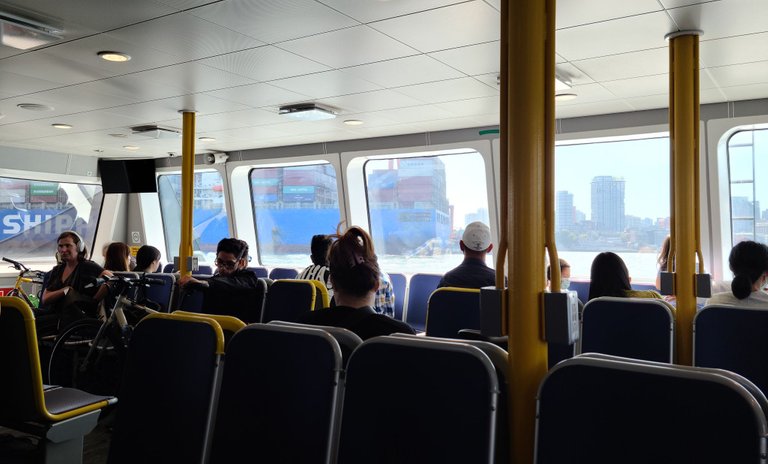 ---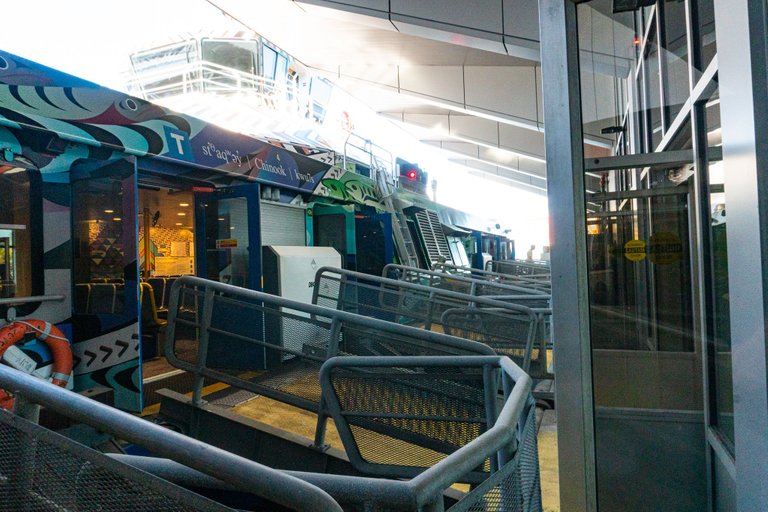 ---
There you have it! You are back full circle to where we began this adventure. If you have more time and energy at this point, it may be worth taking a quick stroll over to Gastown to take in the happenings over there. There is enough time to pair the two in a day although it can be too much of an ambitious attempt for some.
---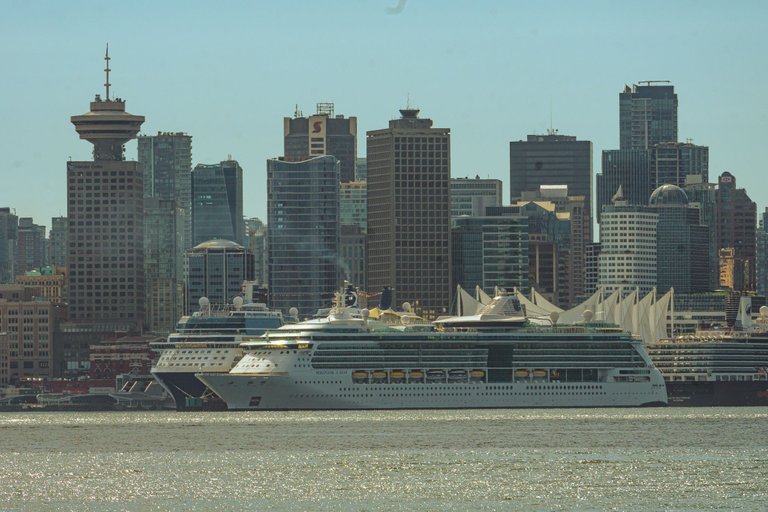 ---
In Closing
Pictures and words can only provide a certain level of perspective to those that have not visited the area. Upon visiting Vancouver, this should be an absolute must see.
At the minimum, it can be extremely cheap, at the same time, there are plenty of options to make it an expensive day to indulge in all that the area has to offer.
For me, you can visit many places that provide you with shopping stores, restaurants, and materialistic things of that nature. These types of excursions provide you with far more value than that.
Some cities do not have any character at all, some cities come off as trying to replicate another. Vancouver is a world and class of its own. Partaking in a day trip this way, is the best method as an outsider to get a feel for what local life is like for many; a way to experience a bit of the culture that is unique to Vancouver.
This is something that every single visitor should take the time to do. It is safe, affordable and abundant in enjoyment.
Thanks for reading!
---
---
---