Meet Memphis - The Adventure Pitbull
---
Memphis: The Adventure Pitbull
---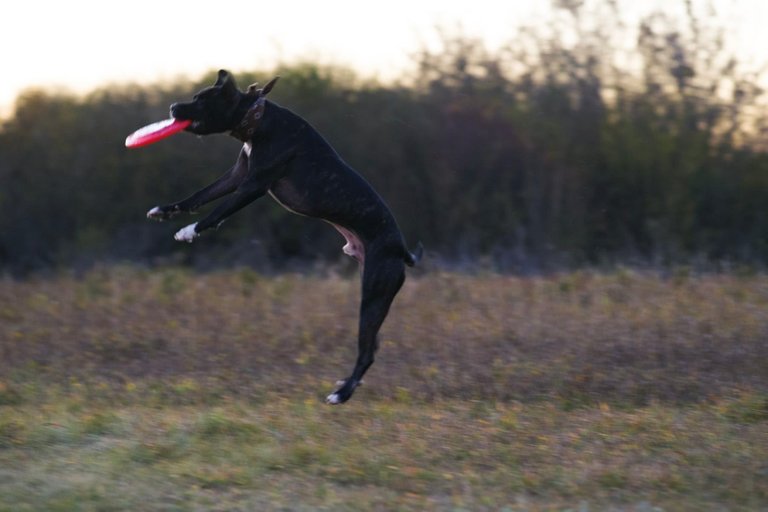 ---
I thought it would be fun to introduce my pooch to the world today!
This is Memphis. He is no ordinary fur-ball. At 9 years old, he still has the energy of a pup, still just as loving, and still as unique as ever!
Memphis has some serious talents!
Many years ago, a friend of mine had trained his dogs to catch a frisbee in mid air. This astonished me as the dogs not only caught the frisbee's, they each had their own colours of discs, and would only pursue their own colours.
Amazing! I knew that for my next dog, I wanted to teach it to play frisbee!
---
---
Before getting into his athletic abilities, there is something that I would like to clear the air with as there is a great chance that some reading this may think these dogs are dangerous killing machines...
There are many people out there that (falsely) believe that the American Pitbull breed of dog is nothing but an unstable, aggressive monster that should never have been bred. As a responsible dog owner, this belief irritates me quite deeply.
Owning a Pitbull has many setbacks around the dog parks and walking the streets. People constantly picking their dogs up when near you, people making remarks, all sorts of behaviour from people that have no idea what they are talking about. People that cannot think for themselves outside of what a media narrative geared towards keeping your fears at the forefront of your mind keeps feeding you.
Caring for any dog requires responsibilities and discipline. If you cannot provide that for a pooch then they will be unstable no matter what breed it is. The problem is, whenever there are bites relating to a "bully breed", the news will jump on every opportunity to bash the breed, not the owner.
When in reality, 90% of the dogs I encounter at dog parks have owners that should not be allowed to have a dog, but they are not large dogs so their instability and aggression never gets noticed.
The fact is, these are some of the most wonderful, loving dogs that you can own. Out of the many dogs that I have been around in my life, Memphis is the BEST! There has never been a breed that I have ever seen better at interacting with children as well.
Memphis is the best big brother for my daughter and since we brought her home from the hospital, he knew he had a larger purpose. His adjustments to not being the centre of attention any longer amazed me. He took care of her the same way that we do.
If I was in the shower, and the baby woke up, Memphis would come knock the washroom door with his paw sitting perfectly to let me know that the baby was crying. Whenever he knows she is doing something she shouldn't, he comes to me, & gets my attention by sitting in front of me, whining.
An absolutely amazing dog.
---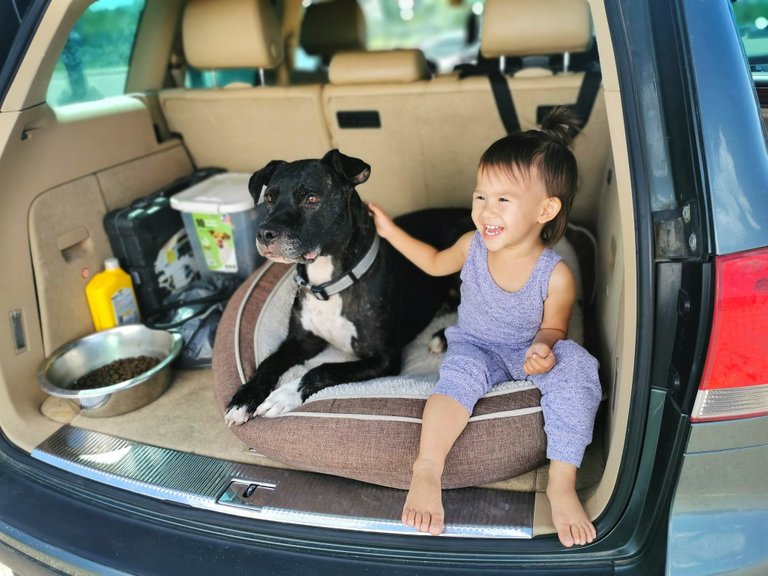 ---
Frisbee Champ
---
At around 1 years old, we were able to transition from fetching sticks to frisbees and he was a natural! We never looked back. All of a sudden, at the dog parks, everybody was able to look past his big scary demeanour and loved him for the show that he would put on.
Sound familiar to other discriminatory issues we continue to have on this planet?
Anywho, here are some photos of Memphis in action!
---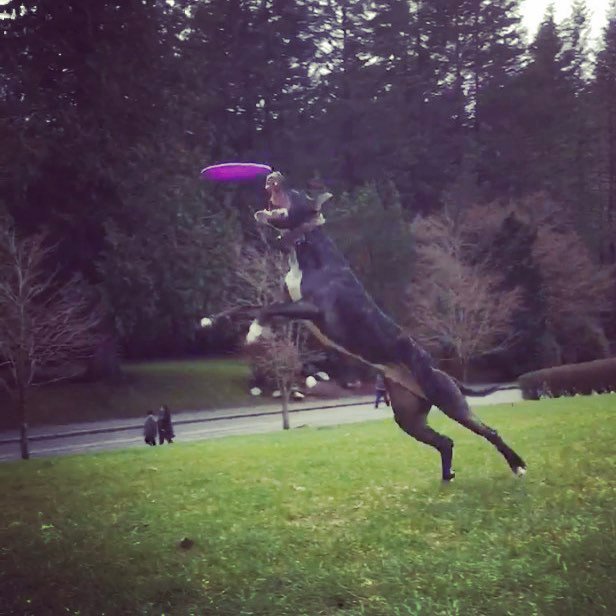 ---
There was a point where I was inquiring into going after the Guinness World Record for distance a dog could catch a disc. The current holder at the time was a gentleman and his pooch from the neighbouring province of Alberta here in Canada.
He played the sport of "Ultimate Frisbee" and could throw the disc over 100 yards and his dog would catch it. Memphis and I would go practice at the field, I would measure out 100 yards and go for it.
The best distance that I could pull off was 80 yards in the best wind conditions, even with buying the best long distance discs. I feel as though I failed Memphis a bit because he would easily be able to catch the distance needed, I just could not throw that far.
That is okay though, we still have a great time with it!
---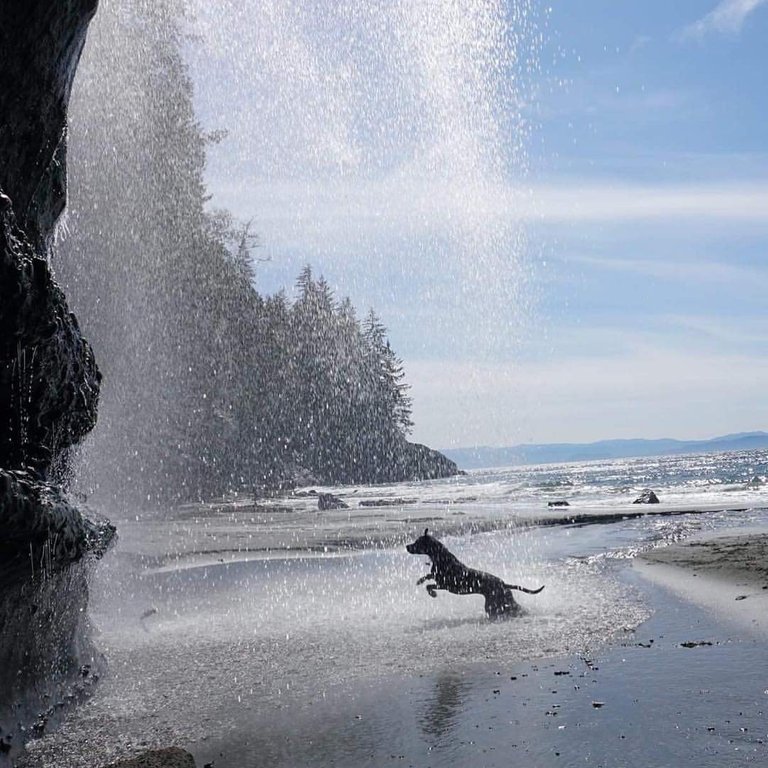 ---
Water Love
---
Aside from being a gentle giant & a frisbee champ, Memph loves the water!
People would get a kick out of him on hikes as he would just run and play in the waterfalls, hop like a deer in the mud holes -- living his best life.
This photo below is one of my favourites. This is at an amazing lake called Thetis Lake. In this shot, I was sitting chin deep in the water keeping my camera hovering at the water's surface. My fiancee would throw the stick and Memphis would run as hard as he could, jump as high as he could and soar across the water before swimming hard to retrieve it.
---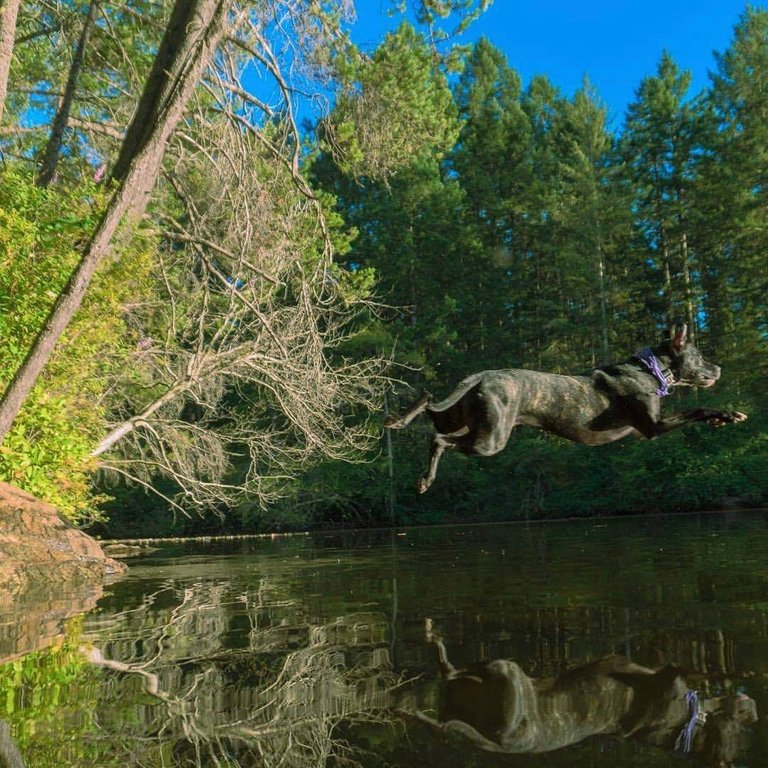 ---
Did I mention that Memphis likes to fetch trees?
---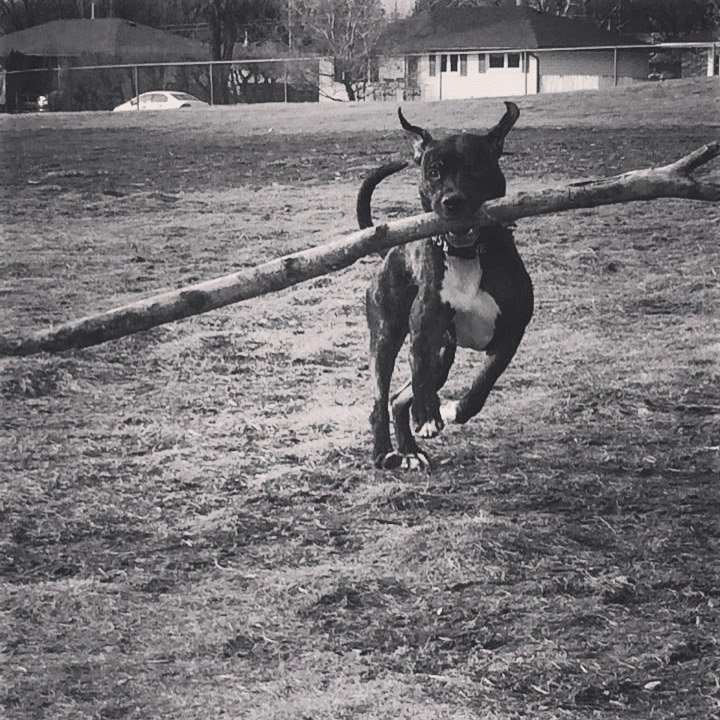 ---
As well as hiking at Botanical Beach..
---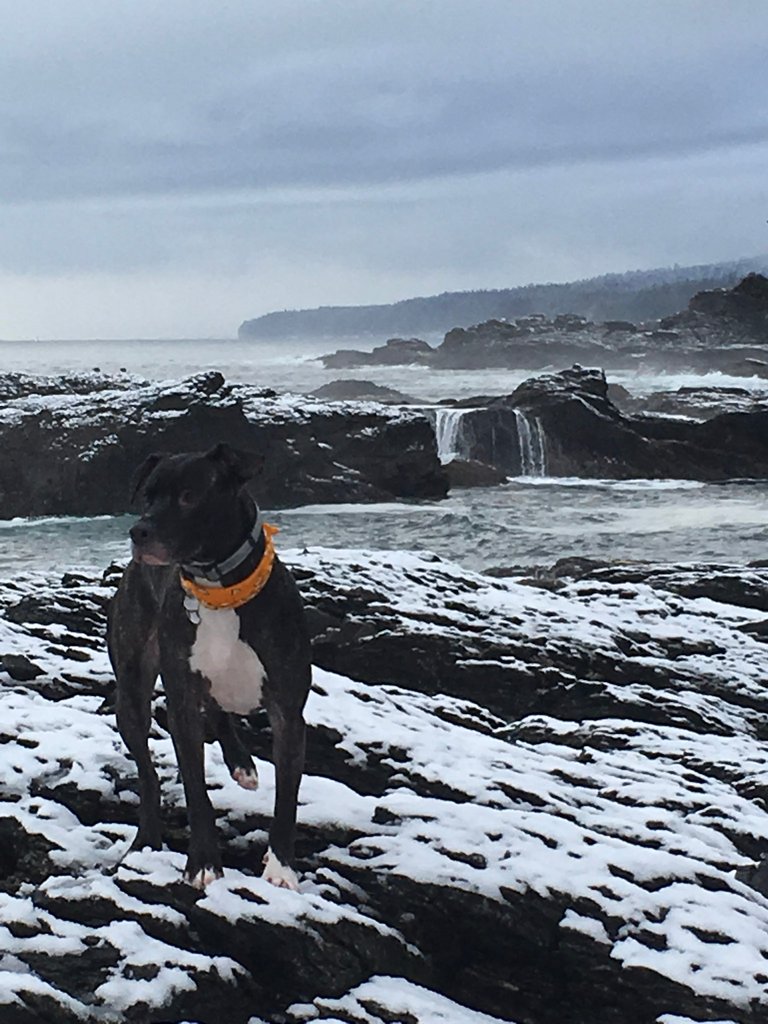 ---
TV Critic
---
One of the more odd talents that Memphis has is his ability to follow TV shows or movies. Before I got him, I used to love watching National Geographic along with many wildlife shows. I can no longer watch them as he will not stop whining or growling at the tv screen.
In the photo below, this was a reaction from him I hadn't seen before. The lion on the screen made him cower and pout. Such a vicious dog.
---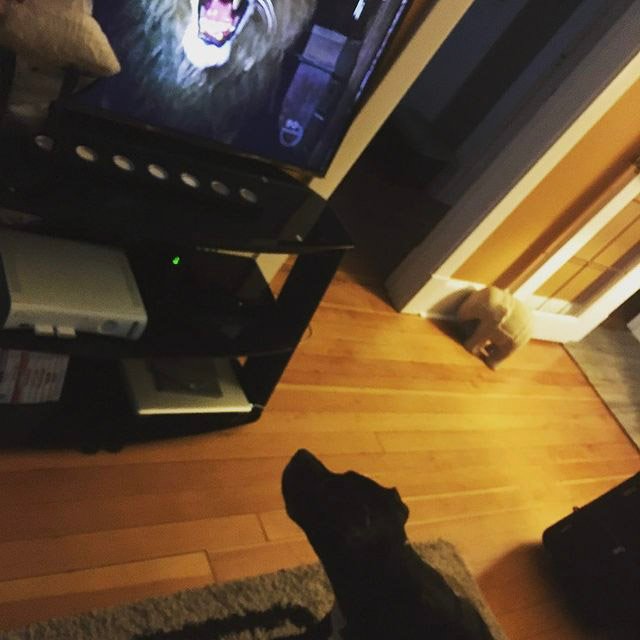 ---
Never underestimate the loyalty of a dog. In the photo below, I had thrown a stick towards the shoreline in the Pacific Ocean, but he lost track of it. In an effort to keep from upsetting his master by not bringing back the stick, instead of giving up, he remains looking for it as a rather large wave is about to sweep him off of his paws. Even as I am yelling at him to move, he does not until the very last second -- with the stick finally in his mouth!
---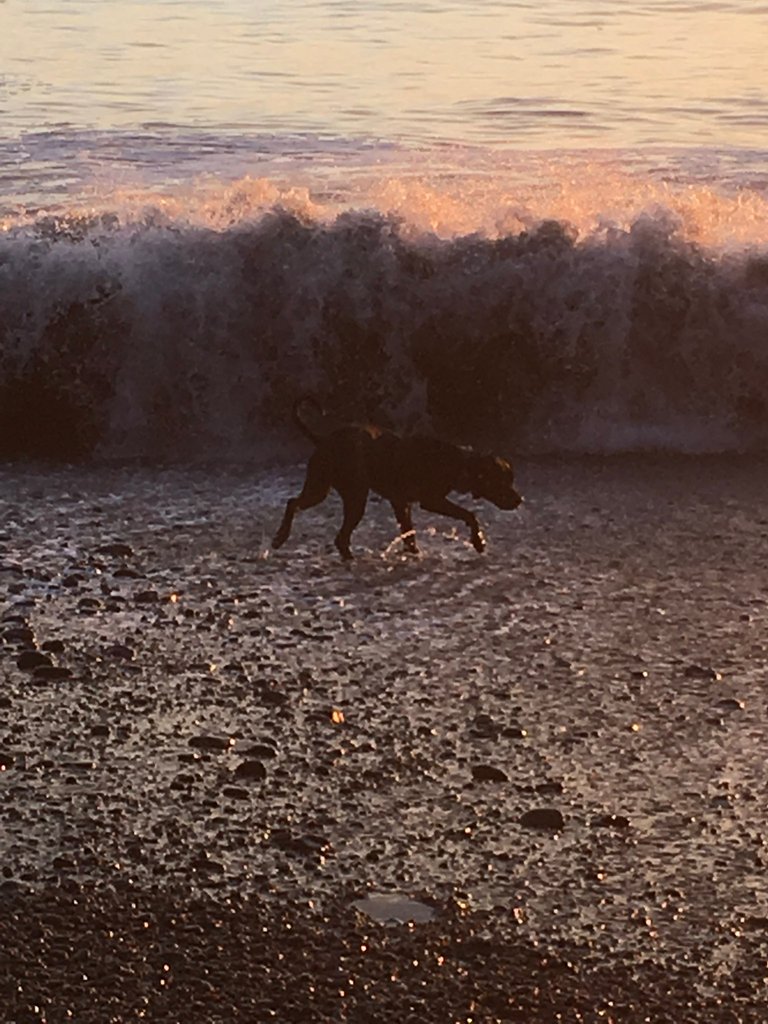 ---
We all love our dogs. I hope making a post like this will remind people that any dog can be a bad dog and there is nothing natural about this breed being vicious. Not long ago, these K-9's were considered "Nanny Dogs".
Once I had a child of my own, I could see how true this was.
---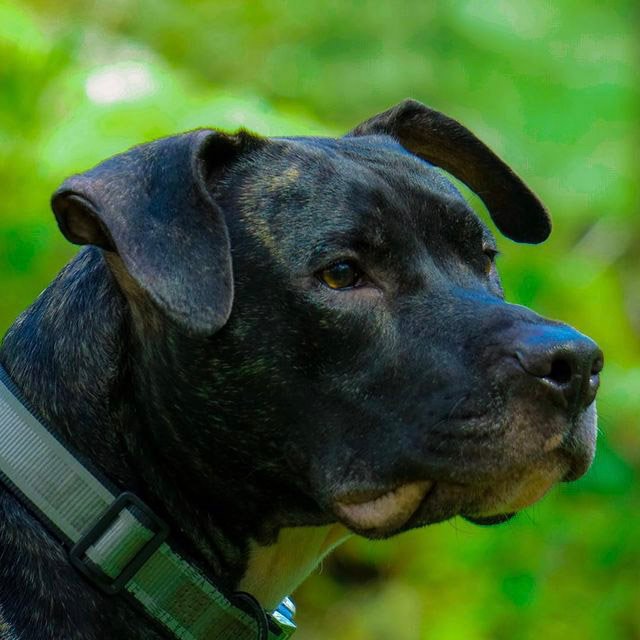 ---
Thanks for stopping in to learn about my wonderful best friend!
Next time you see a Pitbull breed, give it a chance. If the owner is doing things properly, you will fall in love with these dogs!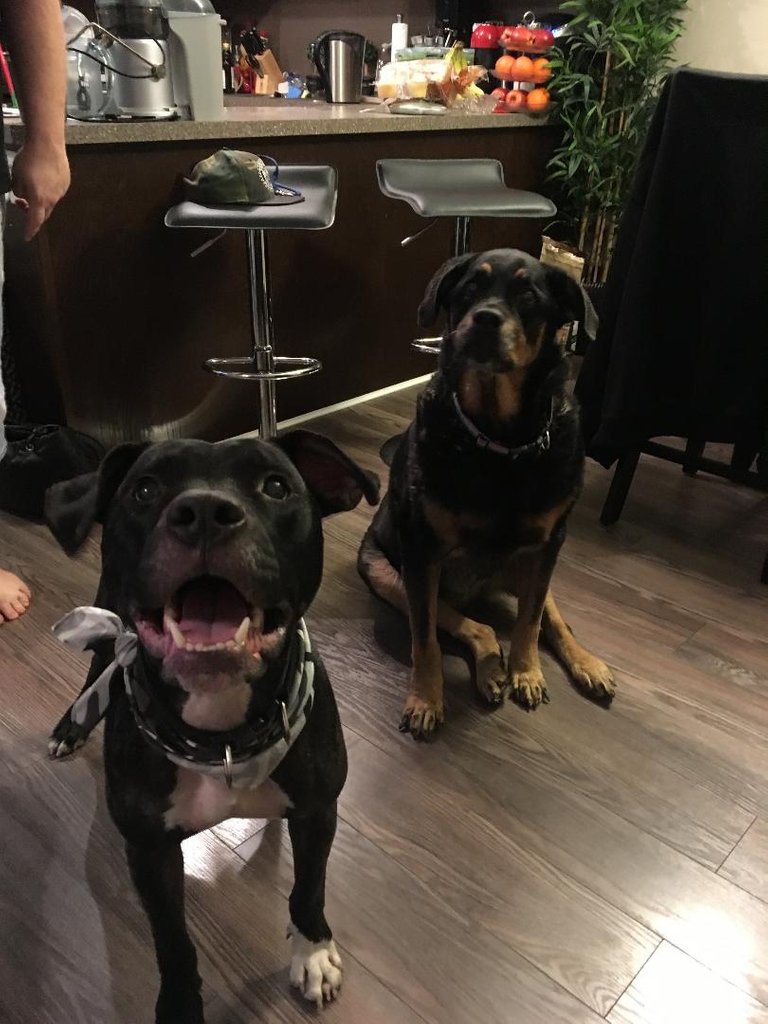 Memphis with Kota - @jongolson's old pooch
---
---