Salmon Avocado Salad | Homemade Honey-Lemon Vinaigrette
Salmon Avocado Salad
---
Salmon Avocado Salad is a regular dish that I make at our house as it is loaded with nutrients & packed with flavour!
One could get away with any fish but I love the taste of a wild-caught Sockeye Salmon as they are loaded with healthy fats, omegas, and tend to be a species that are normally quite low in mercury levels.
Those that do not care for any hint of a fish taste, have no fear. The honey lemon vinaigrette dressing neutralizes any fish flavour and and blends the ingredients all together quite nicely.
---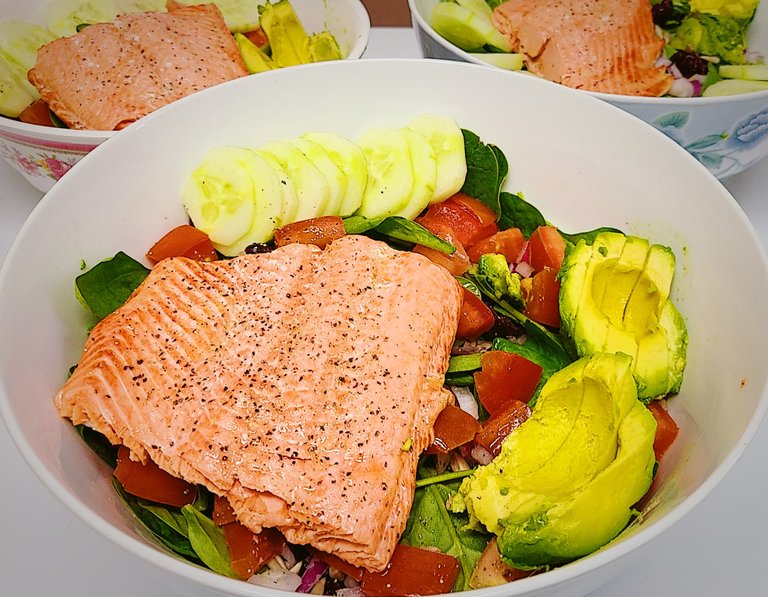 ---
As mentioned, this salad was made with a Wild Pacific Sockeye Salmon caught along the shorelines of BC, Canada.
I prefer that the fish is thawed out prior to cooking it and I make sure to rinse the fillet off and pat it with a dry towel just before putting it into the oven.
For certain dishes, I may season the fish, but for this salad, I will cook it plain and then add some pepper after it is finished cooking. The only thing the fish gets before the oven, is some olive oil brushed on top of it.
---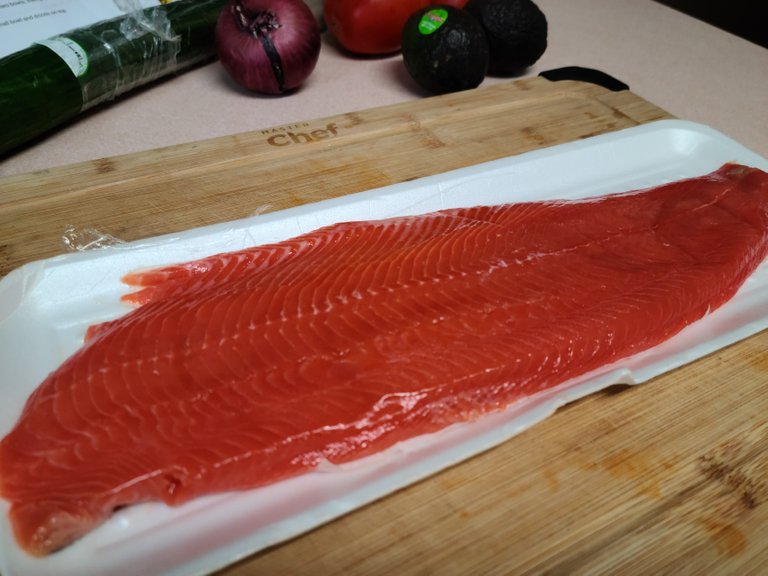 ---
Here we are. All of the ingredients are ready to go. These add-ons can interchange with so many other things. For us, it depends on what we have sometimes but there are regular ingredients that you do not want to skip out on.
For this salad, we have:
baby spinach
avocados
red onion
tomatoes
cucumber
sunflower seeds
dried cranberries
salmon fillets
Quite often, I will add Goat or Feta Cheese as well but did not for this batch.
---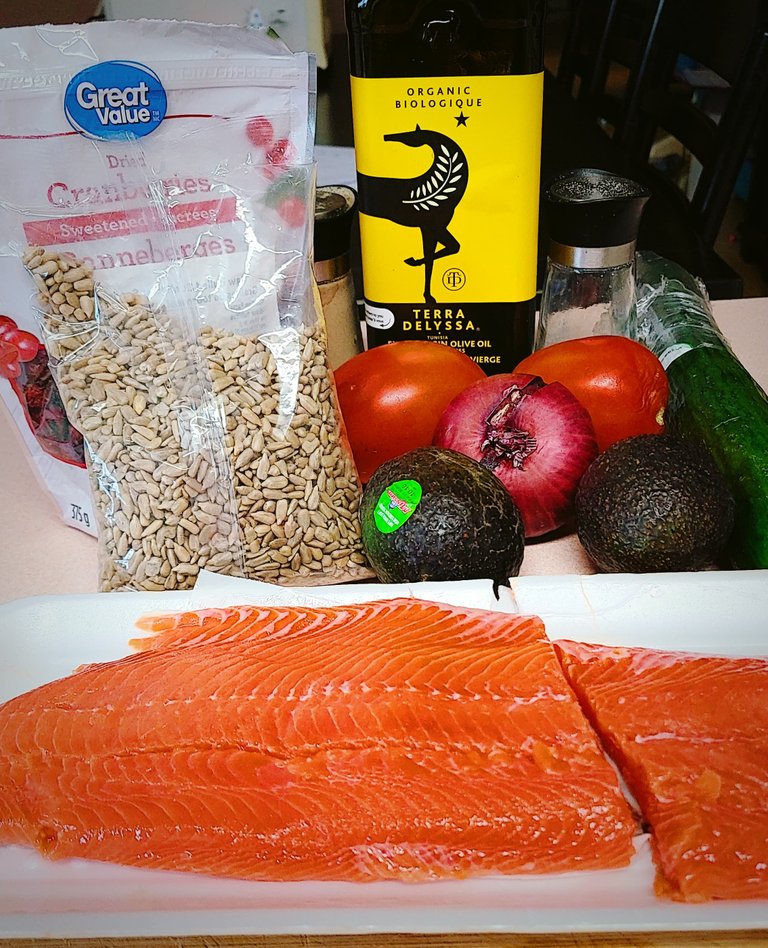 ---
Preheat the oven to 375 degrees and then get that fish in there uncovered for 8-10 minutes.
While that is going on, divide your bowls with the spinach. Chop up the vegetables that require chopping and distribute them evenly amongst each bowl.
---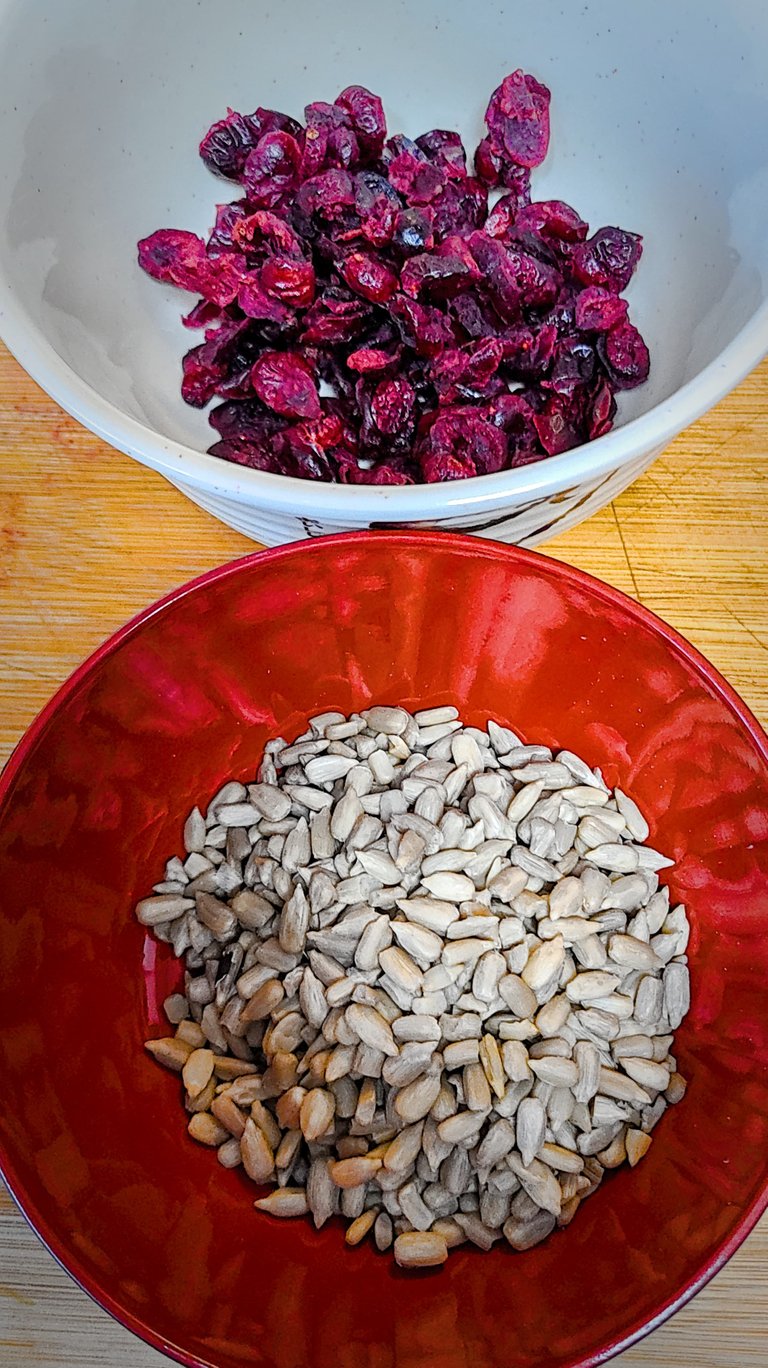 ---
That's right, get all of that together and prepare the vinaigrette just before the salmon is ready to be removed from the oven. Generously add the sunflower seeds and dried cranberries!
---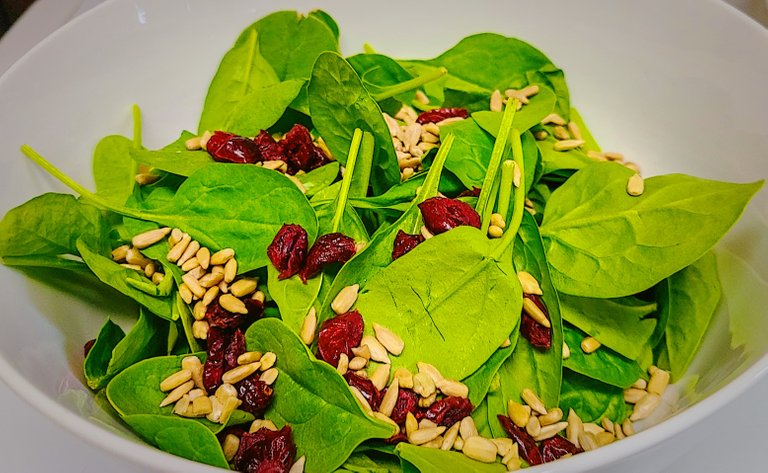 ---
Once the fish is cooked, sprinkle it with some pepper, let it cool and finish up any other add-ons that you may have in mind.
For most fillets that we purchase in Canada, there will have skin on the bottom layer. If you care to peel the skin off, this would be the time to do it.
---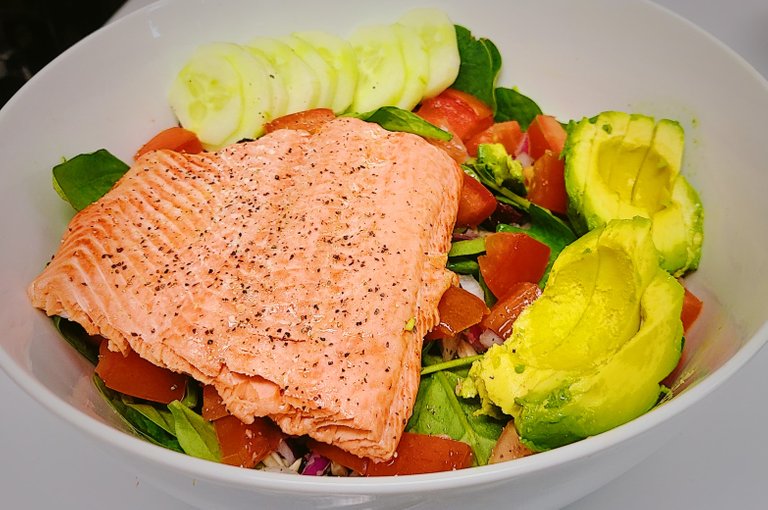 ---
Is it a simple dish? Yes. It is also so good for you and tastes amazing with a vinaigrette to go along with it.
Bon Appetite!
---
---