Shake your way into earning BTC
Earning Satoshis is the best thing you can do right now. This has been the tagline of every individual who is enthusiastic about crypto and related projects, for years.
A newcomer to crypto will hear about Bitcoin and its price action. The current king of crypto - Bitcoin and its limited fixed circulation is always the talk of the town. As a newbie a couple of years ago, the BTC concept was not as easy to understand. Now, it all comes naturally to me but it was not like that all along the way.
After joining Hive and Leofinance and after reading encouraging posts from many users who are the veteran in crypto cycles, I realized that accumulating BTC is one thing I should not missed out on. But, how do you accumulate your BTC other than investing in it?
Well, there are BTC faucets. There used to be many meaningful faucets which have dried down lately. The reason being the relatively high coin price. The ones that are available now are full of ads and scams. I could still try them all because, why not. I would still earn sats for being consistent and watching ads. Mind you, it is not always as easy to withdraw small amounts of BTC from these faucets.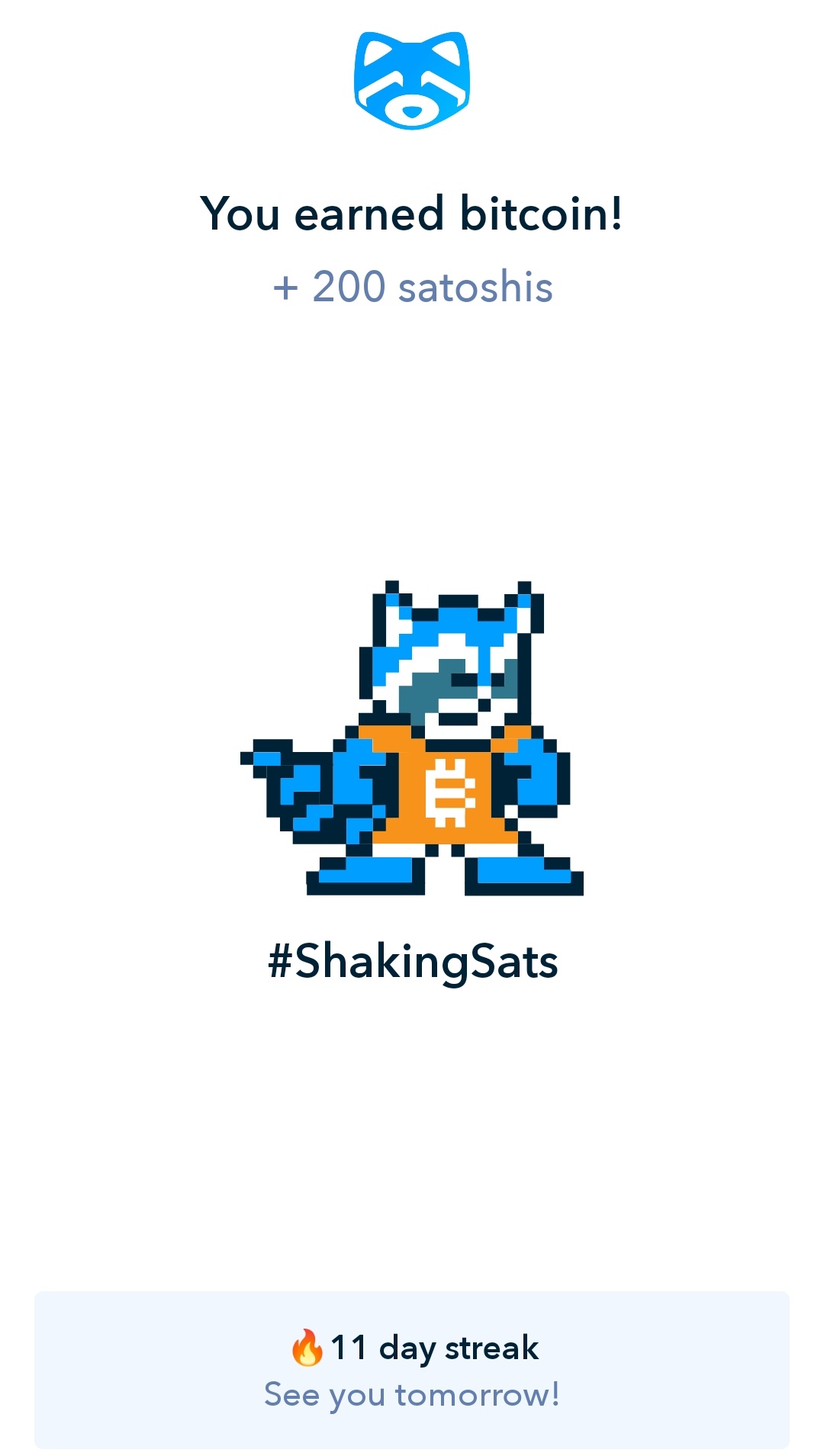 Amidst all this, there is one service that I have been using daily to accumulate BTC.. It is called Shakepay which allows you to shake your phone and earn few hundred sats. There are no ads and no hassles. The only condition you need to follow is to download their app, register with them and be in Canada :)
Shakepay provides BTC and ETH buying and selling services to Canadians. It does not have any other coins listed on its platform. Users can transfer money from their bank account to buy BTC and ETH. One key advantage to use their service is to be able to shake sats everyday.
Funny thing is, you will accumulate more sats if you manage to shake your phone everyday regularly. But, you will restart the countdown if you miss a day. The longest shaking streak I had was that of 63 days. That was massive.
I forgot to shake my phone on one fine day and everything started back to day 1. I have not stopped shaking no matter what. Who knows how much these shaking sats worth in a couple of years.
Posted Using LeoFinance Beta
---
---