Day 1 of #3StepsNoExcuses Challenge.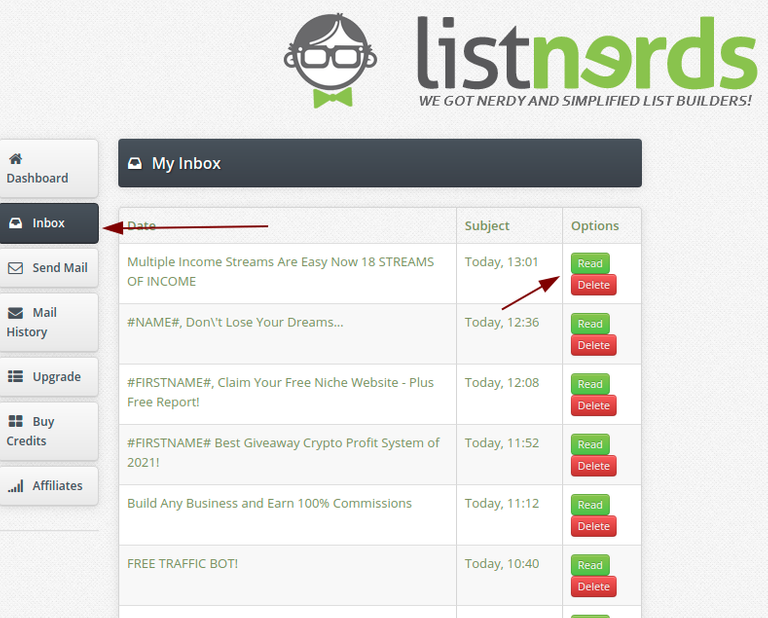 ListNerds rocks. Yeah, Imma nerd.
Wow! What a day. Today was the launch of CTP's #3StepsNoExcuses Challenge.
In a nutshell, this challenge plunges us into 30 days of simple steps using 3 tools created by ClickTrackProfit.com. It's an smart way for the CTP Tribe (a sizeable group of us) to see if our online business can be in better shape after 30 days of effort.
Led by the ClickTrackProfit's own Jon Olson, the CTP action-takers (and anyone else who wants to join) will work through three simple steps using the tools. Easy peasy!
Daily PDFs Outline Each Day's 3 Tasks
Each day a daily .pdf will be posted on the ClickTrackProfit.com Telegram channel.
Download it, print it out. (Laminate it if you're so inclined.)
Delivery via PDF is a great method of getting the word out. Folks can share the pdf and grow the number of people in the challenge. :)
Based on what I saw on social media earlier today, many folks print their copy. This gives you a physical copy you can write on and actually check off the tasks.
Follow 3 Steps using These 3 Tools
The CTP arsenal of tools are designed around helping new and experienced marketers get their message out and practice ethical affiliate marketing. For our three tasks each day, there's three tools we will be focusing on.
(Not to worry, all three are 100% free to join, so if you're new to all this you can jump right in with no upfront outlay of cash. Pro Tip: I'm upgraded in all of these. I'll cover that later.)
Click Track Profit – https://www.ClickTrackProfit.com
This is your 'go to' spot to ask questions, get an education on affiliate marketing, create landing pages, and learn.
Plus 1 Success – https://plus1success.com
Sometimes it's not marketing 'know how' that we need. It's consistency. This is going to get us there.
ListNerds – https://ListNerds.com Your best offer, link, funnel, ebook, magnet, etc. isn't going to do you any good if you don't have any traffic. That's what ListNerds is for. This is one great mailer that I have used for a while. Highly recommended!
Anyone can join. Yes, This means YOU :)
Want to join up and participate? That's pretty simple. Join the ClickTrackProfit.com Telegram channel. We're a friendly bunch and are willing to help you succeed.
Then each day follow the steps in the PDFs as they're released. You can also find out about this on the Hive blockchain by searching for the #3StepsNoExcuses tag.
If you want to keep up with this on Social Media, I've created a new ThreeStepsNoExcuses chamber on Noise.Cash.
It's the Journey not the Destination
As I've learned myself through the school of hard knocks, it's the daily commitment to something that matters. That comes from showing up daily and doing the work.
THAT's what this challenge is about.
Can you realistically stay focused and work toward a long term goal over 30 days if the steps are easy to follow, and designed to build good habits?
I bet you can! Let's do it!
The steps are simple each day, and require just a small amount of effort to accomplish.
CTP - Login and watch the welcome and Tutorial section videos.
Plus 1 Success - Raise someone up. Say something good online about a friend, colleague, co-worker.
ListNerds - Login and play around with their mailer interface and get accustomed to the editor for emails.
That's it. Then you simply write a post about your effort and tag it with #3StepsNoExcuses.
I think Jon's plan is a great one. So I took it to the next level, of course. :)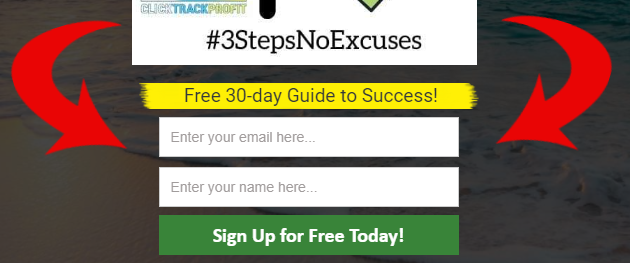 Screenshot of my Lead Capture Page for my new list.
As we go through this challenge, I am documenting the steps, making my own original content, writing articles, and publishing all of it as a free email course that promotes CTP, List Nerds, and Plus 1 Success. I am following the same steps as everyone else and creating my own unique course as I go.
In other words, this is my own spin on this challenge, and is being published and created by me (with Jon's blessings) and isn't owned by CTP. This one is my baby. I'm doing the same challenge as my CTP friends. The difference is I'm turning my efforts and ideas from it into a course. Warts and all. Exciting!
This 30-day E-course is 100% free and always will be. I'm just grateful to have found a group of like-minded marketers who are ethical that I feel really good about working with.
I'd love to have you join me in my new course, and sign up for my free 30 day course. :)
Peace and Love,
-Rob
Hashtags: #3StepsNoExcuses, #CTP, #marketing, #myhivegoals
---
---