ASK LEO: How can we deal with the economic recession and what role can cryptocurrencies play?
Recession
High levels of inflation in almost all countries worldwide, compared to previous years.

Rising interest rates.

The decrease in the Gross Domestic Product (GDP).
These are some of the most alarming factors that have put on the lips of many the word: Recession.
"Recession is the decline in commercial and industrial activity leading to a decline in a country's wages, profits and employment." - Oxford Lenguages
The economy tends to move in cycles throughout history and at the present time (post-pandemic) several macroeconomic indicators are showing that a worldwide recession is near or here now. There are already several specialists who indicate that from the second half of 2022 or the beginning of 2023 this recession will arrive.
While it is true that this is not the best economic outlook, good planning can minimize risks and even offer some long-term investment opportunities.
---
Controlling our expenses
One of the best known tools to curb the population's spending is the increase of interest rates by the Central Banks of the nations, thus curbing inflation. The consequence of such increases is that goods and services cost more, which encourages people to save more money before spending it.
Making a budget to determine what our income and expenses are is basic to protect ourselves from a recession. It allows us to measure what we are spending on and more easily determine what is really a necessary expense and what is not, thus allowing us to save better.
What do we want to save for? Well, to later invest.
Paying our debts
When acquiring a loan, many times we do not pay attention to the small print that stipulates a variable rate, this means that if the central banks raise the reference rate, banks and lenders will also make the necessary adjustments, so getting into debt will be increasingly costly.
In a recession period, you should seek to reduce those interest-bearing payables as soon as possible.
What is the point? To reduce expenses and thus be able to save more and thus be able to invest.
And where we invest?
Obviously, everyone has a different interest and a different investor profile that characterizes them and defines where they are going to put their money in search of profitability.
But clearly if you are on this platform it is because you like cryptocurrencies, you are passionate about them or you believe in their technology, so the answer to that question, for us, is:
In the cryptocurrency market and its many tools available.
This bear market moment is a great opportunity to buy at a "discount" the cryptocurrencies that we once thought we would never see economical again.
It is important to remember the first thing I mentioned: The economy is cyclical and this is part of the cycle.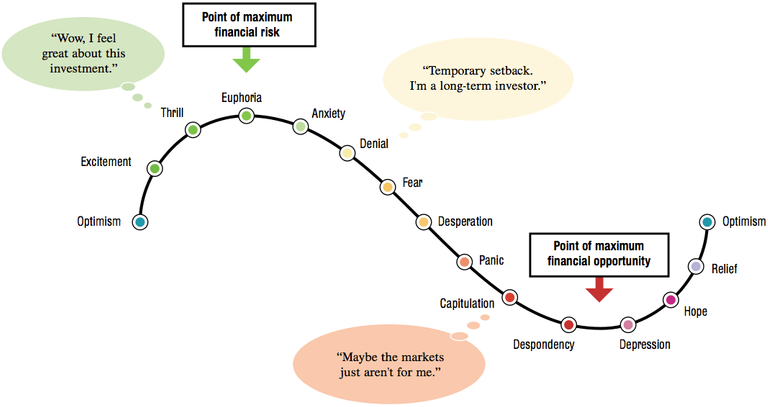 Market Emotional Cycle Sourse
Ask yourself this question
What emotion do you feel at this very moment when you think about the market?
Also ask yourself what emotion you think the majority of the population feels when they think about the cryptocurrency market?
The indicators currently show a great fear, in cryptocurrency investments. And if you locate that emotion in the image above, you will realize that the map shows you that now is really not a bad time to enter (with a fraction of your available capital) in the cryptocurrencies and projects that you have always liked the most. In those projects that you are sure are good, reliable and constantly growing.
Look in the news for projects that are still developing for improvement and growth, even when all this is happening. They are the most suitable, they are the ones that will survive all this crypto winter and you will see then that your capital will grow with them when the recession is over.
Probably as we are still only in the stage of fear, you should be aware that the fall (according to the image) is not over yet. In fact, if you know about technical analysis, you may realize that there is a certain possibility of continuing to fall. So do not rush to buy WITH ALL your capital now, be patient and if you are going to buy the DIP, do it with partial and strategic purchases, then the average of these entries, will bring you joy.
---

---

---
---