Leo Finance Marketing - My Engagement in Twitter About Leo Finance & CUB DeFi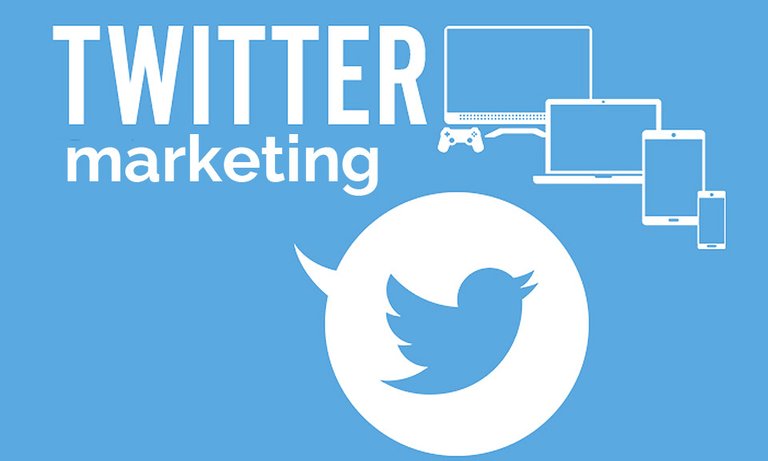 source
Twitter has an important role to doing engagement especially for marketing purpose in crypto product because this social media very familiar and the most usable for crypto enthusiast around the world, in fact we all know a lot of well-known public figures, the largest crypto organizations, official exchanges such as binance, great influencers, large companies and large investors use this social media in marketing their products.
This things certainly great opportunity for us to advantage centralized platform scoop up dozens of people to join in Hive Blockchain especially Leofinance and introducing CUB De-Fi Product to crypto enthusiast around the world.
Recently, i become active using Twitter and doing engagement about Hive Blockchain especially @LeoFinance and CUB De-Fi with tweeting or sharing my article related about HIVE and Leo Finance using Tags #HIVE, #LeoFinance, #CUB and others that related. Even i've been onboarding many newcomers on Hive Blockchain through LeoFinance Platform that give many advantages and very easiest way to joining Hive using Twitter Account and give 10 HP Delegation to help newcomers developing their experienced in community.
---
My Engagement in My Twitter Account About Leo Finance & CUB De-Fi
---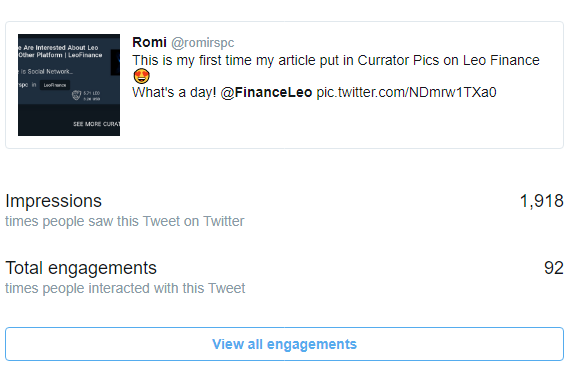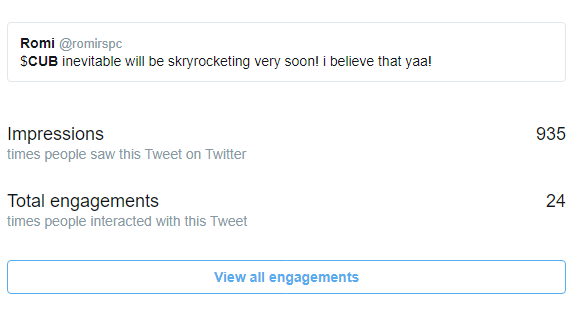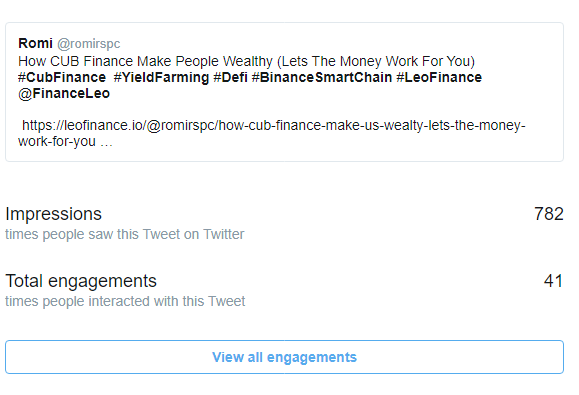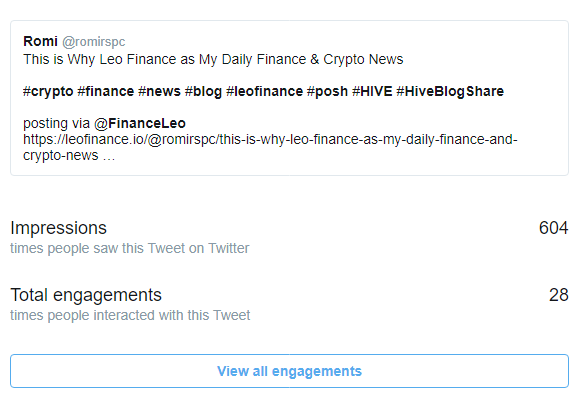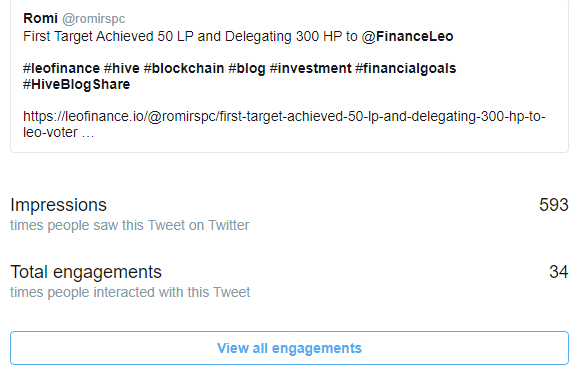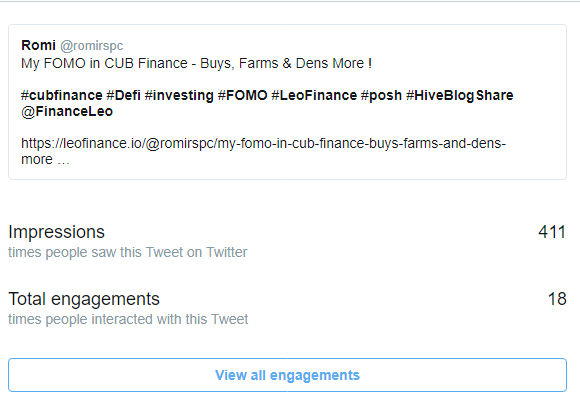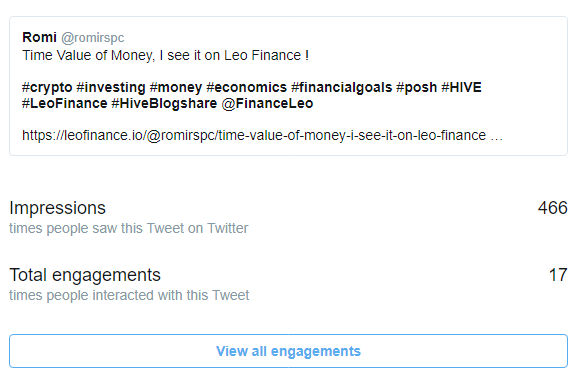 ---
Pictures above are my engagement in Twitter about Leo Finance & CUB DeFi for few days with total impressions almost 6K and total engagements more than 250 based on those pictures. I love to see another Lions and Hivers active doing engagement and introducing Hive Blockchain to increase people awarness about decentralized platform and joined in community, i imagine if all user doing marketing as well with pleasure both of Leo Finance and Hive will be brings dozens newcomers everyday.
Engagement is important to buidl great community all members must to have solid power together, developing and contribute to community together so that we can bring value to others and attract many investors to our products to be known by people around the world.
I'm proud to be part of Leo Finance and gladly to do marketing in all my social media especially in my Twiiter account both Leo Finance and Hive Blockchain, this is as a form of my appreciation to the community and i will continuosly contribute to spreading Leo Finance as The Most Suitable Place for Crypto Enthusiast around the world and Hive Blockchain as decentralized platform that brings value rather than waste their time on centralized platform such as facebook, instagram, twitter and others.
So, let's together to contribute and advantages all media to made this community grow more widely and become the greater community LIONS :)
Thankyou for visiting/stopping to reading my article, don't forget if you like this article you can upvote, rehive or reblog and let's be friends with follow each others for sharing perspective and thoughs together :)
---
---

Who am I?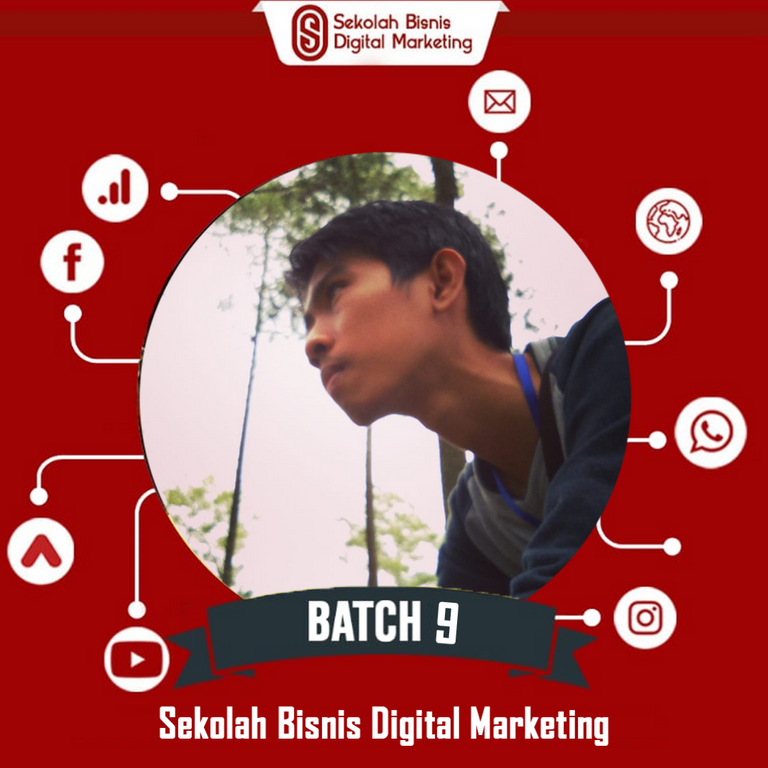 I'm Romi and i'm Crypto Enthusiast, that interesting with Blockchain Ecosystem, i love to be content creator in blockchain social media, sharing my perspective and experience based on my knowledge and hobbies. I Hope that i can develop my knowledge day by day especialy about Cryptocurrencies and making new friends that i can called as my families :)
Contact Info:
Telegram : https://t.me/romirspc
Facebook : https://facebook.com/romi.rezpector.397
Youtube : https://youtube.com/channel/UCatiDINT-LAnphz9c59_YVw
Twitter : https://mobile.twitter.com/romirspc
Noise Cash : https://noise.cash/u/romirspc

Posted Using LeoFinance Beta
---
---