Splinterlands: 21 Ways to Make Money in this Crypto Trading Card Game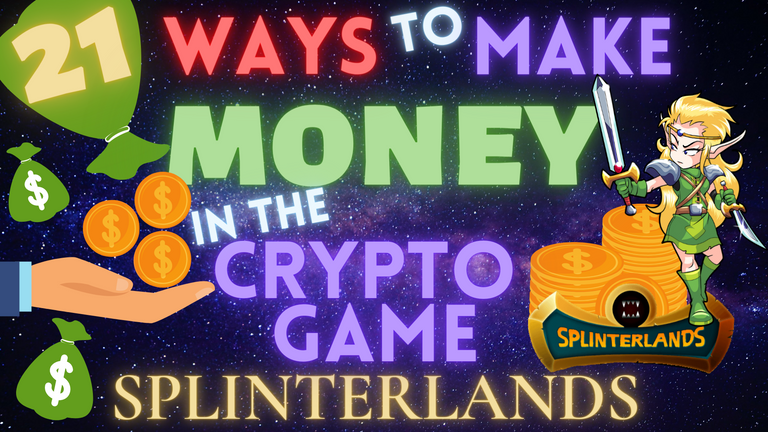 21 Great Ways to Make Money in Splinterlands
I've written before about how important it is to know your audience when you talk to others about Splinterlands. Sometimes it's hard to know exactly what will motivate a person to try the crypto market, let alone a crypto game like Splinterlands; however, one easy way to solve your problem is find those who have done the work already to provide you with answers to give your friends and colleagues. You really want to stick to the basics and gradually increase the information as you go.
If your friend is considering the markets at all, then I can imagine they are motivated to EARN money as well NOT LOSE money, so sometimes common sense and the basics are really all you need.
You can avoid overcomplicating your friends by taking them to a blog post or a video. My friend @just2random made a FANTASTIC video that should be shared with those who are wanting to get into a crypto game, but they are worried about their money investment. Here's the link to watch it:
(I also posted the link at the bottom as well so you don't miss it!)
I asked "Random" if I could write up a blog post that corresponds nicely with his video and he agreed. So perhaps you can give this blog post to your friend or colleague and let them see the benefits are outstanding! Your friend can read my blog or just head straight to the video which I have posted at the end of this post! Honestly, as long as your friend is joining, I have no care where they are getting the information, as long as the information is (1) Honest and (2) Helpful (not overwhelming to the point they don't want to give the $10 a try). So, let's break down these 21 ways to MAKE MONEY in Splinterlands! YIPPEE!!
Number 1: Have Fun and Play (for $10!!!)
Have you found you need some downtime in your life, and you want to play a game that can be a bit of fun while relaxing as well? Many people enjoy a game every now and again, but have you thought about actually making MONEY while playing? This isn't like gambling guys. If you put down your Splinterland cards in a "battle" as they are called, you either WIN or you are neutral. You don't lose money playing the battle, you just don't WIN if you didn't beat the other player, but that's okay, right? As long as you're not losing your money, why not give it a try? When you go into the game, you click on "RANKED" as your "tab" and the orange button "BATTLE" as you see in this picture. The video runs through the "how to play" if you need more information.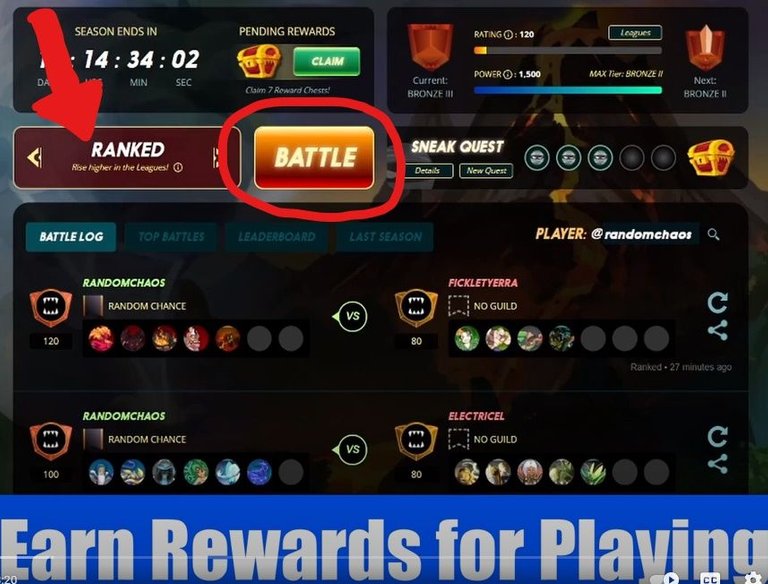 (Source: Making Money YouTube video)
You will win Dark Energy Crystals (the in-game token for Splinterlands) through these battles. You'll find that the DEC (Dark Energy Crystals) CAN be sold on the market, so the moment you're earning DEC, you can think of it as earning money as well! YESSS!!
Number 2: Complete Daily Quests.
So, how do you earn the DEC? Well, you earn it through Daily Quests! You play a little bit each day (or not, but obviously the more you play, the more you earn which is why this crypto game is called a #playtoearn game) and complete the daily quest. Often times, the daily quest is just "win 5 battles" of a particular type of card group! So, yes, I'm saying if you win battles (which you earn money at) you then EARN MONEY for EARNING MONEY! HA!:) It's amazing! And please remember, you don't lose money when you don't win, you just have to play a bit longer to get to that daily quest chest.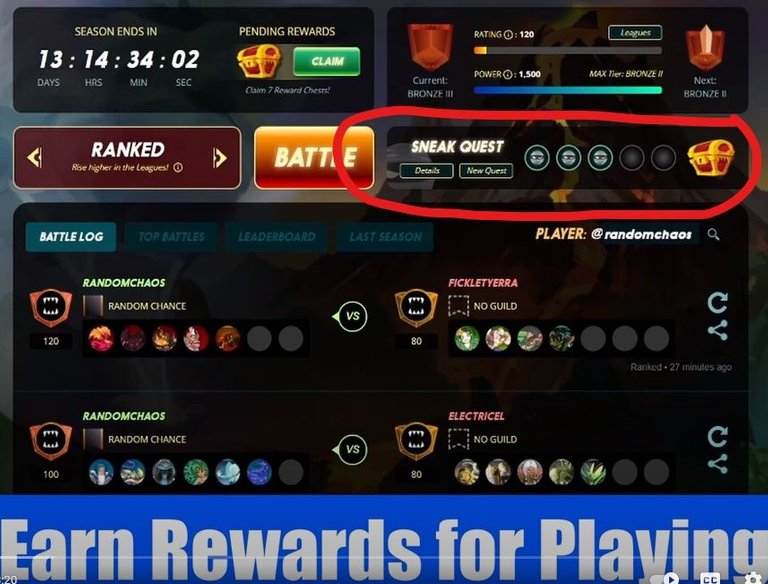 Number 3: Claim Rewards at the End of the Season
As you play more games, you move up into the various leagues. Every two weeks is a Season in Splinterlands, and when the Season ends, you claim rewards based upon how high you have moved up in the Leagues. You really want to be in Bronze II to get the better rewards, which means eventually you'll probably want to rent or buy some cards, but you do not need that to start playing the game. You can see here that my friend is in the Bronze III league, but he has enough Collection Power (that's power he gets from having additional cards, other than the $10 spell book) to reach Bronze II.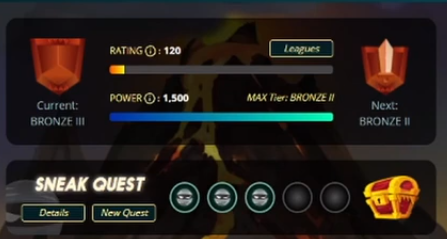 You need 1000 CP (Collection Power) to reach that level, which is probably about $15 to $20 more money in cards, just to be completely transparent about the cost you may want to invest in the game. You can see how much CP my friend has right here: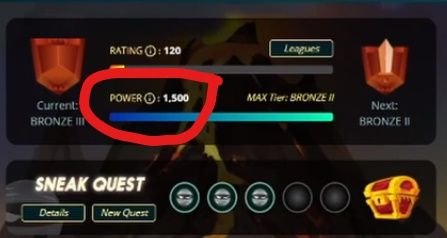 Just so you know, there are LOTS and LOTS of blog posts and videos in various social media platforms that will recommend what cards you can buy for the least amount of money if that's your goal or what are the BEST CARDS to buy so that you WIN nearly every match! It really is all about what you want to do with your time and how much you're willing to invest. I would always recommend starting out very conservatively until you are more certain you enjoy the game and enjoy crypto. (But please remember this is not financial advice, just some suggestions to be helpful to you!)
You can see in the video what my friend wins for the Season rewards so I suggest you watch it! 😊
Number 4: Claim FREE SPS Airdrops
While you're earning DEC and perhaps you bought some cards, you are actually earning FREE SPS airdrops at no cost to you (other than what you spent in cards, if any). This is a special promotion going on RIGHT NOW and will end after a year. We are about 100 days in for the 365 days, so now is the time to join, because you get those free SPS. The SPS is ANOTHER token that is actually WORTH MONEY, and you can sell it on the market!
Number 5: Stake your SPS
Now, if you want to make MORE money, you STAKE the SPS. I would definitely watch the video for how you stake SPS, but essentially, you're making more SPS off the SPS you've earned from playing the game. Again, this only goes for a total of 365 days, but the good news is we're not even a third of the way through those drops so hop on board while it's raining money! Oh, and are you worried it's not worth anything ???? Ohhhhh it's worth something, all right! The SPS value has actually peaked at over a DOLLAR! At the time of writing this it's settled down again; however, where else do you earn free money? It's as if you're sitting at a casino and they are saying "Hey, we want to give you $20 on TOP of all you're winning." Uh no. You don't see that too often, folks!
Number 6: Claim Vouchers for Staked SPS
Ok guys, it just happens to be crazy times here in Splinterlands. If you get in this game in the next couple of weeks, you're going to earn VOUCHERS for all the staked SPS you've got going on from all the wins you've made just from having a relaxing night playing Splinterlands. HA! Perhaps you're getting suspicious at this point as to why a game is handing out so much "free stuff". Well, the SPS is a token that says you are investing into the game and so Splinterlands is hoping you are going invest in their game and come back for more. It's kind of like that new retail boutique that opened up down on Mainstreet, ok? The shop opens up and for several months they get settled, making sure all systems are working properly and then they have this big OFFICIAL GRAND OPENING to celebrate the marking of the success of their new store. Okay, well I would explain Splinterlands in that way. Even though this game has been going since 2018, they have settled nearly every bump out of the road and they are just saying "Hey, thanks for the support and let's double down now on the success of this game!"
These vouchers you can use to buy card packs during this time if you so wish, or you can sell the vouchers on the market for a great price! Right now the voucher is worth about $15 PER VOUCHER on the market! So again, it's that casino saying "Let's give you free money for winning money!" HA! It's just GREAT TIMES to be in Splinterlands and build up this crypto world! Now please realize this voucher system is ending November 18th, so it's another reason to go ahead and join the game now.
Number 7: Get Limited Promo Cards in Pre-Sale
Listen, these vouchers can get you card packs right now (you need one voucher per card pack) and you can buy those card packs for $4, but earn a LOT more money because the value of the cards inside will increase with time. If you buy more packs, you get more chances as well for an insane promo card which if you compare it to the last pre-sale promo card they did was wroth around $300! It's just another way to earn money in this game! You can use credits, DEC or SPS to buy those Chaos Legion packs.
Number 8: To Places Earn DEC in Leaderboard
Ok, if you get serious about this game, you can make some serious money. If you finish in the top 20 of Bronze league for example, you can win around 300,000 DEC (which at the time of this post is worth about $300).
Number 9: Play in Tournaments!
You can play your battles in RANKED battles (which is where you earn those daily quest) or you can play in Tournaments! Splinterlands is constantly giving away a bunch of money in these tournaments, and they have various levels based upon your league and how much SPS you have staked. You can see below in this picture from the video that Splinterlands will be giving away almost half a MILLION dollars in the next couple of weeks, so it's another great reason to join!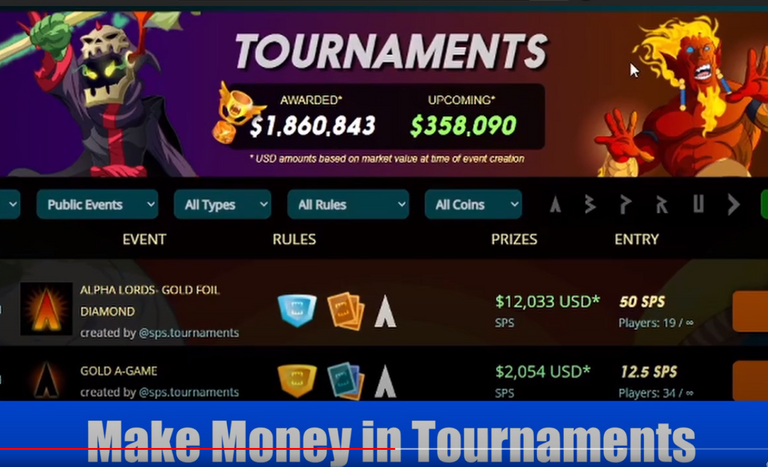 Number 10: Make your OWN Tournament
You can actually make money creating your own tournament in Splinterlands. You have to pay 2,000 DEC; however, you ask those players who want to join to pay a bit of DEC as well, and then you make sure to have enough money to cover your costs plus a bit, well, you've just made some money!
Number 11: Play for Someone and Split Rewards
Now if you are really falling in love with Splinterlands, you can offer to play someone else's account for them and then split the rewards between the two. You are earning more money, and they are earning a bit of money as well without investing any time into the game. This is a great option for those who are a bit busy in their lives at the moment and need some help. You just help your friend, play for them, build up their account and collect rewards as well!
Number 12: Flip Cards on the Marketplace
You can win cards from the daily quests and season rewards and instead of keeping them, go and sell them on the market! Or perhaps you want to buy some cards one day, hold them a bit for the market to go up and sell them back to the market! Just flip those cards!
Number 13: Rent Cards and Earn DEC Daily
You can rent cards on the Marketplace over at @peakmonsters and earn DEC daily for your cards! You can get some great return on your investment just by renting cards!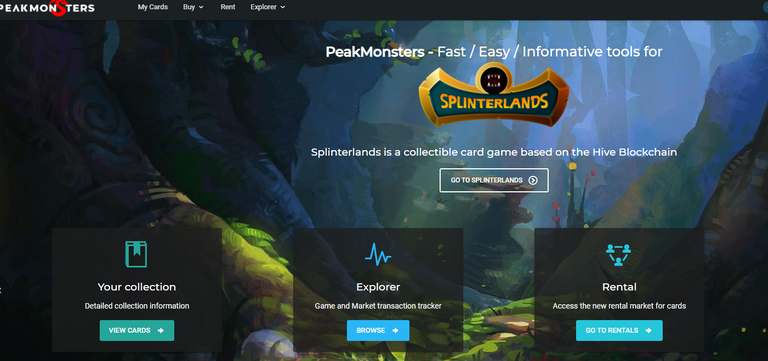 (Source: Peakmonsters)
Number 14: Write a Blog Post on Splintertalk.io
Head on over to https://www.splintertalk.io and use the account name you've got for your Splinterlands account to then write a blog post about your experience on Splinterlands! If your content is good quality, you can get some great upvotes which translates into more earnings for you!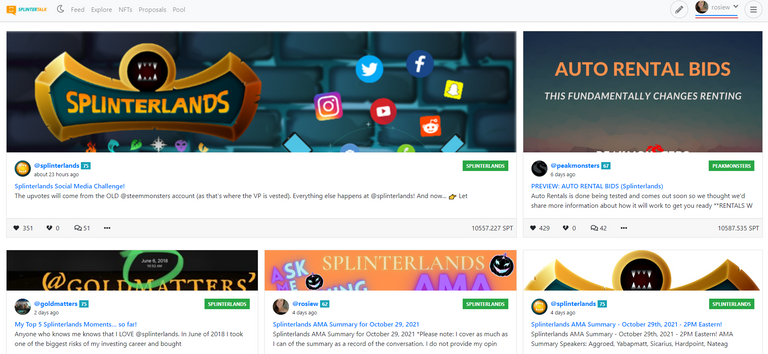 Number 15: Upvote for Curation Rewards
You can stake the SPT tokens that you earn from your blog posts, and that gives you power. When you go upvote good posts, you will actually earn money from those blog posts! It's a great way to give back to the community while also receiving yourself.
Number 16: Promote your Splinterlands Affiliate Link
My friend points out in his video that while you're making those blog posts about your experience in Splinterlands, you should go ahead and add your affiliate link to get more people to come play the game! This is a win for all of us as we all want Splinterlands to grow! Every person who joins Splinterlands has their own affiliate link, and you can see how that works if you watch the video. Then you post that link in your blog post, as I will do at the end of this blog post, and you send your friends to that link. They do not pay any more for using your link, and yet you will earn money yourself! It's a great way for your friends to say thank you for telling you all about this great crypto game!
Number 17: Buy and Sell In-Game Tokens
(Source: Splinterlands)
As I mentioned before, you can actually sell all that DEC and SPS you're earning in the game over at the market! You can use this link to go check out the market, and it works like any other currency.
Just use the same account name that you used with Splinterlands; it's that easy! You buy and sell DEC, SPS, Vouchers, Chaos Legion packs, etc. It's a GREAT way to earn money if you watch the market closely.
Number 18: Buy and Sell Splinterlands' NFTs
Remember that link I told you about, Splintertalk,io? Head on over there to buy and sell some NFTs! Here's the link: https://www.splintertalk.io/nfts/
I've purchased a few myself, and I already see the value! Here's one of them to celebrate the Chaos Legion sale, but there are many others and you can invest in the ever-popular limited-edition NFTs!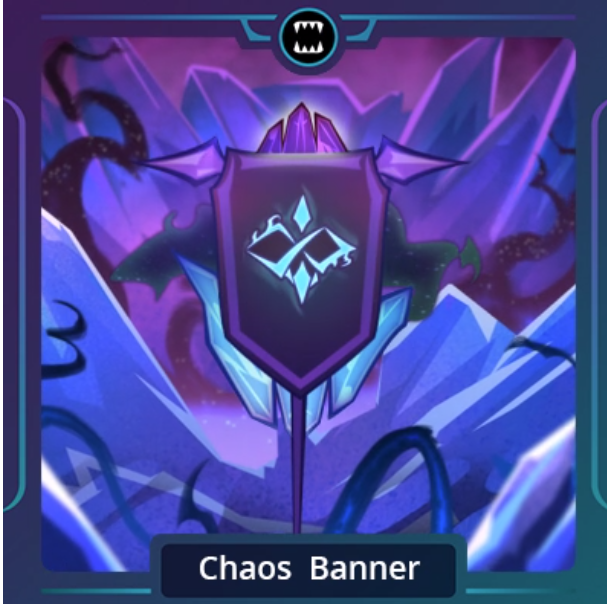 Number 19: Liquidity Pools on the Market
If you've got some DEC and SPS, you can head over to the Tribaldex Liquidity Pool and the hot tip.. you get TWICE the DEC airdrops in that DEC:SPS pool!
Here's the link: https://tribaldex.com/dieselpools/ . Just click on add liquidity and put in the DEC:SPS pool. From there you will want to enter your numbers (it will help calculate it for you) then click on Add Liquidity! It's a great way to earn money on your investment in Splinterlands.

(Source: Tribaldex)
Number 20: Play with a Bot
If you don't want to play the game but you want to earn money, well you can use a bot to play the game. You'd want to do some research on that yourself, but Splinterlands at this time has not discouraged bots as long as there is no exploits occurring and the bot is earning just as anyone else would have to earn in the game.
Number 21: Buy and Sell Cards and Stake SPS on Players!
Very soon you'll be able to earn money off the new Chaos Legion Packs! Right now you can of course buy and sell your cards, but soon you'll be able to buy and sell WHOLE PACKS! Or, you can open those packs, see if you get lucky with a legendary card and sell that along with the other cards in the pack on the market!
There are so many ways right now to earn money in Splinterlands! Be sure to watch the video and share this blog and the video out to your friends!
YouTube Video 21 Ways to Make Money in Splinterlands
Here's the link to 21 Ways to Make Money in Splinterlands - (Crypto Trading Card Game). If you're more a visual learner, then definitely check out this great video that breaks down the game for you and all the successful ways you can earn money!)
Thanks so much for reading this blog post and thank you so much @just2random for allowing me to share your video and write about it! It's an excellent video that really helps people to see the value they get for being in Splinterlands!
Please be sure to check out most on @early-bird curation if you haven't seen it already! You can click the link here
If you enjoyed my post and want to try Splinterlands, please use my referral link: https://splinterlands.com?ref=rosiew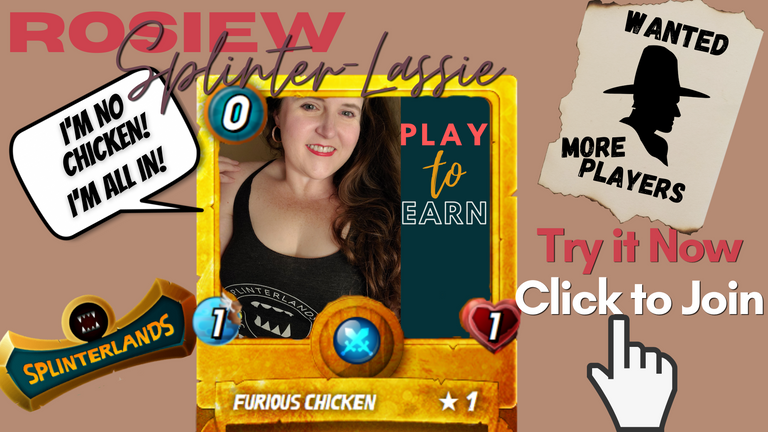 Please remember my post is not meant to be financial advice and is just my opinion.
Follow These Folks:
Early-Bird Curation Service: https://peakd.com/@early-bird/
Splinterlands: https://peakd.com/@splinterlands/
Monster-Curator: https://peakd.com/@monster-curator/
1Up (#OneUp): https://www.1up.zone/
Here are some great links to join as well!
Splinterlands Discord: https://discord.gg/Tw7KjNsQGs
Monster Market Discord (Monster Curator): https://discord.gg/DR3J9rfRFV
PeakD Discord (PeakMonsters as well): https://discord.gg/7mQmzZeugE
NFT Studios Discord (aka 1UP Discord #OneUp): https://discord.gg/4VYBcNuVQd
---
---