ASK LEO: WHAT TO DO WHEN THE MARKET IS RED?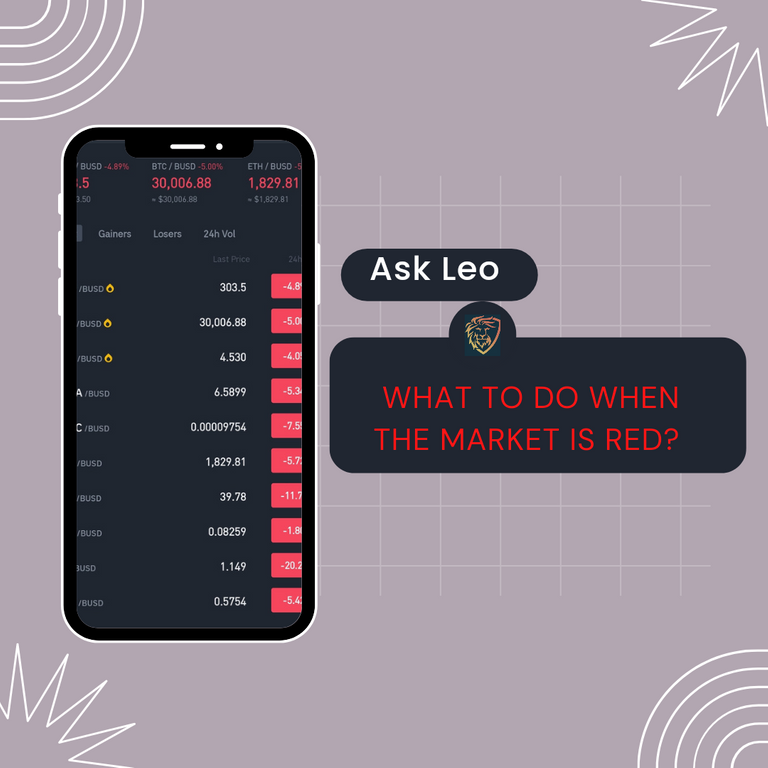 I know a lot of new crypto traders or investors have this question to ask. But the Market moving in a downtrend is simply an opportunity.
The challenge with many crypto traders is mostly fear when the market goes bearish. The bearish market is another opportunity to catch up where you missed it. It is an opportunity to buy the dip.
DON'T BE AFRAID, BEARISH SEASON WON'T LAST LONGER.
As an Investor, one of the things we have all learned is to take risks. But it is also very important we know how to manage the risk.
In crypto, we all know the popular risk warning
Cryptocurrency trading is subject to high market risk. Please make your trades cautiously...
Binance
Whenever there is a bear market, this is not the time to panic sell, rather it is an opportunity to buy the dip, diversify your investments, and learn to always invest wisely, possibly not more than 10% of your capital.
SPEND TIME TO MAKE RESEARCH ON THE COIN TO BUY.
Before you buy any coin, it is very important you spent a lot of time doing your research even if the signal is given by an expert. Do not rush into it.
YOU CAN GO SHORT
If the market is red, it is an opportunity to go short in the futures or margin trade. This is very risky, but you have to do a proper market analysis. And try to take profits as quickly as possible. It is called short because it may not last long.
SPEND QUALITY TIME ENGAGING IN HIVE
When the market is red, this is also the best time to pause from trading, use this time to engage on hive, and give relevant feedback on good posts. Make new friends and grow your community. Make yourself visible.
CONVERT TO STABLE COINS.
When the market is red, if you are a short time trader, you can convert your coins to a stable coin to avoid much loss. I recommend HBD on Dex and USDC on Cex.
---
Till next time...keep on winning
THANKS SO KINDLY FOR READING MY BLOG
Posted Using LeoFinance Beta
---
---