Altcoins Rebound Faster As Bitcoin (BTC) Rebounds

Bitcoin (BTC), which is in the first rank by market cap, closed today in the green zone a week later. Bitcoin has started to recover and is signaling that it can go higher. Also, 80% of the top 100 cryptocurrencies by market cap today turned green. According to today's rise, Bitcoin was in the 75th place among those who rose the most. This shows that altcoins want to recover faster.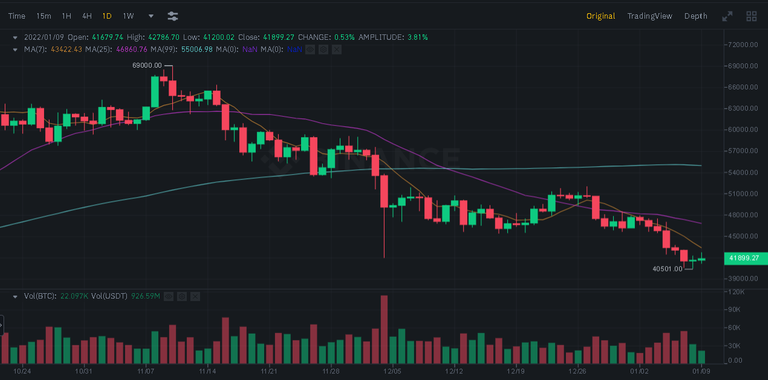 Bitcoin is currently trading at $41899, after about a week it turned green and wants to stay in the green zone in the new day. It even gives signals that it can continue to rise. After falling to $ 40500, Bitcoin quickly moved away from there and returned above $ 42000. It is currently trying to establish support around $42000, if it succeeds, it can move higher.
While Bitcoin is recovering, altcoins are giving signals that they can recover faster. Among the top 100 cryptocurrencies by market cap, Terra (LUNA) was the one with the highest increase of the day. According to current data, LUNA is up 10.3% today and is currently trading at $74.4. When we examine the ones that have increased in order, Internet Computer (ICP) increased by 8.5% and is currently trading at $ 35.6. Chainlink (LINK) is up 7.3% and is currently trading at $27.4. DASH is up 6% and is currently trading at $151. Polygon (MATIC) is up 5% and is currently trading at $2.11. Ethereum (ETH) is up 2% and is currently trading at $3164. Binance Coin (BNB) is up 1.3% and is currently trading at $439.
Bitcoin, on the other hand, is up 0.3% over the last 24 hours, but it broke the bearish trend of the past week and turned green. In addition, Bitcoin was ranked 74th among the highest risers. So while Bitcoin is recovering, altcoins seem more willing to recover. If Bitcoin can break the $42000 resistance and rise, altcoins seem to be able to rise faster.
Most importantly today, the downward trend has been broken, so many cryptocurrencies may start a rapid rise in the coming days. But in order for these rises to begin, Bitcoin, which is the most important, must break the $ 42000 resistance. If Bitcoin falls and the support of $40000 is broken, this time everything will turn around and altcoins may drop more sharply. I don't think that will happen. I think the declines are over now, I think it's time to rise. I even think that the bull market is very close. If Bitcoin starts to rise, I think it will not stop until it hits a new ATH. Is it difficult? Bitcoin has done it before and it can do it again.
Disclaimer
This is not investment advice. I write my predictions and what I know about the projects and cryptocurrencies that I follow closely. In all markets, anything can happen at any time, so you should be careful and do a thorough research before investing.
Posted Using LeoFinance Beta
---
---