Are We Really in a Bear Market?

Due to the sharp drops in the crypto market, many cryptocurrencies have lost value significantly. Bitcoin, which is in the 1st rank according to the market cap, decreased from around $ 43,000 to $ 32,917 in 4 days. According to many investors and experts, we are in a bear market and many believe that Bitcoin will drop below $30,000.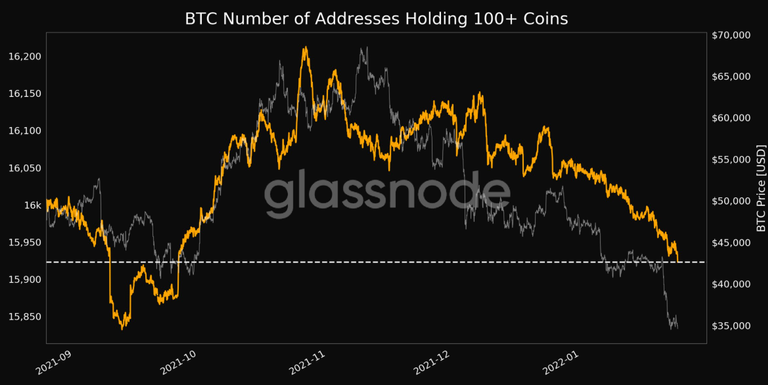 Source
According to Glassnode data, the number of addresses on the network holding large amounts of Bitcoin has dropped to a three-month low, meaning that the number of unique addresses currently holding more than 100 Bitcoins has dropped significantly. This shows that some whales believe the bear market is coming and are willing to participate in the bear market. It seems that there are quite a lot of people who believe that Bitcoin will fall below $ 30,000 or even $ 20,000.
It is a fact that there has been a lot of selling pressure in Bitcoin and many cryptocurrencies lately, but on the other hand, the number of people who want to buy cryptocurrencies cheaply is quite high. That's why I don't believe Bitcoin will fall any further. I believe there is a correction in Bitcoin Dominance (BTC.D).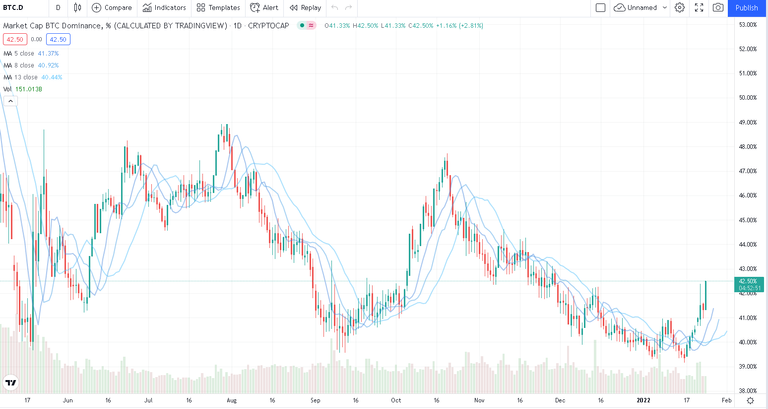 Bitcoin Dominance (BTC.D) fell as low as 39.2% on Jan. 17. It is now 42.5%. It can be seen that there is a significant increase in a week. I believe this increase will continue. And when BTC.D exceeds 44% to 45%, I think crypto markets will generally go up again. I think giant corporate firms and giant financial companies believe that Bitcoin Dominance should be high. That's why FUD news has started to spread a lot in recent days. Thanks to this, there are extreme fluctuations in the markets and on the other hand, I think wealthy investors are buying more Bitcoin and other cryptocurrencies.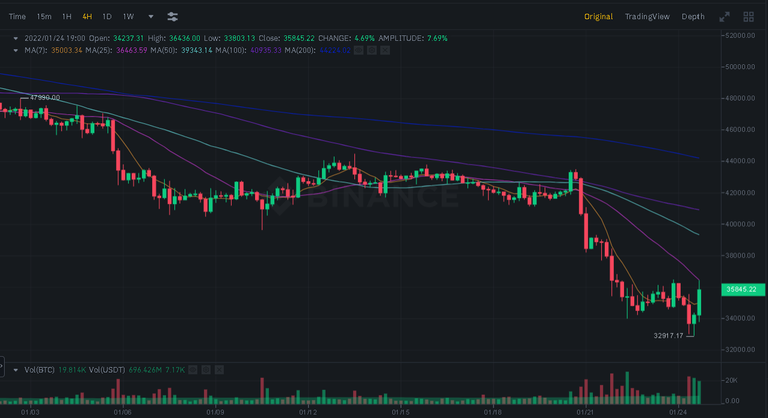 Bitcoin has gained about 2.7% today and is currently trading at $35,845. I think the Bitcoin price will fluctuate for a few more days. Currently, Bitcoin seems to have price support at $33,000. On the other hand, there seems to be resistance at $36,200. But I don't think either of them are solid. So I think the price fluctuations will continue for a few more days. However, altcoins may lose more value in these extreme fluctuations, which could be an opportunity for investors waiting to invest in cash.
It is true that the crypto markets have been falling sharply, but I think we are not in a bear market and soon many cryptocurrencies will quickly recover and take back what they lost. In my opinion, those who spread the FUD news, on the other hand, are operating in the markets by worrying the investors. Therefore, these decreases do not worry me, on the contrary, they give me an opportunity to invest more. I also think that when Bitcoin starts to rise rapidly, altcoins will rise faster.
We'll have to wait and see if we're in a bear market or not.
Thank you for reading.
Disclaimer
This is not investment advice. I write my predictions and what I know about the projects and cryptocurrencies that I follow closely. In all markets, anything can happen at any time, so you should be careful and do a thorough research before investing.
Posted Using LeoFinance Beta
---
---