Bitcoin (BTC) has dropped below critical level and pessimism reigns in crypto markets. What does this signal?

Fear and pessimism reigns in the crypto markets. Bitcoin (BTC), which is in the first rank by market cap today, lost the support of $ 30000 and fell below the critical level. The decline in Bitcoin causes altcoins to lose more value. Bitcoin dominance is rising while Bitcoin is falling.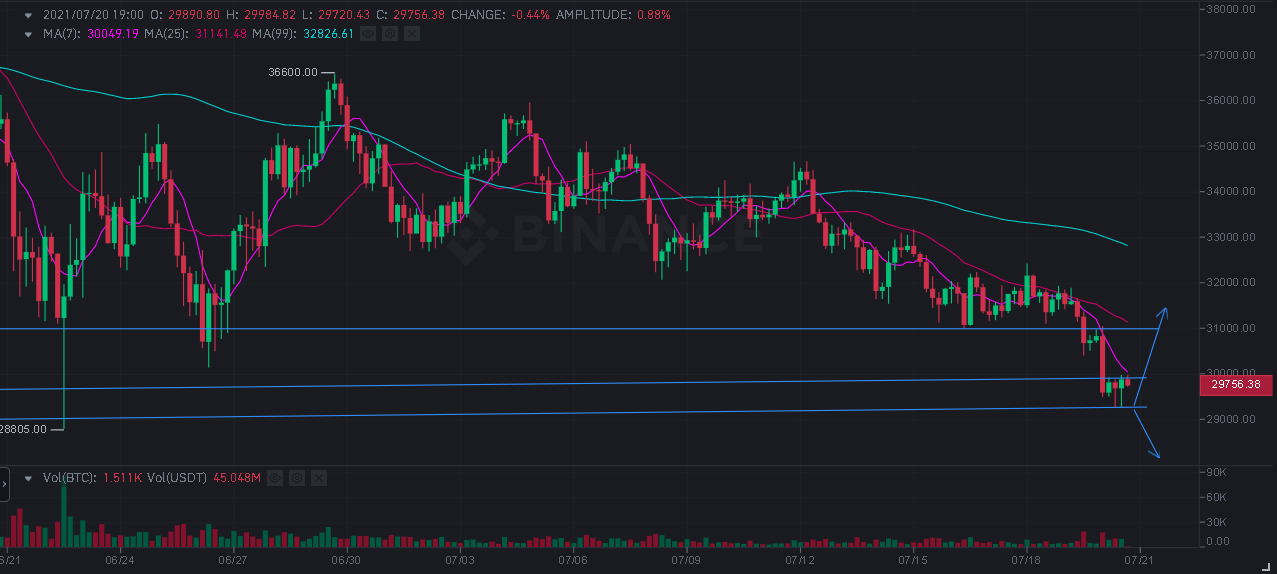 Bitcoin (BTC) had regressed to $ 28800 last month, but later recovered quickly and rose above $ 30000 again. A week later it had exceeded $36,000. I think that similar recovery will happen again in the following days, it will rise above $30000 again. I believe that Bitcoin staying below $30000 could be a collapse for many cryptocurrencies. If it continues to stay below $30000, it could decline to $26000. In this case, Bitcoin Dominance (BTC.D) will exceed 50%. Currently, Bitcoin (BTC) is trading at $29756 and Bitcoin Dominance (BTC.D) is 46.7%.
Currently, support levels for Bitcoin (BTC) are being tested and pessimism is pumping into the markets. In short, some investors are being pressured to sell. When this is the case, regression is inevitable. On the other hand, for some, this creates an incredible investment opportunity.
Similar situation has happened before. In 2018, pessimism prevailed in the crypto markets. Pressure was created for many investors to sell their holdings, which led to an incredible drop in Bitcoin. When there is pessimism in the markets, sales increase but investment decreases. At that time of pessimism, who wouldn't want to buy Bitcoin at $4000? If we asked this question today, everyone would want to invest at that price, but that day most people were afraid to invest at that price. Those who invested that day made incredible profits.
Currently, there is a pessimistic environment similar to 2018 in the markets. I think this situation points to the bull season, not the bear season. Many people are worried and afraid to invest in cryptocurrencies, especially Bitcoin (BTC). I don't think there will be any more drops in Bitcoin (BTC). However, if it stays below $30000 for a little longer, there could be a drop back to $26000 but then it will rise back above $30000. If there is any further decline, it could be an incredible opportunity for those who wait patiently.
When there is pessimism in the markets, many people avoid investing, but those who invest at that point gain the most. In the long run, many cryptocurrencies, especially Bitcoin, ETH, BNB, HIVE, will provide high profits. But buying at the dip price will yield more profit. It is very difficult to find where the dip price is. So investing short term would be a bad option, but it would be wiser to invest long term with your non-urgent money.
I would also suggest that you consider the possibility of further declines. Because many institutional and wealthy investors are pushing for further declines to buy at a lower price. So far, Bitcoin (BTC) has formed support around $30000 against these pressures. But if this support is broken, there may be more sharp declines. But on the other hand, if pressures fail, Bitcoin could rise faster.
I don't know how much Bitcoin (BTC) will fall, but I am sure that in the future Bitcoin (BTC) will exceed $ 250,000.
These are my thoughts. What are your thoughts?
Posted Using LeoFinance Beta
---
---