U2 - Atomic City (New Song) | Rising Star Giveaway - Reward 10000 (+5000) Starbits (Ends 20 September UTC)

U2's new song "Atomic City" was expected to be released on September 29, 2023 but U2 surprised fans on Saturday by premiering its new song "Atomic City" during a pop-up concert/music video shoot Saturday on Sin City's Fremont Street.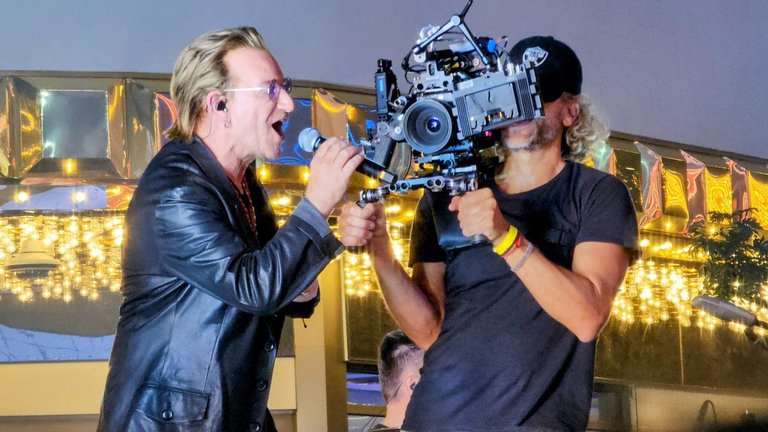 U2 is an Irish rock band formed in 1976. The band consists of Bono (Paul David Hewson) (lead vocals and rhythm guitar), the Edge (David Howell Evans)(lead guitar, keyboards, and backing vocals), Adam Clayton (bass guitar), and Larry Mullen Jr. (drums and percussion).
U2 was founded in 1976, they are one of the best Rock bands in my opinion, they made really great music and many of their songs became hits. U2 has millions of fans around the world and I am one of them.
Since their founding, U2 has continued to push boundaries and experiment with different sounds and styles. U2's impact on the music industry is immense and they have been and remain one of the most influential and enduring bands of all time. Their live performances are legendary, also the band has sold millions of albums worldwide.
U2 - Atomic City
Atomic City Lyrics
Come all you stars falling out of the sky
Come all you angels forgetting to fly
Come all who feel we're not on our own
All UFOs come on your way home
Alone, that's no way to be carrying on
Come on, we're betting on a future that's long
Gone, in look of a song
You just have to be right one more time
Then you're wrong
Atomic City
(Atomic)
Atomic City
(Atomic)
I'm free
Where you are is where I'll be
I'm free
So unexpectedly
Come all who serve above and below
Come all believers and all who don't know
Come quick, come soon, comme ci, comme ça
Then you dive into your eyes and blah blah blah
Guitars, she pulls the strings et cetera
Sinatra swings, a choir sings
Love is god and god is love
And if your dreams don't scare you they're not big enough
Atomic City
Atomic
Atomic City
Atomic Sun for everyone
Roll the dice
That's roulette
The beat has not stopped
Speeding yet
I'm free
Where you are is where I'll be
I'm free
So unexpectedly
I'm free
I see what's in front of me
And your freedom is contagious
What you've got I wanna be
I'm free
It took me my whole life
I got the keys to the cages
I'm ready for bright lights
I'm free
I came here for the fight
I'm front row in Las Vegas
And there's a big one on tonight
Lyrics may change as the original has not been released yet.
Atomic City is a very new song and its original recording has not been released yet, so I will not write anything in detail about it. But U2's stage performance was amazing as always, so I listened to this song a few times, it's not a legendary song for me, but I liked it. Since it is their new song, I wanted to share it with you. What do you think of the song?
I've also added the playlist above, which contains U2's best songs and which I listen to the most. There are 20 songs, each more wonderful than the other in the video. Enjoy it.
Are you a fan of the U2? If yes, which is your favorite U2 song?
Giveaway And Rules (Win 10000 (+5000) Starbits)
To participate in today's giveaway, just leave a comment. In addition, comments containing at least 2 sentences (20 words) will earn an additional +5000 Starbits. You can write anything about the above topic or music related, you are free to write whatever you want as long as it is not spam. And I won't accept one or two word and irrelevant comments. Good luck.
Everybody commenting before 23:59:59 UTC (Coordinated Universal Time) on 20 September 2023 will be included into the giveaway.
If your risingstargame username is different put it in your comment.
Upvote, follow and reblogs are not required, but your upvotes, tips and reblogs are welcome so this Giveaway can reach more people.
You can follow me so you don't miss my other giveaways.
I will use the Hive random comment picker to determine the winner. (Exclude bots will be set to selected.)
Good Luck to All Participating
Results of Last Giveaway
The post that is the subject of the giveaway : Click for the post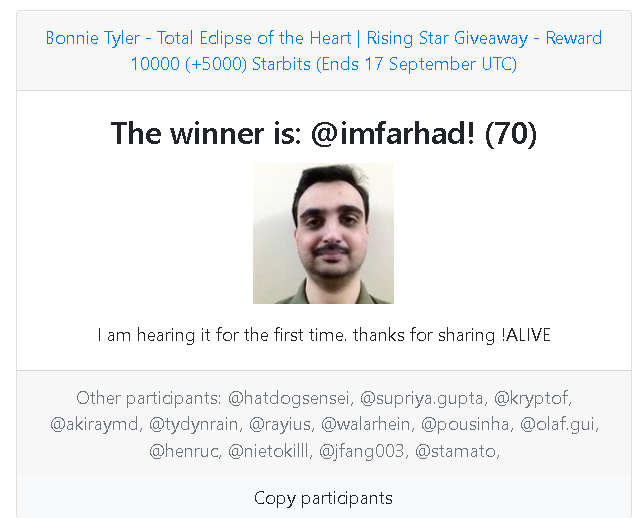 Congratulations @imfarhad your reward has been sent.
Other participants: @hatdogsensei, @supriya.gupta, @kryptof, @akiraymd, @tydynrain, @rayius, @walarhein, @pousinha, @olaf.gui, @henruc, @nietokilll, @jfang003, @stamato,
Please read the rules, if you don't follow the rules, I ignore them even if you win.
Thanks to everyone who participated. You can follow all the giveaways on my blog
Notification List :
@olaf.gui, @bitandi, @ydaiznfts, @joseal2020, @noroi, @yeckingo1, @alexvan, @rimurutempest, @servelle, @imfarhad, @ianballantine, @rayius, @pero82, @isnochys, @thebighigg, @dubble, @fredkese, @henruc, @kryptofire, @hatdogsensei, @dk1trade, @jfang003, @vaynard86, @stranger27, @blitzzzz, @tin.aung.soe, @tinyputerboy, @hoosie, @pirulito.zoado, @qoogohome, @supriya.gupta, @tydynrain, @dafusa, @pousinha, @lwinlwinmyint, @pulubengdugs, @akiraymd, @pregosauce, @mario02, @loxavius, @wazock, @luchyl, @middle-earthling, @stamato, @walarhein, @lumpiadobo, @healjoal, @ladymisa, @coquicoin, @alexisgr93, @daethical, @celi130, @monsterbuster, @subidu, @kurogan, @rishabhshukla, @javss, @memess, @ykyan2, @lightbruce17, @edskymiguel, @myintmo.shweyi, @ramindi1, @arieruzzzz, @baburamg, @gs1, @waynechuasy, @kraki, @circlebubble, @esbat, @arngrim281, @coquicoin-leo, @nietokilll, @fotonorway8, @maurojd, @catotune, @upstaked, @cursephantom, @yankosoito, @peniel2010, @getthismonkey, @emeka4, @guurry123, @josevall901
Not : If you want to be on the notification list or leave, let me know in the comments.

For STARBITS Trading, you can visit LeoDex, Tribadex, Hive-Engine.
For STARPRO Trading, you can visit LeoDex, Tribadex, Hive-Engine.

If you want to join the Rising Star Game, my reference link.
Thanks To Everyone Who Supported.
Thank you for reading
@rtonline
---
---