Djokovic will not be able to surpass Nadal-Federer
Bismillahir Rahman's Rahim.
Assalamualaikum warahmatullahi wabarakatuhu.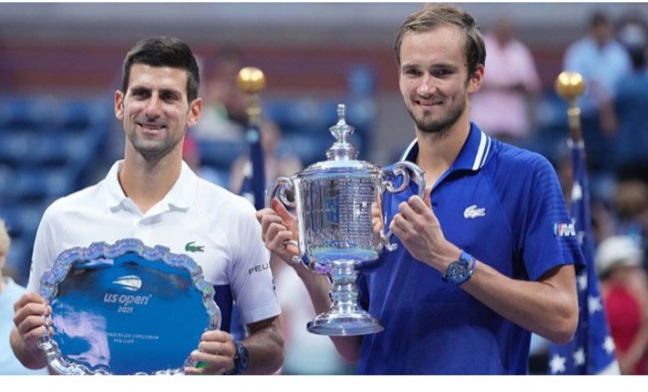 Like every day today I came in front of you with the news of a new game.
I hope you are all very well. I am also very good. Alhamdulillah, let's go.
Novak Djokovic had a chance to overtake Rafael Nadal and Roger Federer. Like Federer and Nadal, Djokovic has been at the top jointly with 20 grand victories.
Djokovic's dream of winning his 21st Grand Slam was dashed when he lost to Russian star Danil Medvedev in the final at Flushing Meadows in New York on Sunday.
Russian star Danil Medvedev made history by winning the first Grand Slam of his career by defeating Serbian tennis star Djokovic.
Medvedev lost in a straight set to Djokovic in the final of the Australian Open earlier this year. Seven months later, the Russian star got the same opponent in the final of the US Open and painted the last one well.
In a fight that lasted two hours and 15 minutes, Medvedev looked very confident the whole time. After winning the first two sets, he started great in the third set. He broke the serve twice and went ahead 5-2. Djokovic later took a break point. It only increases the length of the match. The results were not affected.
"I'm the happiest man in the world, even if I can't win the match," Djokovic said at the end of the game. Because today in this court you have presented me as a very special person. You have touched my heart. I never felt that way in New York. Thank you. Love everyone.
"First of all, I apologize to Novak and his supporters," said Medvedev. We all know what his goal was today. What Djokovic has achieved in his career is incredible. Djokovic is the best tennis player in history.
I hope all of you like the news of my game, so everyone must pray for me so that I can bring you the news of new games like this. Everyone is fine till today.
---
---