Hilsa fish broth with glass art
Bismillahir Rahman's Rahim All praise is due to Allah Ta'ala.
Assalamualaikum rahmatullah obarakatuhu.
How are you all? I hope everyone is well by the infinite mercy of Allah Ta'ala.
I am also very well in your prayers and in the infinite mercy of Allah.
Today I came before you with another new recipe.
I hope you all like my recipe.
Everyone in my family likes this dish a lot, especially I like it a lot when it comes to fake cooking.
So let's not be late, we do not know the recipe.
Today's recipe is called,
Hilsa fish broth with glass art.
The current season is the season of hilsa fish. Many people cook many kinds of hilsa fish.
Today I will teach you how to cook glass banana soup with hilsa fish.
We are all people of village or city but everyone likes glass soup with hilsa fish.
We generally know that glassware contains a lot of iron.
It is very beneficial for the body,
Meanwhile, hilsa fish hilsa fish has many benefits and prevents many diseases.
Hilsa is a healthy term when cooked with fish and glassware.
Which is very beneficial for our body, so let's not delay without knowing how to cook with bananas.
Materials
(1) One kilo of glass art
(2) Hilsa fish 12 pieces
(3) Finely chop two onions
(4) Garlic paste: 2 tablespoons
(5) 3 tablespoons of tomato paste
(৬) 2 tablespoons of cumin powder
(6) 2 tablespoons of turmeric powder
(6) 1 tablespoon of red chilli powder
(9) 1 cup of white soybean oil
Salt to taste
Now let's tell them how to cook.
Method
The first thing you need to do is cut the fish well, grind it, wash it beautifully and put it in one place with salt and turmeric.
Then grind the working banana according to the size and put it in the pond water.
If you put it in tap water, the glass banana will turn black and look ugly.
Now you put an oil pan in the oven and reduce the heat a little,
Make the fish nice and fry it a little lightly.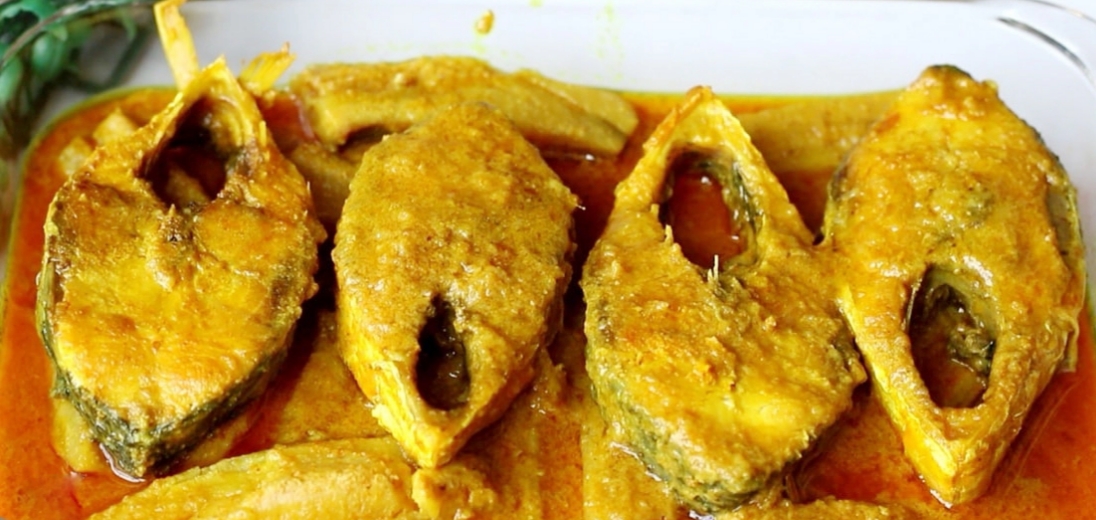 [source](my phon)
Now lift the fish and put it in a leg.
Then add turmeric, pepper, salt, onion, tomato, cumin powder and all the oil.
When all is well mixed, then add a little water in it so that the spice does not burn.
Leave the glass in between,
Drain the glass well and give it a little water then boil it well for at least 10 to 15 minutes with the lid on.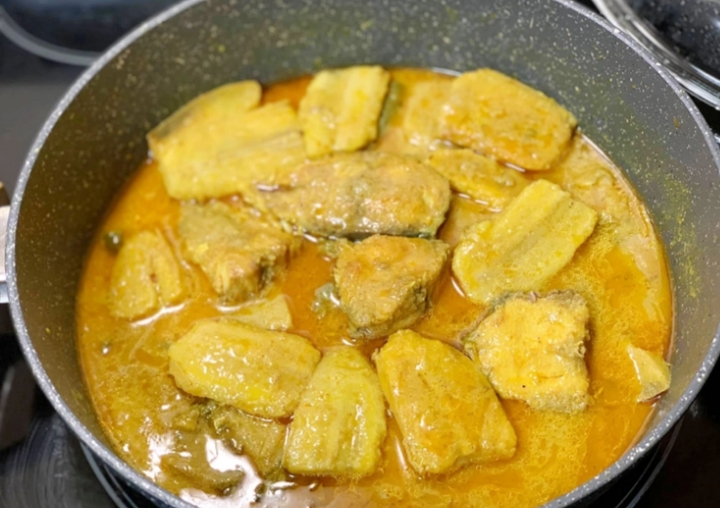 [source](my phone)
When the glass is cooked, put the fish on top of the banana.
Then cook for another two to three minutes and then remove the banana fish from the oven.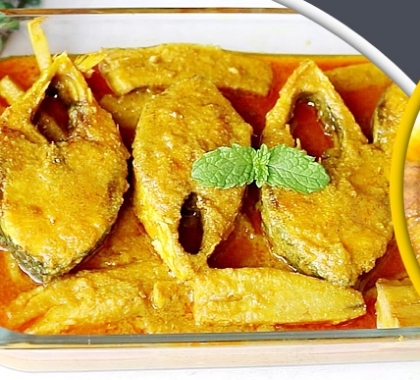 [source](my phone)
Hilsa fish soup was made with your glassware.
Everyone in our family loves it with hot rice.
So I will suggest you to try it with hot rice, I hope you like it very much.
To this day, I wish everyone good and healthy to the great Rabbul Alamin.
And of course I hope you like my recipes very much.
In the #comment box, you must let us know how you feel.
---
Posted via foodiesunite.net
---
---