A Gorgeous Summers Day - Just One Thing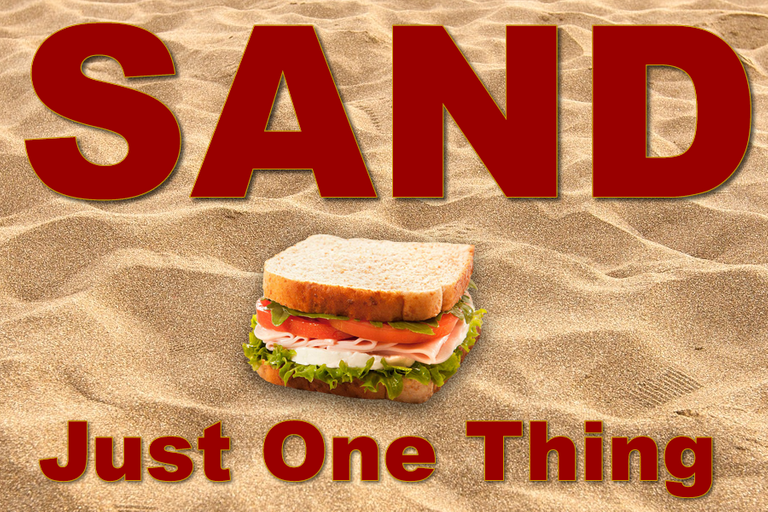 On a gorgeous summer's day in the middle of January one of the best places to be is at the beach, on the water's edge, Sand between the toes and dipping your feet in the water's edge, feeling the waves come and go, oh, and making sure you are in the shade.
The sound of the beach with waves crashing and children playing and the occasional splash as a fish jumps out of the water definitely make one feel at peace with everything
Antonio was doing just that, he had come here with Marie because this was one of his most favourite spots to while away the hot summer afternoons.
A bottle of wine, some cheeses, olives, sourdough bread and olive oil just topped off what he considered to be the perfect afternoon spent with his beloved Marie.
Marie wasn't so sure, she was getting attacked by midges, sand flies and found the ants had discovered the cheese, the water smelt a bit funny and the sun was quite hot. She wished that they had chosen to go and see a good movie instead, in Air-conditioning, ant and bug free and a comfy chair to sit in.
The outdoor stuff was ok, but not when it started to get uncomfortable.
Antonio was oblivious to Marie's discomfort and was whisking himself away to a self absorbed tropical paradise, he imagined himself and Marie on the water in a small wooden boat, trailing their hands in the ocean as the boat drifted on the currents, enjoying the gentle rocking that the boat would bring and snoozing together in a blissful sunlight.
Marie on the other hand was getting more and more frustrated. The ants were now in the olives, sand on the bread and she had just bitten into one with its acidic sting and sour aftertaste. She could feel welts appearing on her neck from the midges and now she had just knocked over the bottle of wine so even the sweet distance a wine would bring could no longer help her.
Antonio looked at Marie lovingly and said in a blissful tone, "Is this not the absolute sublime place to be on this glorious afternoon".
Marie looked at Antonio, slapped her palm to her forehead and said.
"Antonio. This is the most horrific, horrendous, disturbing and uncomfortable afternoon we have had. Can we please just go and see a Movie".
Antonio was taken aback. He waved his hands in the air.
"But Marie what movie could possibly be better than this, as he spread his arms wide to encompass the Vista"
Antonio Marie said you know I want to see 'Beaches' – It would be a great Romantic movie to see together.

This post is part of the 'Just One Thing' Initiative
Just one thing is an initiative borne from @hirohurl and is a way of inspiring others to create a Blog Post every single day by offering a prompt to inspire.
You can ( and I encourage you all to do so) subscribe to the Just One Thing Community using this link
https://peakd.com/c/hive-101679/created
Become an inspired community member
!CTP
!ALIVE
#justonething #alive #AliveAndThriving



The HIVE Guide:
Do you want to have a FREE comprehensive Tool to navigate your way around HIVE
Click the Banner below and start your training today



If you are really looking for a helping hand to developing your business, then there is no better choice than to follow the programs that others have used and continue to use Just Click The Banner below to find out how



---
---