Are we all Chemists - Just One Thing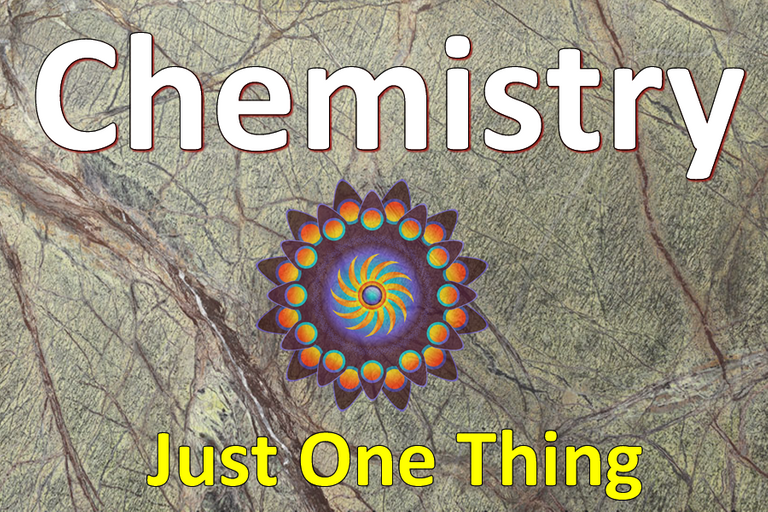 I was never a real science nerd and did not do Chemistry at school, however I did do what was called Earth Sciences. Which pretty much meant that we couldn't blow up the school, but did teach us where certain chemicals came from, so a cross between Geology, Anthropology, Chemistry, biology and Pharmacology. Unfortunately we couldn't make any weird concoctions to test on each other.
Later in life I took a great interest in Homeopathy and undertook a private course through some distant college, and I did get to learn how to mix certain things together to form something else, and in that I guess I learnt a bit about the structure of elements and compounds and how this can be applied in a holistic way to people's health and mental capacity.
Later in life I learnt about composite metals and loved experimenting in melting down different metals together for casting sculptural works, while doing this I also met a musician that was experimenting with mixing gold, silver, aluminium etc into mouth pieces for his saxophone, each cast piece would create a different timbre while playing, allowing his instrument to take on many different tones. But I guess that's more alchemy than chemistry.
I also learnt a great deal about mixing paints to get just the right weight and tone required to give me the expected result. This allowed me to really work with colour and produce works that had many layers, not just physically but also in total depth. However this became not only a science but also an intuitive process, a colour felt right, the right amount of colour weight went together to form the colour required.
I do love combining different parts to form a whole, changing what was to something new, playing with intended purpose and redefining to new purpose and understanding what is needed to be combined to get an intended result.
So although I didn't do Chemistry as a subject at school, I guess in a way we are all chemists in our multi disciplinary approach to finding result

This post is part of the 'Just One Thing' Initiative
Just one thing is an initiative borne from @hirohurl and is a way of inspiring others to create a Blog Post every single day by offering a prompt to inspire.
You can ( and I encourage you all to do so) subscribe to the Just One Thing Community using this link
https://peakd.com/c/hive-101679/created
Become an inspired community member
!CTP
!ALIVE
#justonething #alive #AliveAndThriving



The HIVE Guide:
Do you want to have a FREE comprehensive Tool to navigate your way around HIVE
Click the Banner below and start your training today



If you are really looking for a helping hand to developing your business, then there is no better choice than to follow the programs that others have used and continue to use Just Click The Banner below to find out how



---
---