Predicting what's coming up - Just One Thing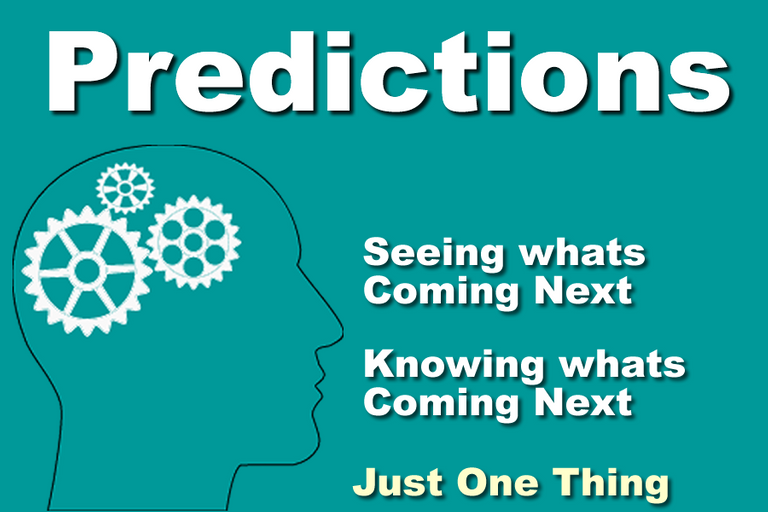 I grew up in an age where the Predictions of Dooms Day Prophets such as Mother Shipton and Nostradamus were being swallowed up by all and sundry from the Baby Boomers looking for Freedom to the Hippies migrating to the bush.
I remember reading these predictions and laughing quite loudly, although many still believe that some of these are coming true.
Such as the verses of the Apocalypse in the Bible, Now I am not totally poo pooing these predictions, because after all if even one person believes them to be true then in that's instance they are true, However such predictions that these people make/made are just that, a prediction that something would happen if certain steps were not taken to avoid them. So as much weight as may be applied to the predictions, then an even greater weight should be applied to preventing them from happening.
Such as, I predict that I will not be writing a post next Friday, due to me being occupied elsewhere on the day, so knowing such a prediction would come true if I do not plan ahead and tale steps to avoid this, I will in fact write a post on Thursday and schedule it to post on Friday. Prediction debunked.
In instances where you see the end result long before you reach it, then you are making a prediction as to an end goal. This can either hinder you or set you up for something that can be avoided or you can make the correct changes that need to be made to change the end goal.
Take a proactive stance and ensure success. To be able to be proactive you need to know all contingencies that could occur. This requires doing a risk analysis and ensuring all possible outcomes/predictions are taken into account. With good planning then positive directions can be taken and positive outcomes can be achieved

This post is part of the 'Just One Thing' Initiative
Just one thing is an initiative borne from @hirohurl and is a way of inspiring others to create a Blog Post every single day by offering a prompt to inspire.
You can ( and I encourage you all to do so) subscribe to the Just One Thing Community using this link
https://peakd.com/c/hive-101679/created
Become an inspired community member
!CTP
!ALIVE
#justonething #alive #AliveAndThriving



The HIVE Guide:
Do you want to have a FREE comprehensive Tool to navigate your way around HIVE
Click the Banner below and start your training today



If you are really looking for a helping hand to developing your business, then there is no better choice than to follow the programs that others have used and continue to use Just Click The Banner below to find out how



---
---