Someone Special :)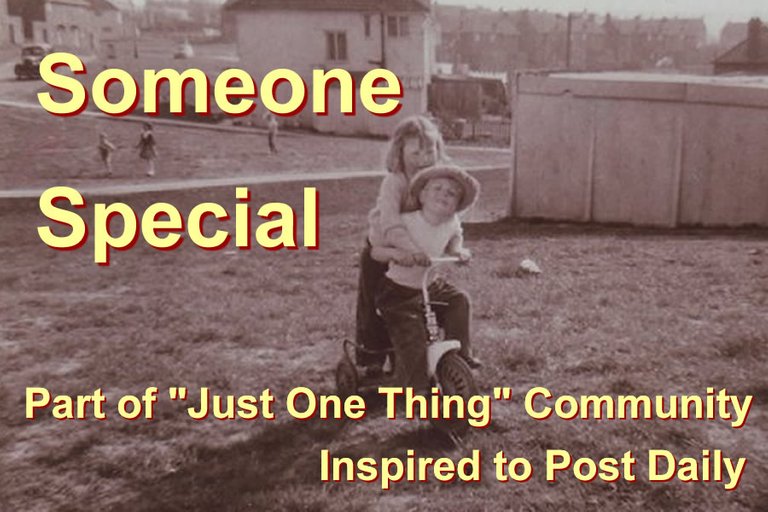 Someone Special in my life is most definitely my partner – Her name is Marguerite and she is one of the most inspiring people that I have ever met
We met over a discussion of Art, I was asked to come and offer some critique and judge a winner of a Year 12 Art exhibition that Marguerite had helped inspire and put together.
This then began a friendship that has now been for many year, we remained very close and good friends for approx. 5 years, having all sorts of discussions on all sorts of topics that would go on for hours and hours, days, weeks, years.
We started to date after 5 years of very close friendship and I am very happy to report that we are still best friends and very much in love with each other.
Marguerite is not only someone very special to me, she is also Someone Special' to her children and Grand Children and her Siblings, as no doubt she was also 'Someone Special' to her Parents.
Marguerite has devoted her life to knowledge and has undertaken Bachelors Degree, Honours Degree, PHD and is now undertaking a Masters Degree in Clinical Psychology.
She also Teaches Psychology at University as well as being a counsellor, Therapist and Art Therapist.
Marguerite has always been Someone Special to her work Colleagues, Her Peers, International specialists, Clients and fellow Students. She is the sort of person that makes a mark no matter where she goes is.
She is Diligent, a High Distinction Student, University Medallist and all around knowledge bearer of many fields.
Marguerite has a great love for nature and has a very keen Photography Eye as well as being an accomplished painter and Art Maker.
However there is something very special about Marguerite that makes her Someone Special and that is her Humility.
She is able to relate to people of all walks of life and people just relate to her like a bee to a flower.
We can walk down the street, meet someone new and before you know it they are telling her their life story.
My Partner in Life and I have now known each other for 22 years and been a couple for 17 of those years and each and every day I am reminded that she is
'Someone Special'
!CTP
!ALIVE

The HIVE Guide:
Do you want to have a FREE comprehensive Tool to navigate your way around HIVE
Click the Banner below and start your training today



If you are really looking for a helping hand to developing your business, then there is no better choice than to follow the programs that others have used and continue to use Just Click The Banner below to find out how



---
---