What is your Love Language - Just One Thing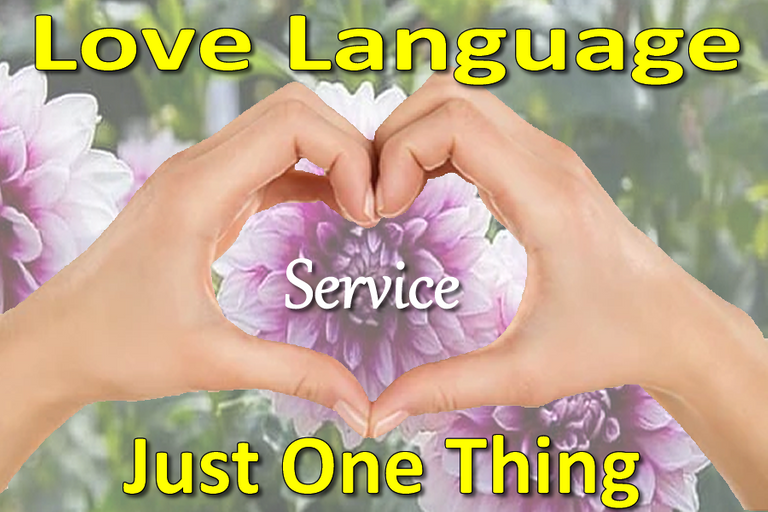 There are a few basic Love Languages and all of us have either one or a combination that make us feel good, make us feel loved. We can also identify what those close to us relate to as well.
Knowing your Love Language can assist you in achieving everyday in your personal life as well as your vocational life.
Below are 5 basic ones
Words of Affirmation – when someone lets you know how loved you are, how good you are at what you do, how well you do in things, compliments etc.

Quality Time – spending time with family and friends, being heard, being listened to, knowing that you are part of the team, and knowing that people want to spend time with you.

Physical Touch– Being held, holding hands, gentle touches, a brushing against, a good cuddle and a Hug from friends and family

Acts of Service – Helping others, knowing that what you are doing is going to benefit others, providing the best quality of you that you can, philanthropy, selfless giving with no expectation of return.

Receiving Gifts – Gotta love that new car but the bookmark, essential oil or having something done for you is equally as pleasing and fulfilling
My Love Languages are first – Acts of Service, I love to do what I can and what I see needs doing, as much as possible and I get joy out of seeing people realise that something has been done for them without having let on that it was done and more importantly not letting them know it was me  I believe that every day I provide a service to someone that least expected it.
From those that I care about and love, Physical touch then comes next. I always get a kick out of being touched by someone that I know, it lets me realise that they want to be in my company and that they see me as someone they can trust. A Hug from a good friend is always welcome and appreciated. A gentle touch from my partner, eg: when out shopping and the brush against me unintentionally always puts a smile on my dial, and I love a good hug and cuddle from my partner.
And then for me comes Quality Time, I love to spend one on one time with my partner, we will always go shopping together just so we can spend time together, with both of us having very busy schedules we take whatever moments we can to be in each other's company to chat and enjoy each other. When I am engaging with others I am doing just that, engaging , which means that I am part of the conversation, part of the discourse, I am listening and participating and wanting to, because that time with others is very important.
Let me know what you Love Language is, and remember, this will always be with you and will guide your life's experiences

This post is part of the 'Just One Thing' Initiative
Just one thing is an initiative borne from @hirohurl and is a way of inspiring others to create a Blog Post every single day by offering a prompt to inspire.
You can ( and I encourage you all to do so) subscribe to the Just One Thing Community using this link
https://peakd.com/c/hive-101679/created
Become an inspired community member
!CTP
!ALIVE
#justonething #alive #AliveAndThriving



The HIVE Guide:
Do you want to have a FREE comprehensive Tool to navigate your way around HIVE
Click the Banner below and start your training today



If you are really looking for a helping hand to developing your business, then there is no better choice than to follow the programs that others have used and continue to use Just Click The Banner below to find out how



---
---