When you're on a Roll you're on a Roll - Just One Thing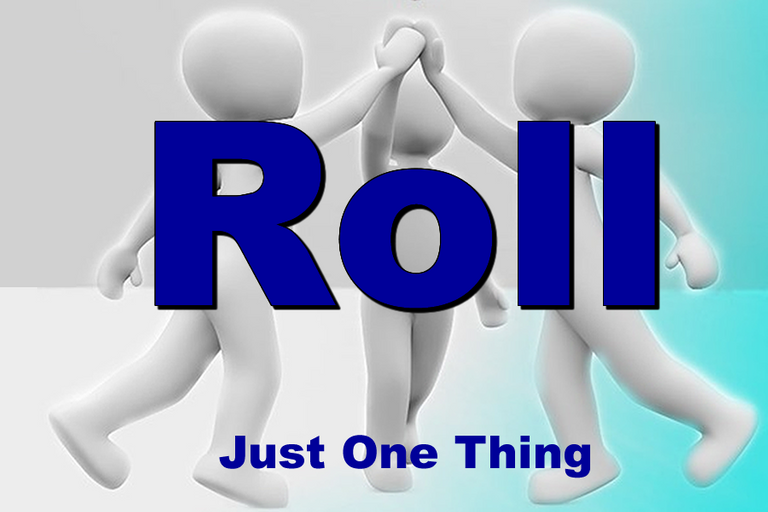 'When you're on a roll you're on a roll'
Peter was talking to Lucia and he was right, things had been looking good for Lucia, her capital value had been shooting up and more and more people had been seeking her out.
Lucia was a well sought after commodity.
This new venture that she had decided to participate in, not only involved Peter, but also introduced some new players in the game, Orion had come with a well stacked resume, he had participated in many ventures and demonstrated the added value no matter what project he was placed within.
Betina was also highly recommended and brought a level of stability to the group, she wasn't liked by all, however her motherly nature was definitely appreciated and the depth she provided was a settling factor for all.
Marjorie was a bit of a loose cannon, but every project needed one, Marjorie provided the extra mile, the zest that would see that a project jumped out of the box and didn't stay flat, she would appear just when you were not expecting her and provides the inspiration needed at the time.
Tommy was just a nerd, but every project needed one of those also, someone has to be the solid platform for developing all the layers needed for the project to work, He could get a bit slushy at times, but everyone put up with that and even began to enjoy the distraction from time to time.
This was a very ambitious project indeed and the board was really looking forward to watching it grow. Barry who was the chairman would put everything out on the Table before we even began, just so we knew what we were up against. Barry had a twin brother Brian. Brian was always there alongside Barry and between the two of them they would see many a successful development. Brian was a little more rotund than Barry and quite frankly always seemed to be on top of Barry's next question.
This is a very tricky project, said Barry, we need to make sure that everyone knows their role. Is everyone clear.
An uproarious cheer came from the whole team
A'hem, said Brian, I do think we need to bring in Patrina though, I know, I know, she is contentious and some of you don't think she should come anywhere near this project, in fact some of you are repelled by her, however I think in this particular case she is very much needed, after all one must know the client we are working for
Everyone gave a nod of agreement. When you're on a Roll you're on a Roll they all said
Marcus stood at the counter
Ian passed him the paper bag, one Pastrami, Lettuce, Beetroot, Onion, Tomato and Mayo on toasted Brioche Roll, that will be 5.99 Thanks
Did you include Pineapple, said Marcus
We certainly did, said Ian, everything you ordered is on the Roll including extra crispy Lettuce

This post is part of the 'Just One Thing' Initiative
Just one thing is an initiative borne from @hirohurl and is a way of inspiring others to create a Blog Post every single day by offering a prompt to inspire.
You can ( and I encourage you all to do so) subscribe to the Just One Thing Community using this link
https://peakd.com/c/hive-101679/created
Become an inspired community member
!CTP
!ALIVE
#justonething #alive #AliveAndThriving



The HIVE Guide:
Do you want to have a FREE comprehensive Tool to navigate your way around HIVE
Click the Banner below and start your training today



If you are really looking for a helping hand to developing your business, then there is no better choice than to follow the programs that others have used and continue to use Just Click The Banner below to find out how



---
---