24th Season on Splinterlands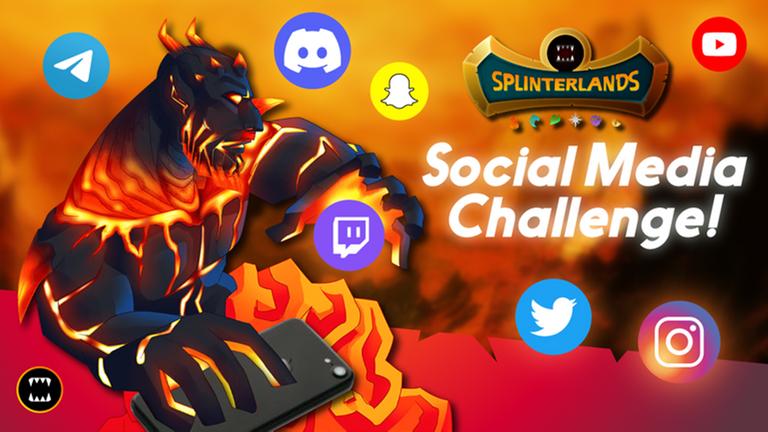 A great Wednesday to all Hivers and players of Splinterlands!
Checking my previous posts, I observed that I skipped publishing what happened to our gaming accounts over the last four seasons. The last season I shared was the 19th and it was published on the 19th of May.
Today, in addition to my technical analysis of the possible price direction of Splintershards (SPS) in the coming weeks and months, I also want to continue sharing our story last 24th season.
Rounding Bottom Pattern?
Whenever I am checking the direction of the price of Splintershards (SPS), I could not avoid thinking that a "giant rounding bottom" pattern is in the process of formation. This is because as supporters of this game know, the development team is committed to the long-term prospects of Splinterlands and this is shown in its weekly updates.
When a value is constantly being built, the current market price of this governance token should be embraced as a rare opportunity. It is just a matter of time, sooner or later that we will witness a change in market sentiment toward this token.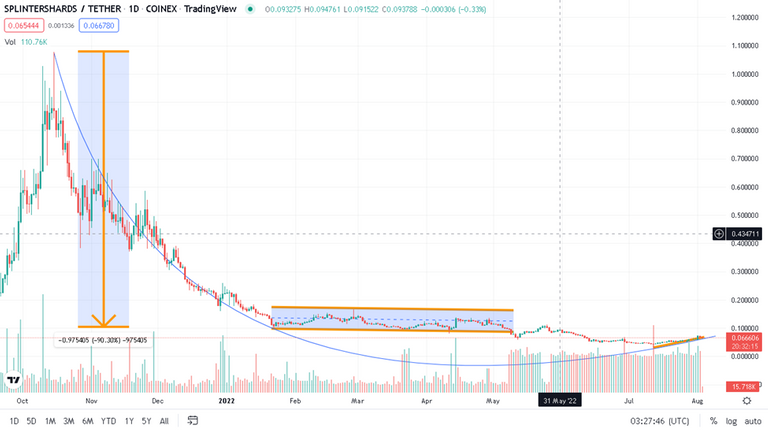 Source
The initial price decline of the token was caused by a huge supply. Now that the price has been consolidating for more than seven months and that the SPS airdrop has just ended, I am anticipating that more buyers than sellers will start to reappear to take advantage of the current low price. If this will happen, the shift to an upward trend will soon follow and we will see the rounding bottom pattern also known as the "saucer" pattern in the coming weeks and months. Waiting for such recovery requires patience.
Yes, it is still too early to speculate on that direction. The dominant market sentiment in the crypto space is one of excessive negativity. However, in the past several days, we read a few early indications of bullish sentiment.
That's enough for our rough technical analysis for today.
Daily Focus and EOS Rewards
It's now time for me to share our story during the 24th season on Splinterlands.
With the recent changes in the mechanics of the game, maintaining multiple accounts isn't easy. Currently, I am using four gaming accounts on Splinterlands. My primary account is in the Silver III League while the other three are still in the Bronze I League.
@kopiko-blanca completed a total of five Daily Focus and 40 EOS chests the last season. The total USD value of the rewards he received is $0.86.
These are the rewards he acquired in those five DFs: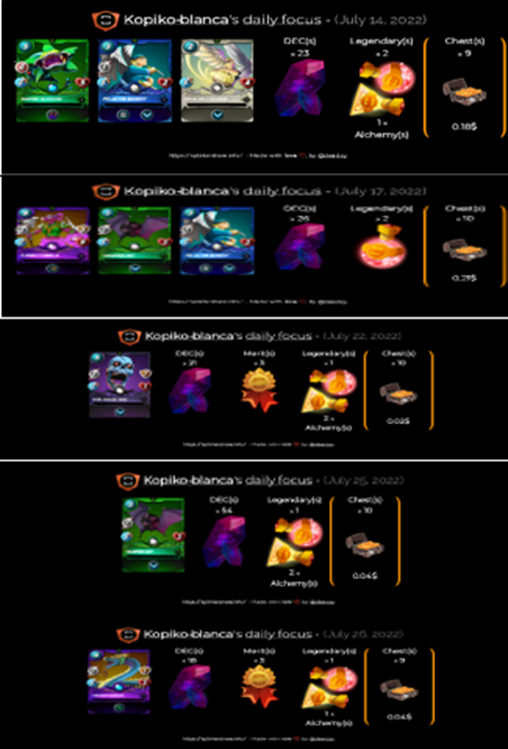 And for the rewards he received from 40 chests in EOS: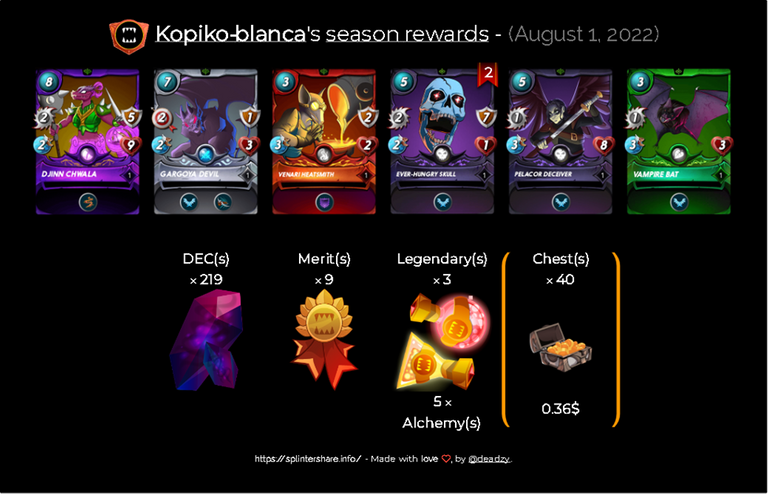 @axietrashgame also finished 5 DFs and his reward is higher compared to kopiko-blanca. He received a total of $0.84.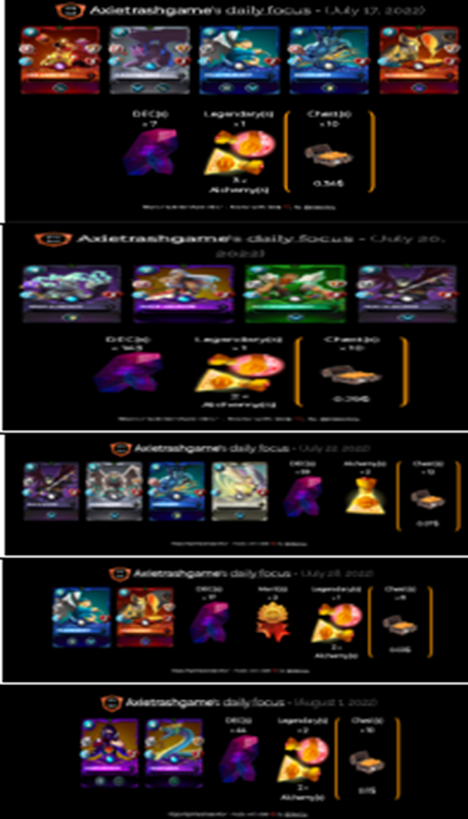 Axietrashgame too accomplished bigger number of EOS chests though the USD value is lower compared to kopiko-blanca: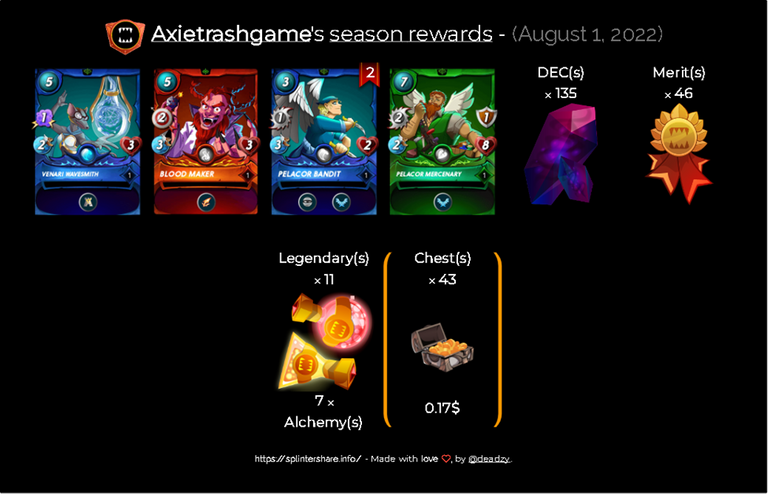 As for my wife's account, she only had 3 DFs and the total value is $0.42: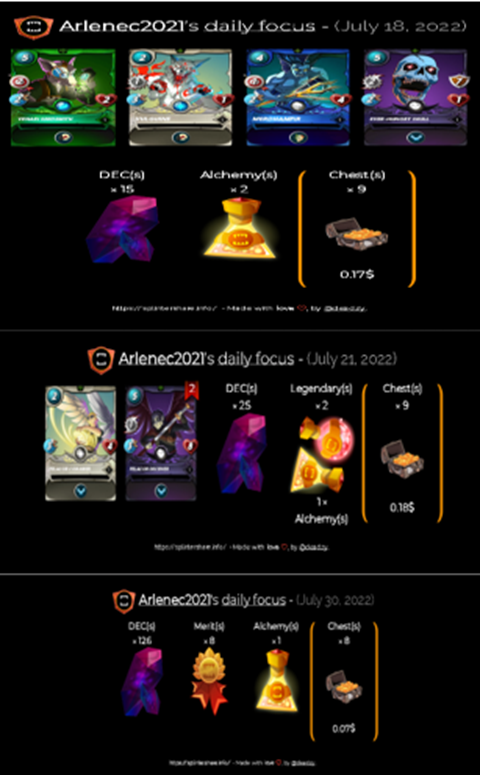 And for her EOS chests: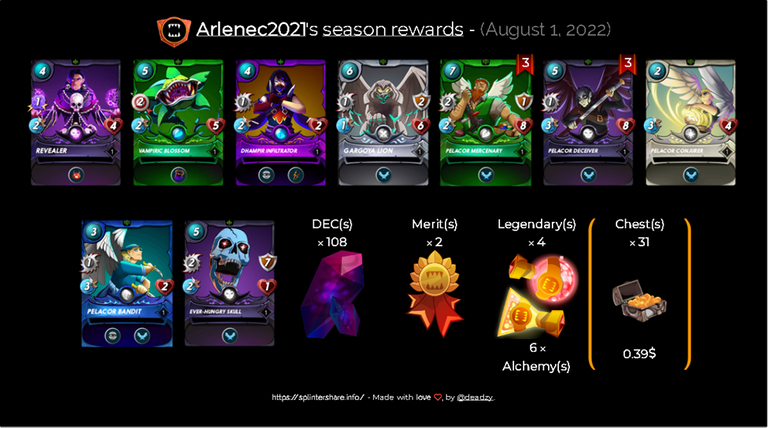 Finally, for my primary account, rzc24-nftbbg. In my case, I completed 9 DFs and received $1.77 in rewards.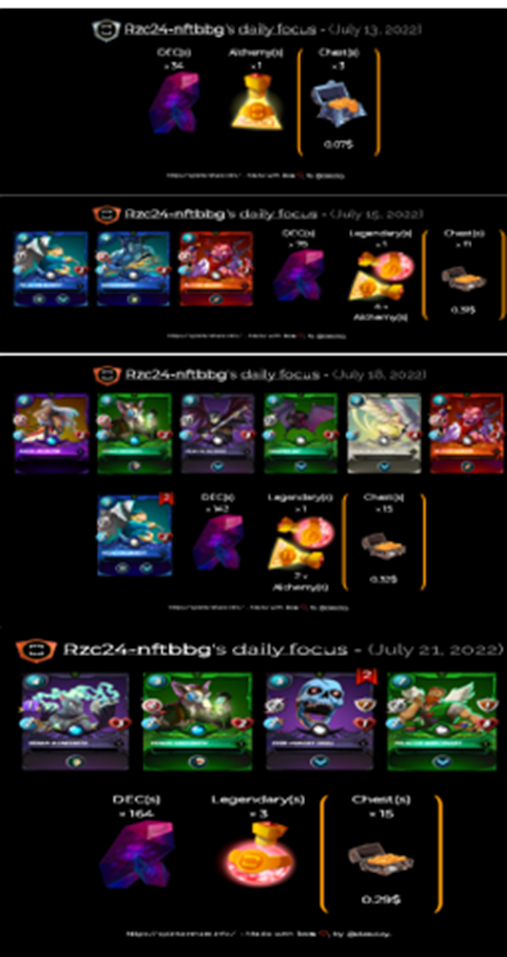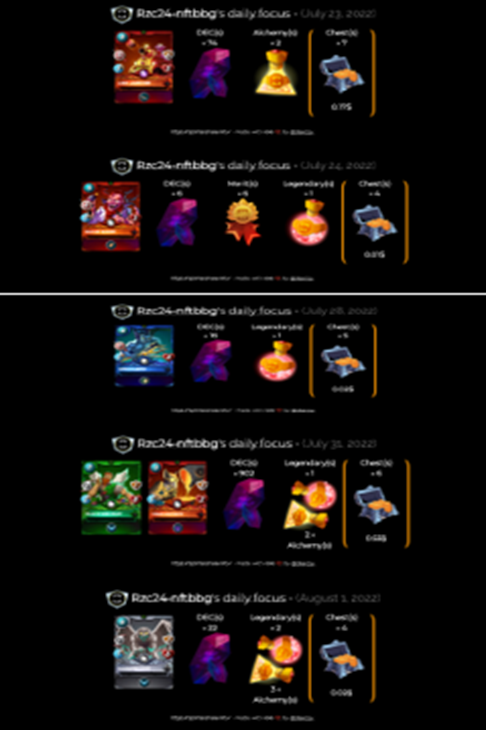 And for my EOS chests rewards: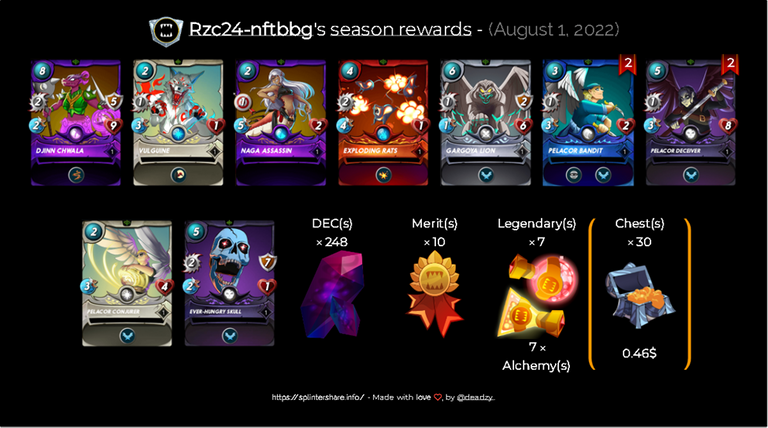 And so, here's the summary of all the incentives we received from 22 DFs and 144 EOS chests. The total rewards we received last season is $4.99.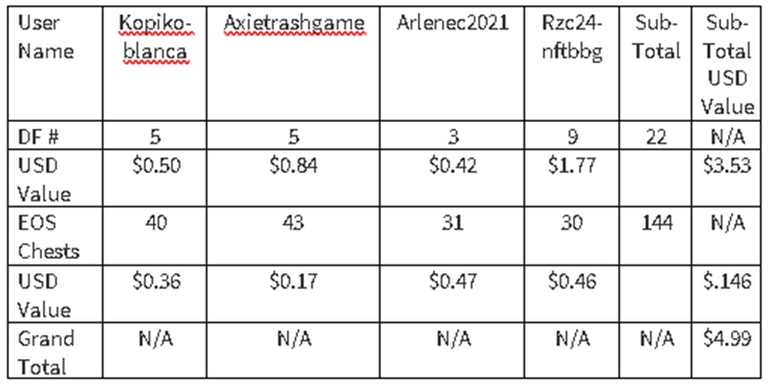 Update of My Family's Gaming Accounts
And here's the update of my family's gaming accounts:

My collection power increased by 28.33% from 16,640 to 21,335 and my card value by 0.78% from $107.83 to $108.68.
My wife's account has the highest appreciation. Her collection power increased by 254.69% and her card value by 131.36% from $4.40 to $10.18.
In the case of my two sons, both of them suffered a decline in card value though their collection power increased. Kopiko-blanca's collection power increased by 3.64% from 6,030 to 6,250, but his card value declined by 32.68% from $18.42 to $12.40.
The USD value of axietrashgame's account also decreased by 14.87% from $11.70 to $9.96 though his collection power grew 27.96% from 5,025 to 6,430.
Conclusion
Comparing the data from two months ago to the current ones, we see that the price of cards keeps falling. Only in the last few days when the SPS airdrop stops that we see some cards start to appreciate in value.
Nevertheless, as I mentioned in my post a week ago, I am very positive that Splinterlands could be a great candidate for the number one spot in NFT blockchain-based games in the near future. With its ethos of decentralization and Web 3.0 vision, the future of this game is very promising!
If reading this article got you curious about Splinterlands and its game economy, why not give it a try? Here's my code.
Grace and peace!
---
---