78.88% ROI in a Bear Market!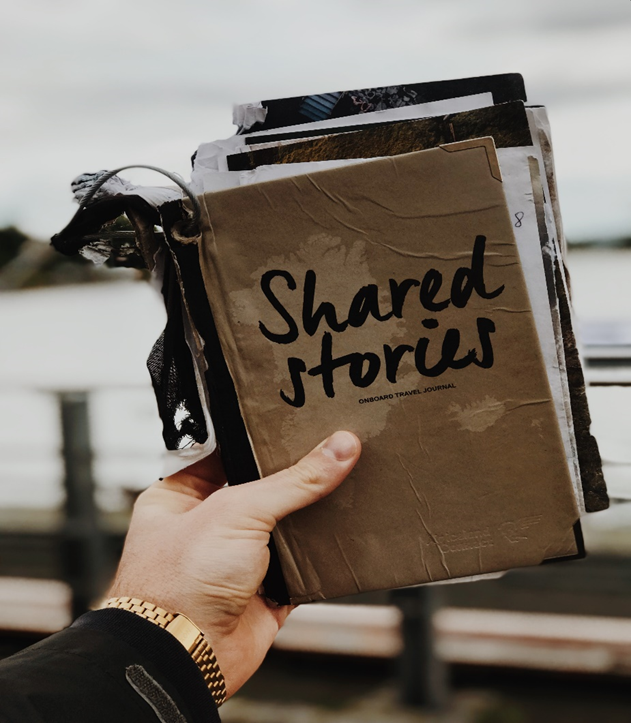 Photo Credit: Mark Neal
The record book that I have been keeping since September last year for my Splinterlands and Hive activity is almost filled up. Only 11 pages remain out of a total of 500. And so, I decided to buy a new one.
A few days from now, that record book will be closed and I will start writing my ongoing journey in the new one. Record keeping has been my habit I think since I was 19 years old. I have been doing this for 36 years now.
Writing on the first page of the new record book that I just purchased, I attempted to evaluate the productivity of my activity on Hive for 11 months now.
Hive is an extraordinary blockchain
Perhaps, from a technical point of view, saying Hive is extraordinary is inaccurate, but that's how I see this amazing blockchain from a layman's perspective.
Of course, Hive means many things to different types of people.
I remember a few days ago, @tarazkp asked, "What is Hive to you?" His question reminds me of the ideas introduced first by @taskmaster4450 describing Hive as a "digital nation" and also as a "compounding machine." These two ideas somehow capture both the fintech and the social aspects of Hive. And that is why quantifying one's ROI after almost a year of investing a minimal amount of money and a lot of time in creating content and building relationships is not easy.
However, despite the difficulty of such analysis, still I will try to share a rough overview of the outcome of my activity here on Hive after 11 months.
I am not sure how many Hivers can relate to this sentiment that Hive is something that I've never seen before in traditional finance. Of course, the very nature of decentralization is unacceptable in legacy finance, and so it is just natural not to see this kind in the dominant system that we have.
Another interesting idea (which to many perhaps is already common) that I just recently learned though I am not certain if I got it right is that the existence of layer two applications is actually one of the concrete ways, we can see the implementation of this decentralized character of Hive. As such, the foregoing concept of Hive as a compounding machine is closely connected to this.
Through the layer two tokens, we can see such compounding ability of Hive at a different level. Yes, the return on your HIVE power will compound as you keep powering up from the HIVE that you either earn through content creation and curation or the HIVE that you buy with your monthly savings. Moreover, with layer two tokens, such compounding has been elevated to a higher degree.
$20.00 Every Payday
Since March this year, when I realized the workability of this idea via micro-investing, I resolved to set aside $20.00 every payday.
Vision really matters. For seven months, I have been roaming around Hive without a vision. The promise of financial freedom that Hive can offer to those who are willing to commit the necessary amount of time and effort for a long-term basis, let's say, 5 to 10 years is for me a worthy vision that keeps me awake at night and wakes me up in the morning with passion and energy every day.
78.88% ROI
Enough for my reflection. Time to proceed to the numbers. As I said earlier, the social aspect of Hive is not easy to quantify. I remind myself of this fact while writing down the following numbers. Furthermore, another thing that cannot be included in this analysis is the time I spent writing articles for Splinterlands, ListNerds and other front ends.
How did I come up with that 78.88% ROI?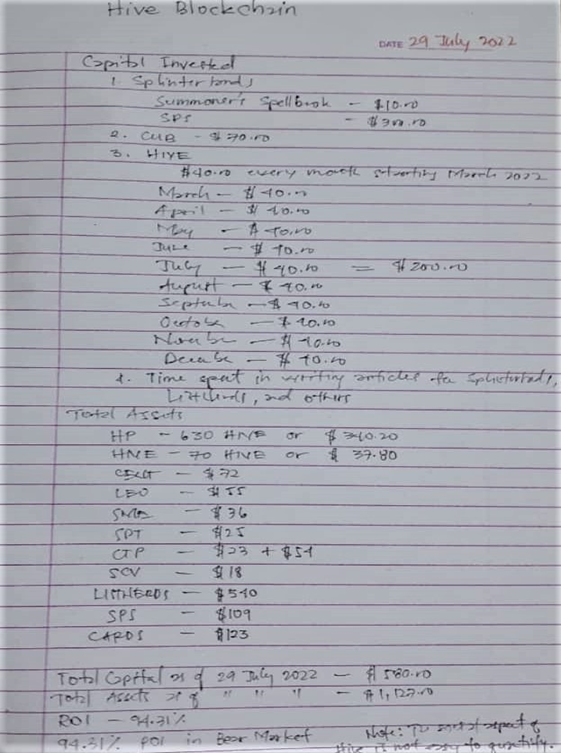 As you can see in my record book, I divided the numbers into two categories: capital invested and total assets.
In the above photo, I failed to include the $50.00 I invested on LISTNERDS and so instead of $580.00, the total capital I invested for 11 months is equivalent to $630.00. Its breakdown is as follows:
$310.00 for SPS and the Summoner's Spellbook

$70.00 for CUB

$50.00 for LISTNERDS, and

$200.00 for HIVE
Computing the total assets, I came up with $1,127.00, and here are the details:
$340.00 in HIVE Power (HP)

$37.00 in HIVE

$72.00 in CENT

$55.00 in LEO

$36.00 in SME

$25.00 in SPT

$77.00 in CTP

$18.00 in SCV

$540.00 in LISTNERDS

$109.00 in SPS, and

$123.00 in Splinterlands' cards
I simply subtracted $630.00 from $1,127.00. I then divided the difference by $630.00 and I multiply it by 100.
Final Thoughts
Having been in the stock market for almost eight years now, I find it ridiculous to compare it to cryptocurrency. Or perhaps, the reason why I could say this is that I have been blessed enough that my early exposure to cryptocurrency is not with those "mooning" projects but with the solid ones like Hive.
I am just thinking if I can have an ROI like this during Bear Season, I wonder what would happen once the Bull Market starts raging!
Grace and peace!
Note:
I wrote this article two days ago prior to the pump of HIVE price that is happening right now as I write this note. I intentionally delayed its publication waiting for that 7-day waiting period on ListNerds to be completed. I am still unprepared to publish the first blockchain article that I promised a month ago. Anxious that my content might be considered soon irrelevant due to the sudden change in market sentiment in the crypto space, I decided to publish it now. If I will rewrite it considering the current price of Hive, I think I will come up with a higher yield. Curious if what's going on is the start of what I described above as "Bull Market starts raging!"
---
---