From a Bragging Red Fish to a Cautious Minnow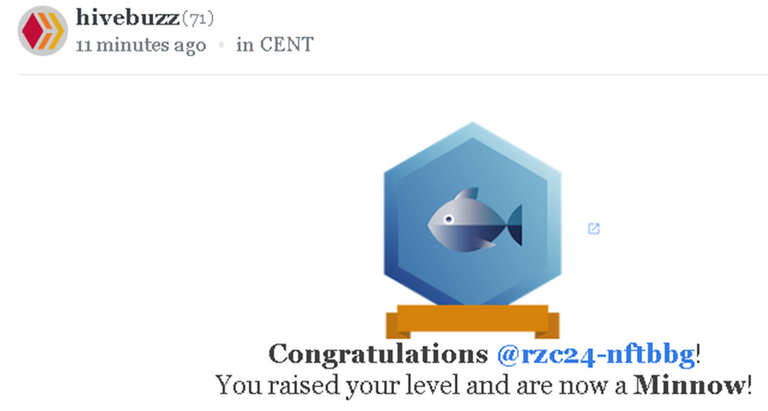 After 334 days, finally, my account evolved from a Red Fish to a Minnow. Reaching this stage, I consider it a milestone in my journey in blockchain and cryptocurrency particularly here on Hive.
A few months ago, I saw a Red Fish transitioning into a Dolphin in just one day. But in my case, it took me almost a year to change into just a Minnow. It's 11 months to be exact.
In this journey, I owe a lot of my initial growth to Splinterlands. Through the Share Your Battle Weekly Challenge and the Social Media Challenge weekly rewards, I manage to grow my HIVE Power (HP).
However, since the day I started my email marketing via ListNerds, I struggle to continue writing two articles per week for Splinterlands. I am not sure if this is part of my evolution as a student of both blockchain and cryptocurrency or if I have outgrown my interest in writing for Splinterlands. Perhaps, another factor is the challenge of maintaining a balance between the demands in my work and content creation for Hive.
All in all, reaching this landmark in my journey, I am grateful to the Lord for Hive as well as for other helpful tools and dApps available in this blockchain such as @hivebuzz, @dbuzz, @leofinance, splintertalk.io, @centblog.org, @ctptalk.com, @listnerds.com, and somee.blog. These platforms contributed a lot to my journey and my growth.
I am grateful also for influencers here on Hive such as @taskmaster4450 and @jongolson and guys whom I consider as my conversational partners: @savvyplayer, @ifarmgirl, and @gadr1an.
Grateful to @bradleyarrow for getting my attention to pay ListNerds a second look. I could say that joining Listnerds is one of the best decisions I made here on Hive. I thank you all guys for all your support: @misslasvegas, @thisismylife, @jimmyadames, @beststart, @amirtheawesomeone, @bozzy, @burlarj, @generikat, @mypathtofire, @ironshield, @farmbossing, @lisamgentile, @rcaine, and @elianaicgomes, as well as the whole ListNerds community.
Achieving 550.475 HP reminds me of the article I wrote last 03 May this year about the challenge for all Red Fish and Minnow to achieve 5,000 HIVE Power (HP). When I published that post, my HP then was 376 and despite the financial limitation in my current situation, I made it intentional to grow my HP to 500 within the next two months. I just exceeded four days in my timetable.
Attaining the Minnow status, my focus now is to double my HP in a month or two toward that 5,000 goal. Even though I have been forced to sell 10 LISTNERDS at a low price, I still believe that this promising token can help me achieve my HP goal.
Grace and peace!
---
---