Splinterlands is Highly Recommended!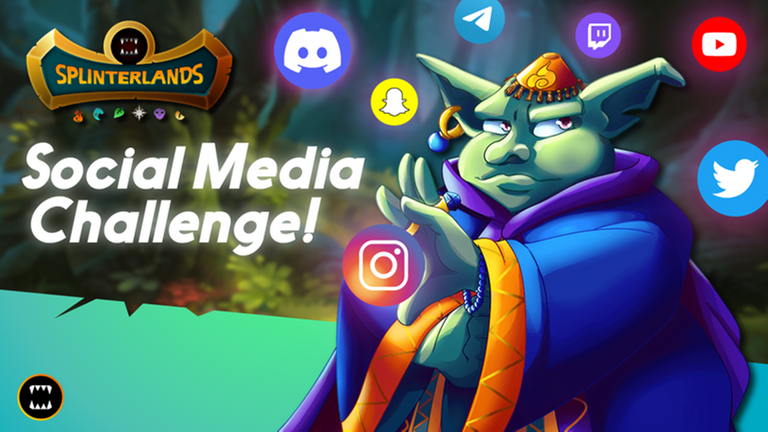 Another awesome day to all Hivers and fans of Splinterlands all over the world!
For Hivers and the Splinterlands community, there are three tokens gaining attention these past few days when it comes to price action. These tokens are all related to the Hive blockchain.
The first one of course is HBD. It has been pumped last 25th July by South Koreans for reasons that many are not aware of. The price climbed up to $3.26 and after soaring for several hours, it returned back to its original price, more or less closed to $1.00. @taskmaster4450 has just published an article on this about the lessons we can learn from such a pump.
In the case of Splinterlands, DEC and SPS are gaining attention due to the end of the SPS airdrop. In this Social Media Challenge, I just want to share this and two other things:
SPS Airdrop Countdown

Cards that I Recently Bought, and

Three Websites that Recommend Splinterlands
SPS Airdrop Countdown
Near the end of the SPS airdrop, players are concerned about what will happen next to both DEC and SPS. Though perhaps not as dramatic as the movement of HBD, the end of the airdrop is speculated as something that will influence the direction of both the DEC and SPS, (Splinterlands' in-game currency token and governance token respectively) either negatively or positively.
Last night, as I listened to SPS Airdrop Countdown on Discord, @yabapmatt mentioned that the direction of the game beginning this day with regards to SPS is toward reduced distribution and increasing utility. Related to the growing use cases of the token, he told us about the release of Riftwatchers possibly by the middle of September. Moreover, he also added about governance, the role of validator node rewards, and others.
The anxiety of those who think that with the end of the SPS airdrop the price of DEC will crash is not based on the fundamentals of the token. Yes, we do see the prices of cards appreciating. We also observe the price of DEC falling overnight, but I think, this is just temporary.
It was my first time to hear that DEC is a stable token and the goal is to keep the value of 1,000 DEC peg to $1.00. By removing DEC from Ranked Battles Rewards and replacing it with SPS, the anticipated outcome would be the stability of the former. Moreover, it was also my first time to hear that DEC is the first stable token backed by products, in this case, Splinterlands' products.
And so instead of worrying, we should take the current price of DEC as a huge discount. Sooner or later, I expect this token to return to its intended price.
Cards that I Recently Added to My Collection
Though I am not certain about the price direction of Splinterlands' assets after the end of the airdrop, it's good that a few days before its end, I was able to purchase at least six cards. Witnessing that the prices of cards appreciated last night, I got curious to compare their prices when I bought them and their current prices.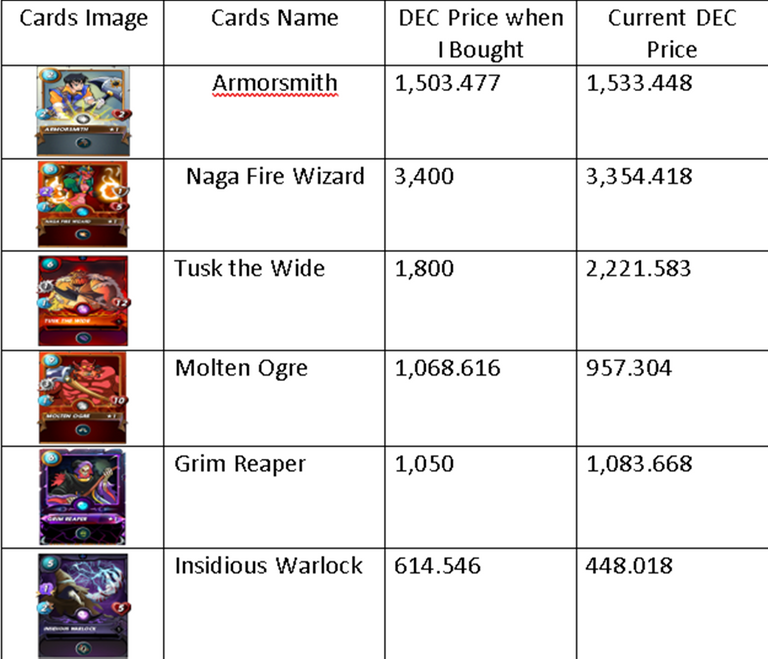 As you can see, there is just a minimal discrepancy in prices of cards that I bought compared to their current prices. In fact, in the cases of both Molten Ogre and Insidious Warlock, their prices now are cheaper than before.
Three Websites that Recommend Splinterlands
It's good that despite the current dominance of the bearish sentiment, our beloved game is gaining the attention that it deserves. Three websites have covered it so far between the first week and the third week of this month.
Bitoftrade.com published a review of the top five Play2Earn NFT blockchain-based games last 05 July. Number one on the list is our very own game, Splinterlands. The website recommends Splinterlands as a good investment this 2022.
Fourteen days after, cryptodaily.co.uk published its own report about blockchain gaming and the state of the market. Games that are mentioned include Splinterlands, Axie Infinity, and Gala with a special focus on the first one.
It is claimed that despite the long crypto winter we are suffering right now, Splinterlands remains to affirm its strength and its vision for the coming years. Our favorite game is built not for short-term gain but to be integrated into the Web 3.0 transition. To accomplish this requires a long-term perspective.
The game was born in winter and the current storm that the crypto space is facing will just make it stronger just like Hive, its mother blockchain.
Five days earlier, on 14 July finance.yahoo.com is the third website that gave a positive recommendation for Splinterlands.
Though written earlier, the website mentions a similar assessment that Splinterlands is an NFT blockchain-based card game that refused to be negatively affected by the current market sentiment. It is committed to the long-term prospects of the game and it has been proven by its ongoing development and updates and interaction with its community of gamers in 149 countries all over the world. As such, there is no doubt that Splinterlands could be a great candidate for the number one spot in NFT blockchain-based games in the near future.
With its ethos of decentralization and Web 3.0 vision, we now see in Splinterlands the future of blockchain-based games!
So that's it for now. Thanks for your time and for your attention!
If reading this article got you curious about Splinterlands and its game economy, why not give it a try? Here's my code.
Grace and peace!
---
---