The Layer 2 Tokens that Caught My Attention

Last night's Claim Drop Live Party & Hive's Second Birthday Celebration started at 12:00 am Philippine time. I stayed until 1:30 am. After @brianoflondon's presentation, I retired to sleep.
At first, I was at a loss on how to claim the LARYNX airdrop. But after reading @spknetwork's latest post, I simply followed the instruction and was able to claim 3.446 LARYNX.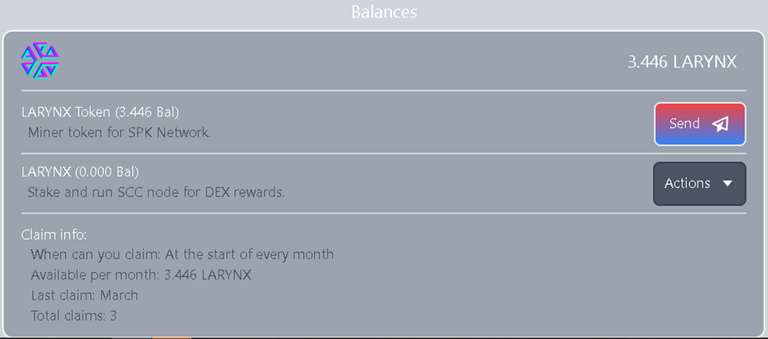 Source
I then asked at least three questions on Discord general chat. My first question is about the relationship between locking and staking. Someone said they are different. And then I made a follow-up question whether locking the mining token is good. Someone warned me not to do it. Finally, I asked again about the best thing to do with LARYNX. The answer was to stake, run a node, and enjoy.
About a month ago, I read the article on how to run a node, but I don't think that I am techie enough to understand it. I think I need to revisit the article and carefully digest it to understand its meaning.
I have so many questions in mind regarding SPK Network and its tokens. I actually published them after reading the SPK Light Paper. In case, they will not be answered, I myself will use them as a reference to guide me in finding answers to my questions.
-0-0-0-
Another thing that caught my attention this morning is the comment on @marcuswahl's post anticipating that the price of SPS will continue to drop in the next one or two months. And the reasons are SPS continued airdrop and the lack of its utility.
In case such anticipation will happen, I see no problem with it. Instead, I see it as an opportunity to add more. If I have the fund now, I won't wait for the floor price for I believe that we are now in a buyer's market.
As for the utility of the token, it has been clearly spelled out in the updated SPS 2022 Roadmap released 3 months ago. Six use cases for the token have been enumerated in that updated document.
By July, I speculate that the price of both SPS and the VOUCHER will start to pick up in anticipation of the release of Riftwatchers. I expect this to happen even around the last week of June. I might be wrong. Nothing is certain about the market. But two things I know is that bearish trends don't stay forever and that the crowd is usually wrong. They buy when the price is soaring and will complain later that the token is a scam when they suffer loss. And when an opportunity for bargain price arrives, they will wait for the floor price, but since no one knows when will it happen, certainly, they will miss it. When the price bounces, they will hesitate to buy, and later they will say that if they only have the chance when the price of the token was still low, they would buy huge volumes of it.
That's the basic psychology of the crowd.
-0-0-0-
Exploring layer two tokens since early February, I observe that those whom I consider as an authority on the space, share something in common when it comes to token accumulation. They include influential content creators, layer two token issuers, and developers. Out of 193, I study 55 of them, and I found out that LEO tops the list. It has 28 holders out of 55. WAIV has 19, BEE has 16, BRO has 12, CTP has 10, and SPT has 9. I am somehow assured that I also hold three tokens they are holding. CENT and SME are not included in the tokens that the majority are accumulating. CENT has 5 holders and SME has 3.
-0-0-0-
Armed with the above information, my new goals include the following:
To add 300 USD worth of SPS as soon as I can.
To accumulate 200 USD worth of CENT.
To stake 5,000 CTP on ListNerds.
To buy and stake 100 USD worth of LISTNERDS, and
To add more CUB.
Last October 2021, I spent $300.00 to buy 870 SPS. Today, you can buy more or less 3,000 SPS with the same amount. I still have three months to add to my holdings before that anticipated price hike by 3rd quarter.
As for CENT, based on my computation as I compare its returns to other layer two tokens, CENT is higher. Though this project is young and has a small market cap, the important thing for me is the utility of the token and its continued growth. Furthermore, accumulating $200.00 worth of CENT will help me in my curation.
As for CTP, I just recently realized that this email marketing business has already been in existence for more than a decade. It is older than Hive. CTP's partnership with ListNerds is still in its early stage. I think both tokens will benefit from such a partnership.
Sorry to end this article on a little bit negative note. This has something to do with my CUB experiment. Despite the setback, I still want to increase my holdings in CUB up to $200.00. Currently, I just have $75 worth of CUB.
I think two or three weeks ago, I had two negative experiences as I join the CUB party. The first one has something to do with my CUB experiment on LeoDex. Together with the other five Hivers, I was falsely accused of stealing someone's HIVE when I sold my CUB on LeoDex. That's a very creative definition of "stealing".
Such experience and the next one caused me to stop posting about CUB and POLYCUB for a time. I realized that people are getting sensitive and emotional when they see the price of their favorite token depreciating. Such emotional instability clouded one's judgment and could cause someone to make hasty and insensitive comments treating someone's post like trash. In that kind of situation, one does not have enough patience to study the surrounding context where the post is made, and so they are bound to misinterpret your intention. If they will just look around and see the hashtag #bargainprice and the fact that I mentioned that given the chance, I intend to double my holdings, that is not spreading FUD when I posted about the price decline of POLYCUB after its initial rise. That is announcing an opportunity to buy more.
---
---