My first participation in a special event (esp/ing)
Hola Familia de #Risingstar
Por primera vez, he conseguido la carta especial de evento para poder participar.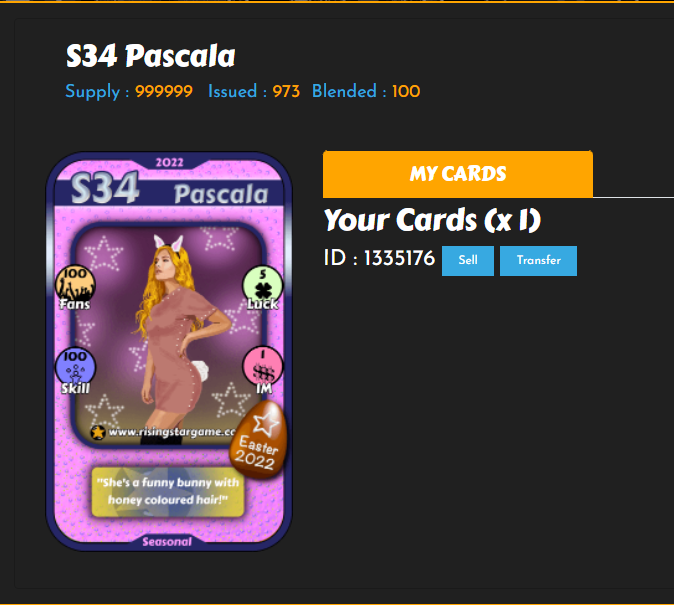 Estaba muy contento por poder probar yo mismo, lo fácil o difícil que es conseguir las cartas especiales, que ofrece el evento.
Tras 15 misiones he conseguido la primera carta de instrumento.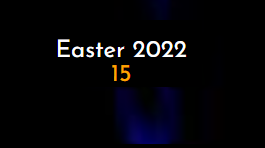 Indican que estas cartas tienen una probabilidad de salir de un 10%, es decir cada 10 misiones deberías sacar 1.
Pero como ya sabéis en este juego todo es azar y mi probabilidad actual es de 6,6%.
Rentabilidad/análisis
Para valorar si estas cartas son rentables hay que comprobar cuantos starbits, obtenemos por misión.
Las cartas de evento se pueden vender sobre los 10K starbits ( actualmente hay por 8k en el mercado).
Yo he necesitado 15 misiones para sacar estos 10K
Por lo tanto podemos decir que cada misión de 30 min me ha dado 666 starbits. (10.000/15)
Con las estadísticas que tengo. No es una locura de premio, ya que con 6 misiones de 5min ( 30min), puedo conseguir unos 500-700 starbits.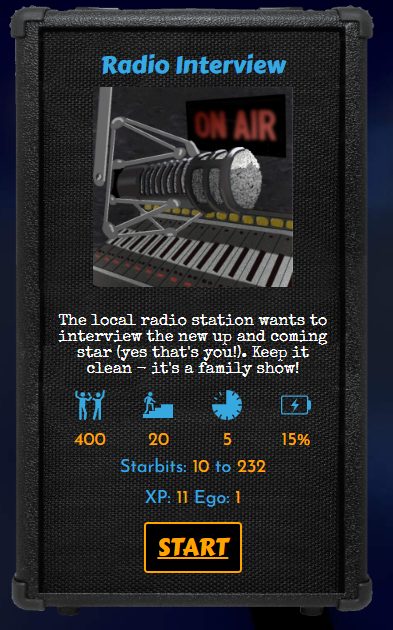 Seguiremos probando suerte, ya que es un evento que me hacia ilusión y quien sabe, tal vez saquemos alguna mas y mejoramos los beneficios.
De todas maneras, hay otros beneficios que no solo los starbits. Estas misiones no generan ego, las cartas especiales te permite subir en el ranking y si consigues 10 las puedes unir, para conseguir una con mayor valor.
Quedan 18 dias de evento y tal vez consigamos alguna más o eso espero .....
saludos
English
Hello #Risingstar Family
For first time, I got the special event card to participate.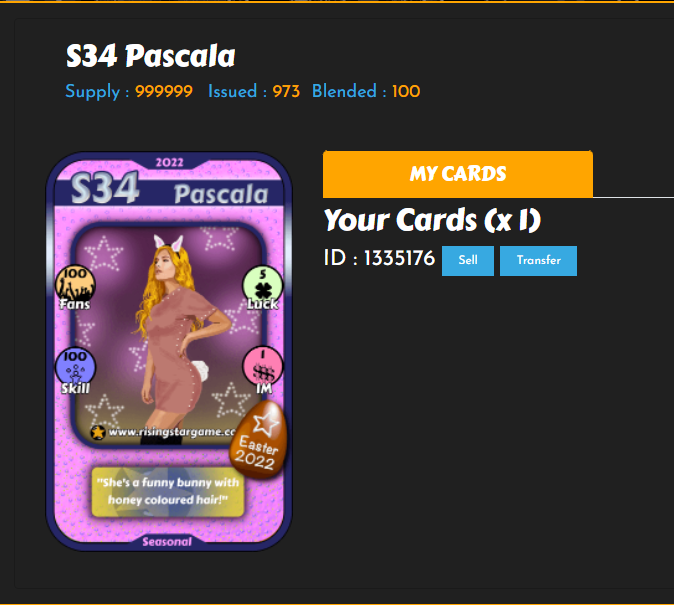 I was very happy to be able to test for myself, how easy or difficult it is to get the special cards,
After 15 missions I got the first instrument card.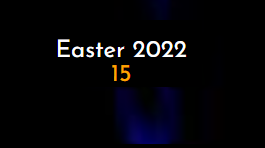 They indicate that these cards have a probability of drop of 10%, that is, every 10 missions you should get 1.
But as you know in this game everything is random and my current probability is 6.6%.
Return/analysis
To check if these cards are profitable, we have to check how many starbits we get per mission.
The Event cards can be sold for over 10K starbits (there are currently 8k on the market).
I have needed 15 missions to get these 10K.
Therefore we can say that each 30 min mission has given me 666 starbits. (10,000/15)
With the statistics I have. It is not a good prize. With 6 missions of 5min (30min), I can get about 500-700 starbits.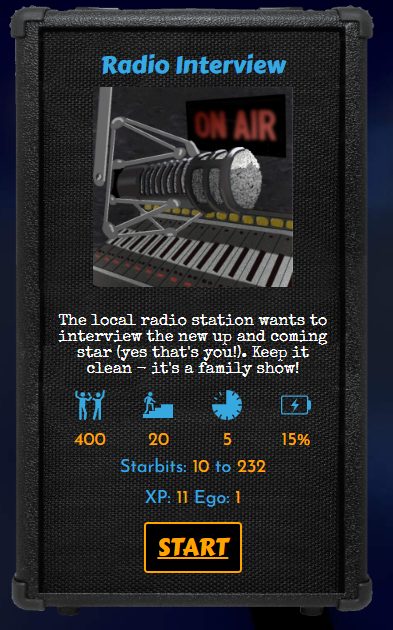 We will continue to try our luck, since it is an event that made me excited and who knows, maybe we will get some more and improve the benefits.
However, there are other benefits than only starbits. These missions do not generate ego, the special cards allow you to go up in the ranking and if you get 10 you can blend them, to get one with a higher value.
There are 18 days left of the event and maybe we will get some more or so I hope .....
Cheers
---
---