The Devastating Effects of Cyclone Gombe on Northern Mozambique: How Horrible Storms Destroys Lives and Property
Greetings to everyone in this esteemed community, it's another day and I bring to you news/information from the African continent.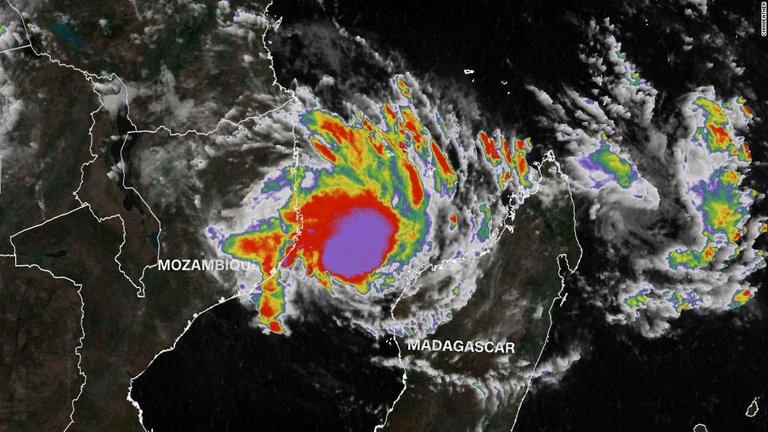 Source
It's understood that the entire world's attention is channeled towards the war in Ukraine between Russia and Ukraine, the effects of that conflict is actually affecting the entire world economy.
Today I'll like to drift off the war in Ukraine to focus on another important news that has caused several damages to the people of Mozambique within the past 5 days.
Some days back a terrible storm strucked Zimbabwe known as Cyclone Gombe and has been a challenge to the inhabitants of Northern Mozambique for the past week.
Tropical cyclone GOMBE continued over the Mozambique Channel toward northern Mozambique on 9 March, as a tropical storm, further strengthening. On 10 March at 6.00 UTC, its centre was located approximately 250 km east of the coastal area of central Nampula Province, with maximum sustained winds of 137 km/h (tropical cyclone). GOMBE is forecast to make landfall over the central Nampula Province (approximately 35 km south of Mozambique City) in the late evening (UTC) of 10 March.Source
The tropical storm first hit Madagascar on March 7 and moved towards Mozambique through the Mozambique channels and currently it has caused several havock in Northern Mozambique.
Since the rise of the tropical storm in the country, most residents in Northern Mozambique have fled their homes to other regions to meet with relatives who resides in other cities.
According to the President of Mozambique Filipe Nyusi:
that people should "protect the windows, doors and roofs of the houses", as seen in Beira when they were preparing to face Tropical Storm Ana.Source
The Mozambique National Institute of Meteorology (INAM) has issued a red warning for tropical cyclone over most of Nampula and Zambezia Provinces. According to the Global Flood Awareness System (GloFAS), approximately 55,000 people are estimated to be exposed to fluvial floods in Mozambique. Population exposed to the broader hazards will be larger due to flash, pluvial and coastal flooding as well as exposure to intense wind speeds.Source
There's every likelihood that the tropical will continue for weeks and this could poss more threats to the lives and health of citizens. This is because the tropical storm came with heavy rainfall and flood. This floods have affected the drinking water of this provinces and their crops destroyed.
What'll life become after these horrible tropical storm in Mozambique.
Probably, hunger and other waterborne diseases such as diarrhea, cholera amongst others. Hunger is inevitable within this period, so humanitarian agencies are actually needed to support Mozambique as well as Madagascar during this period.
https://twitter.com/WMO/status/1502216849496358916?ref_src=twsrc%5Etfw%7Ctwcamp%5Etweetembed%7Ctwterm%5E1502216849496358916%7Ctwgr%5E%7Ctwcon%5Es1_c10&ref_url=https%3A%2F%2Fwww.news24.com%2Fnews24%2Fafrica%2Fnews%2Fcyclone-gombe-makes-landfall-in-the-north-east-of-mozambique-20220311
---
---