My favourite Nigerian meal
Hello hive nigerians,
There is something special about nigerians meals that we do not think, from the means of preparation to the taste of the food. Specially (our nigerian delicious jellof rice 😊) we also tend to have a culture or pattern we seem not to do without no matter how we are far or close to home.
Before i enter the main topic i would like you to know the definition of food, it's hygiene and it's poisoning.
Food:is any nutritious substance that people or animals eat or drink, or tvat plants absorb in order to maintain life and growth.. In the other perspective it is seen as a substance consumed to provide nutritional support for organisms
Hygiene:is known as the measures and conditions necessary to control hazards to ensure fitness for human consumption of a foodstuff.
Poisoning :it is the illness caused by food contaminated with bacteria viruses, parasites, toxins. Food poisoning can be spread through contaminated food or water.
We also have the six classes of food which are;fats, carbohydrates, protein, vitamins, and minerals and water.
ABOUT MY BEST NIGERIAN MEAL
My best nigerian meal is our reddish chicken stew with white rice. This is a very delicious meal and very easy to prepare if you know the steps. The ingredients for this meal can be gotten in the market all you need for this meal is
:your white rice
1or1/2 kilo chicken
fresh tomoatoes
Bulb of onions
Ginger
Salt to taste
Your seasoning cubes
Carrot(optional)
Vegetables (option, but good for the health)
Your good vegetable oil, with all these ingredients your good to go on with your cooking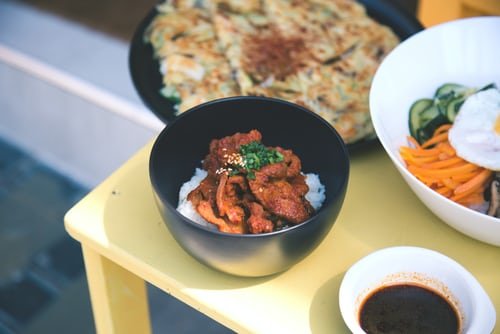 Source
STEPS FOR COOKING A DELICIOUS REDDISH CHICKEN STEW AND RICE
Firstly with your already parboiled rice which i guess all of must must know how to parboil a rice. But some people might not know how to prepare the stew.
Steps for preparing your stew
-put your healthy vegetable oil
-add your fresh tomatoes, onion, salt and pepper. Sautē until fragrant
-add your rosemary, curry powder, and bullion cubes cook until golden brown through 10 minutes
-add your blended tomatoes, seasonings, bring to boil over heat at low heat for about 20 mintues.
-remove stew from heat and let for 10 minutes.. Your done you can enjoy, served with rice, fried plantain and chilled juice(if desired) 😊.
**An amazing contest, thanks for reviewing.
Look out to my next post@sammychidi
---
---