Mycointainer - Live A Rewarding Life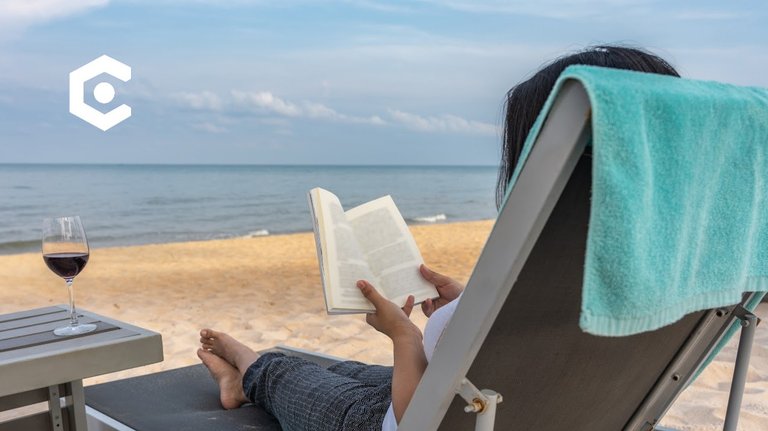 Passive Crypto Income
This is the highest form of Crypto income in my opinion. Generating ongoing passive income that requires zero maintenance, attention, or additional investment. Trading is great and sometimes the market can really surprise you with an absolute blessing. However, this is seldom and random. The consistency of passive income is something that I find highly appealing. Sometimes the market can head sideways for prolonged periods of time and ultimately robbing you of income. Stability comes through staking and earning interest.
Even other passive income models can dip in performance but staking remains a set percentage and will only drop substantially if the price of the actual token drops.

Mycointainer has recently seen some really great additions, enabling users to earn on some top-tier projects. Services such as Mycointainer make the whole process of staking completely hassle-free and subsequently attract investors that would otherwise choose to avoid the hassle. Deposit and earn is the only action required by investors who make use of Mycointainer, making it a very viable option for many Crypto holders.
New Additions
Secret has been on an absolute tear lately, up a whopping 337% in the past 30 days. It is also a new addition to the staking assets available on Mycointainer. The current return is 28.4%, which fits in nicely with my favorable zone of 10% and higher.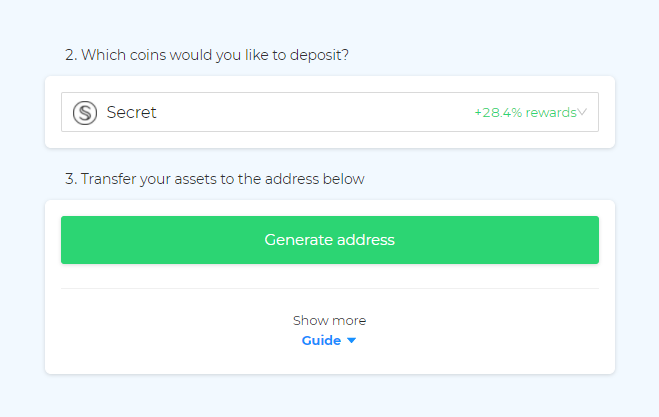 I personally managed to gain a stack of SCRT at the launch and so am quite happy about this and am seriously considering staking them over at Mycointainer. I am just busy deciding if I want to hold onto these long-term or trade them out.
Another really exciting addition is Solana, which is definitely a long-term hold in my opinion. If ever there was a true ETH competitor, it's SOL and perhaps DOT. Both projects happen to be available on Mycointainer! The current return on SOL is 7.25%, while DOT is 3.9%, which is ok but not great. Staking idle assets that you intend to hold onto for the long-term is a really simple way to simultaneously increase those assets.
There are loads of top-quality projects available for staking on Mycointainer, which makes it the best go-to place for staking if you are not going to be handling it yourself. Users are also able to take part in ETH 2.0 staking if that is your thing. Personally, I would rather lend out my ETH because at least I know that I can take hold of my assets whenever I choose.
ETH 2.0 requires coins to be locked away until an undisclosed time, which is not something I am interested in. Others might not mind, as they may have very high time horizons.
Airdrops
If you enjoy taking part in airdrops, there is also a section on the platform that is dedicated to airdrops. These are pretty straightforward and usually, incorporate social media actions. There are currently six unique airdrops available at the time of writing.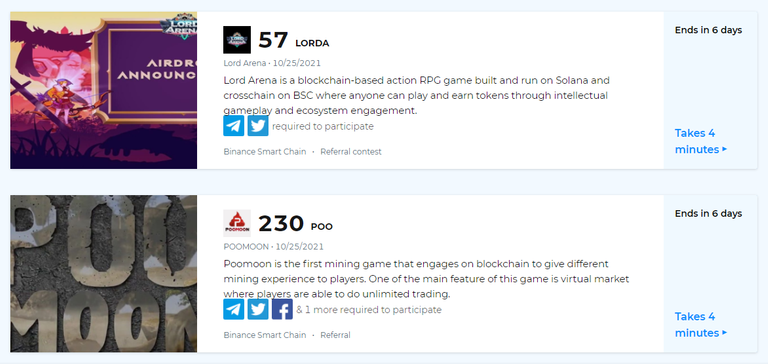 Airdrops can be a waste of time but they can also sometimes be very beneficial. You will have to decide which are worth your effort or not. Staking was a very prevalent trend in the last bear market and will probably be again in my view. Staking has obviously grown a lot since the original concept of proof of stake. Many coins are not actually staking coins as in proof of stake but rather provide a form of yield. There is a difference and the original proof of stake protocol is most likely the safest, at least in my view anyway.
Mycointainer Is A Solid Option
As mentioned, this platform probably has the best reputation and services available when it comes to staking platforms. There are a number of others such as StackOfStake but none currently compare with Mycointainer. Check them out, you may find an investment idea that is perfect for you. A lot of Noise.cash users send their earnings to Celsius. Mycointainer can be utilized in a similar way when it comes to earning free Solana or other alts that are available.
Disclaimer
First of all, I am not a financial advisor. All information provided on this website is strictly my own opinion and not financial advice. I do make use of affiliate links. Purchasing or interacting with any third-party company could result in me receiving a commission. In some instances, utilizing an affiliate link can also result in a bonus or discount.
Posted Using LeoFinance Beta
---
---