Cold Pizza Slice given away + My Rising Star progress! 😎

I have decided to collect 100,000 STARBITS before buying 10 of those 3-Card Packs, so that I could get a bonus of 2 more! 😅 Right now, my progress is about a third (1/3) towards a hundred thousand STARBITS. 👇

Since I have not opened any 3-Card Pack since 7 days ago from the first time this post was published, my Rank went down to 121 from 113. 🤔 It's okay, since my Rank might go past 110 once I open 12 of those 3-Card Packs! 😅

---
For the main part of this post, I haven give away two of my Cold Pizza Slices! 🍕 A Cold Pizza Slice currently costs 10,000 STARBITS (roughly $1.10) each on the Rising Star Market (as of May 17, 2021). 🤔 I currently accumulate enough "charges" on my 1st Birthday Cake and other Cold Pizza Slices that I sometimes use another Cake or Pizza Slice when I still have more than 50% Energy to prevent them from waiting (which for me is a waste of Energy). 😅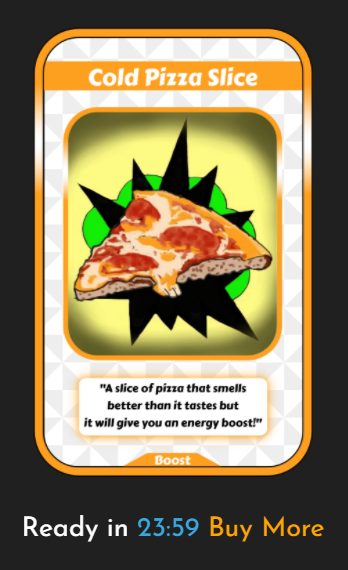 Rules for Cold Pizza Slice giveaway 👇😎👇
The participant must comment on this post the reason why he or she deserves to win the Cold Pizza Slice.
The participant must have played Rising Star once within the past 7 days. (As of this time of posting, there are 805 players who have played #RisingStar for the past 7 days based on the official ranking page).
The commenting period will run for at most 7 days, but I may award the Cold Pizza Slice immediately to a participant after 24 hours if I find a great comment.
I have personally read each comment and awarded a Cold Pizza Slice to the user with the best comment - nothing random. No upvote or reblog required! 😁
EDIT: I have decided that @minus-pi is the winner of the Cold Pizza Slice! 🎉 Nevertheless, since I originally wanted to select a winner whom I have little to no interaction with yet, I have also chosen another winner who received another Cold Pizza Slice, which is @yeckingo1! 😅
@minus-pi and @yeckingo1, please check your Card Collection for your new Cold Pizza slice! 🍕😁
---
🎵🎸🎹🍕🎤🎺🎶
---
---