Introducing Juicy M - Electro & Progressive House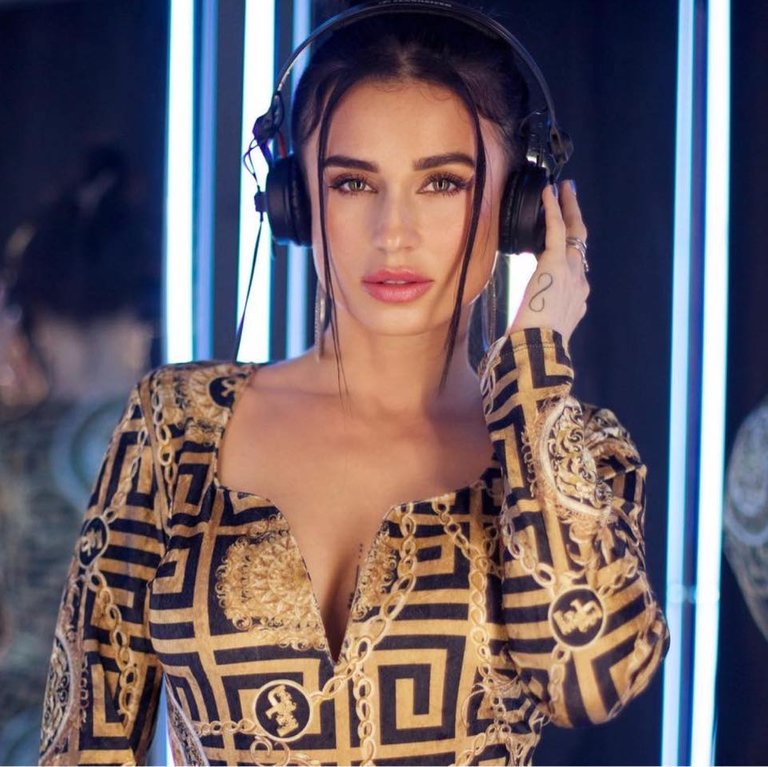 The temperatures are getting milder, the days longer and the sun unfolds its creative power - a little more every day. It's spring, people! So get outdoors and into the festival season! Juicy M gets us going here with her emotionally charged and supercharged mixes. What an energy the lady has!
Die Temperaturen werden milder, die Tage länger und die Sonne entfaltet jeden Tag etwas mehr ihre schöpferische Kraft. Es ist Frühling Leute! Also raus ins Freie und rein in die Festival Saison! Juicy M bringt uns hier mit ihren emotional aufgeladenen und aufgeladnen Mixen auf Touren. Was für eine Energie die Dame!
---
Marta Snitkina, professionally known as Juicy M, is an electronic music producer and DJ based in Barcelona. She is mostly known for her DJ skills presented in music mixing videos that went viral on YouTube and Facebook and collectively accumulated over 200 million views. This, in turn, brought Juicy M international fame, performances at the biggest festivals all around the world and made her one of the most influential female DJ.
She is best known for her videos on YouTube mixing with four CDJ players without using headphones. Juicy M placed among the Top 100 DJs on the Planet by The DJ List poll and Top Deejays global DJ database.
Juicy's early life was connected to music. At the age of five she went to dance courses, then piano class in music school and also worked as a news host on a music TV channel while studying journalism at university.
She began her DJ career in 2007 as a resident DJ in fashionable nightclubs like Orangerea Supper Club, Patipa, and Matrix in Ukraine. Having participated in the DMC World Eliminations in Ukraine and World Technical DJ Championship in Dubai, she was named "Best Female DJ of the Year" at the 2010 ProDJ Awards in Ukraine. In 2011–2012, she had her first international gigs in Europe and Asia as a hip hop and R&B DJ. She opened for Black Eyed Peas, Backstreet Boys, Afrojack, Jay Sean, Skrillex, and others.
She gained huge popularity after posting her first mixing video with four CDJs on her YouTube page, which gained over 7 million views and after releasing her first bootleg remix on Watch Out for This (Bumaye) by Major Lazer, supported by numerous DJs like Calvin Harris, Laidback Luke, Bob Sinclar and others in April 2013. In June 2013, she started a weekly podcast called "JuicyLand", which is broadcast in 11 countries. In September 2013, Juicy M hit Billboard's Next Big Sound chart. In 2014, she founded her own label, JUMMP Records and released her first single titled "Samurai" together with German producer Ton!
src: youtube & insomniac.com (shortened)
Marta Snitkina, besser bekannt als Juicy M, ist eine in Barcelona ansässige Produzentin elektronischer Musik und DJane. Sie ist vor allem für ihre DJ-Künste bekannt, die sie in Musik-Mix-Videos präsentiert. Diese gingen auf YouTube und Facebook viral und habem insgesamt über 200 Millionen Aufrufe erreicht. Das brachte Juicy M internationalen Ruhm, Auftritte bei den größten Festivals auf der ganzen Welt und machte sie zu einer der einflussreichsten weiblichen DJs.
Am bekanntesten ist sie für ihre Videos auf YouTube, in denen sie mit vier CDJ-Playern gleichzeitig auflegt ohne Kopfhörer zu benutzen. Juicy M wurde von The DJ List und der globalen DJ-Datenbank Top Deejays unter die 100 besten DJs der Welt gewählt.
Juicys frühes Leben war bereits mit Musik verbunden. Im Alter von fünf Jahren besuchte sie Tanzkurse, nahm Klavierunterricht in der Musikschule und arbeitete während ihres Journalismusstudiums an der Universität als Nachrichtenmoderatorin bei einem Musikfernsehsender.
Ihre DJ-Karriere begann sie 2007 als Resident-DJ in angesagten Nachtclubs wie Orangerea Supper Club, Patipa und Matrix in der Ukraine. Sie nahm an den DMC World Eliminations in der Ukraine und an der World Technical DJ Championship in Dubai teil und wurde bei den ProDJ Awards 2010 in der Ukraine zur "Best Female DJ of the Year" gekürt. In den Jahren 2011-2012 hatte sie ihre ersten internationalen Auftritte in Europa und Asien als Hip-Hop- und R&B-DJ. Sie legte als Opener auf für die Black Eyed Peas, Backstreet Boys, Afrojack, Jay Sean, Skrillex und andere.
Große Popularität erlangte sie, nachdem sie ihr erstes Mix-Video mit vier CDJs auf ihrer YouTube-Seite veröffentlichte, das über 7 Millionen Mal aufgerufen wurde sowie nachdem sie im April 2013 ihren ersten Bootleg-Remix von Watch Out for This (Bumaye) von Major Lazer veröffentlichte, der von zahlreichen DJs wie Calvin Harris, Laidback Luke, Bob Sinclar und anderen unterstützt wurde. Im Juni 2013 startete sie einen wöchentlichen Podcast namens "JuicyLand", der in 11 Ländern ausgestrahlt wird. Im September 2013 schaffte es Juicy M in die Billboard's Next Big Sound Charts. Im Jahr 2014 gründete sie ihr eigenes Label JUMMP Records und veröffentlichte ihre erste Single "Samurai" zusammen mit dem deutschen Produzenten Ton!
Quelle: youtube & insomniac.com (gekürzt)
---
Wohaa, from 0 to maximum festival mood in 3 seconds! With this high energy mix you just want to go and out to the next big outdoor event to surrender to the beats that capture the whole body and enjoy this special atmosphere with all senses.
Wohaa, von 0 auf maximale Festivallaune in 3 Sekunden! Mit diesem high Energy Mix will man einfach nur noch abgehen und raus auf die nächste Großveranstaltung im Freien um sich den Beats, die den ganzen Körper erfassen, hinzugeben und diese spezielle Atmosphäre mit allen sinnen zu genießen.
---
Juicy M - Vevo Takeover Mix
Tracklist:
KREAM - Take Control (Extended Mix)
Siedah Garrett - Do You Want It Right Now (BluePrint Remix)
Martin Ikin, Biscits - Ready 2 Dance
Aazar, Badjokes - Run For Cover
Anti Up - Sensational
Bleu Clair - The Tempo
Felix Cartal, Kiiara - Happy Hour
Chico Rose - Don't Turn Your Back
Petit Biscuit, Diplo - Pick Your Battles (Malaa Remix)
Bodyrox, Wh0 - Yeah Yeah (Wh0's Thumping Remix)
---
The second mix gives an overall view of the last years with some of the biggest floorfiller tracks from Juicy M. These tracks are guaranteed to bring back some festival memories for one or the other!
Im zweiten Mix gibt einen Gesamteinblick über die letzten Jahre mit einigen der größten floorfiller Tracks von Juicy M. Bei diesen Tracks kommen bei dem einen oder anderen garantiert so einige Festival Erinnerung auf!
---
DECADE MIX (4 CDJs compilation)
---
---