Thanks to @summertooth, I am getting into DCity!! Way more fun than I thought!!
@summertooth is amazing... And I am fully addicted already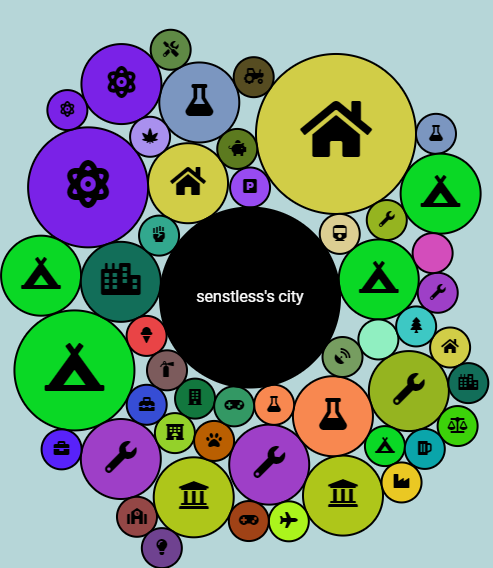 @Summertooth has been telling me for way too long I would like Dcity.... but I tried to resist. I tried to say it was too complicated and would take too much time.... too expensive to get started... blah blah blah.
Back on August 19th, he decided to just bully me into the game by dropping me a fully functioning city to use however I wanted. Here is a snapshot of what he sent me... pretty baller!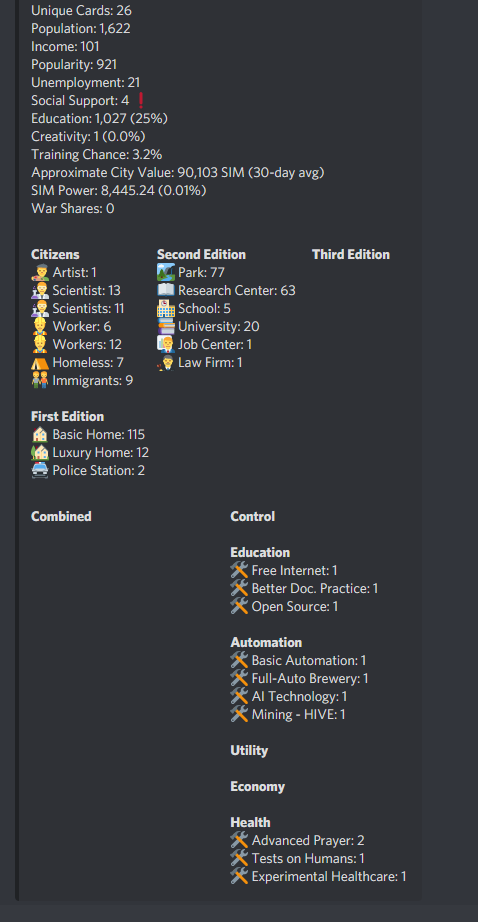 No Idea what I got
Honestly, when he sent it to me, I didn't know how good it was. I made about 100 SIM a day and was already well balanced. I didn't do too much in the first few days, it took a long time just to understand all the levers and impacts. I made plenty of mistakes, and bought the wrong cards, and did the wrong things, but @summertooth has helped me out a bunch.
Yes I know there are really good resources on the website, but sometimes I got so lost, it was hard to even know where to read. After enough IM's I think I have a basic understanding, and now when I read the sections online it all ties together.
Lessons Learned
Taxes suck - but I do understand the need to help over inflation of SIM. It is really hard to think your card purchase will increase income by 10, but only see 1 or 2.
Playing the game for me is actually spent searching the market and potential cards to get the best bang for the buck for what you are looking to fix while keep it balanced
Stacking SIM is impossible. I am trying to stack up some SIM to hold long term on Hive-Engine, but its impossible. I buy 30k SIM to build my stack... I spend 28k on cards....
Alt accounts are great, even if to just dump unwanted cards - criminals - barracks or whatever I don't want impacting my city until a later date.
Current City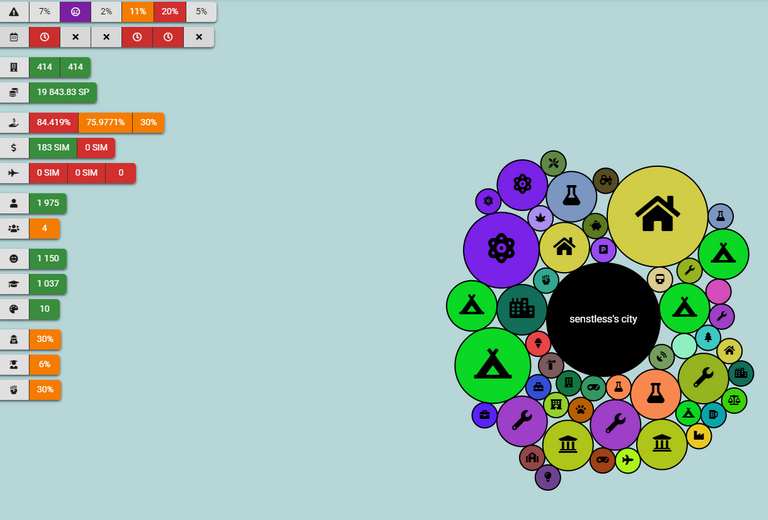 My income had doubled, but not today - something happened and dropped me from over 200. Basic income is now 706, and that is how I tend to track it since the day to day moves so much.
With my education level at the right place I have been finding a few technologies
I can't wait for my SIM power to catch up, I am holding 118k on HE... but I know it takes time.
I think I am doing well otherwise, but have a few holes where I could make it better. There are still a lot of things to learn and to try out to optimize - I have really enjoying the pace and the game so far... to bad it took me this long to get in.
~~ @senstless
---
---