Bought two R173 Vuvuzela cards. (Day 243: I am playing the Rising Star game)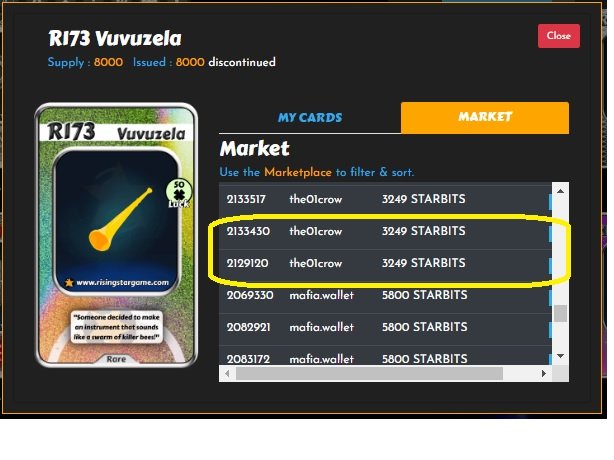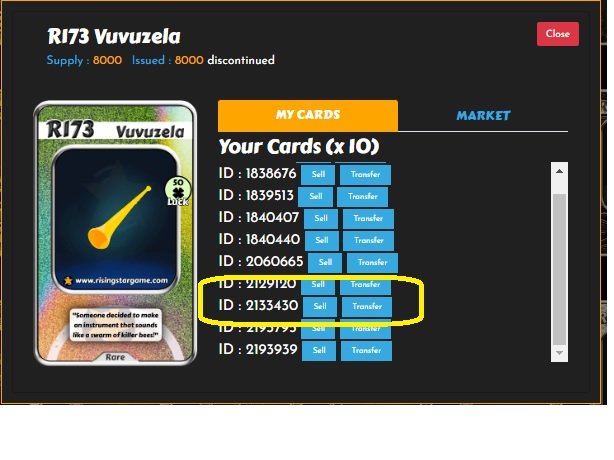 Hello everyone. I have been playing Rising Star Games for 243 days. After 243 days of play, we have reached Level 151.
I was able to complete many missions for today.
Tomorrow I will be able to reach level 152.
I'm trying to reach level 175.
Today I bought two cards from the market.
R173 Vuvuzela card.
It has Luck 50 and is a beautiful card.
Paid 3249 Starbits per R173 Vuvuzela card.
I think this price is cost effective.
One of the best offers in the market.
I am buying and collecting cards every day.
Look for cheap cards and buy them.
Now I have a total luck of 10178.
You can see my progress followers.
Level 151
Total Missions 9421
cards 1102
Fans 60155
Luck 10178
Skill 116166
Im 1108
Ranking: 319
Today is a little better than yesterday. Here are the results of my Rising Star game: I will discuss some improvements in the coming days. Thanks for reading. have a good day
---
---