RE: Let the morning bring me word of your unfailing love.
You are viewing a single comment's thread: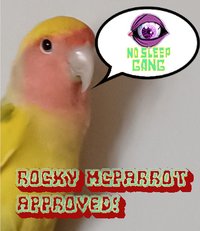 Rocky McParrot Selfie, Picture taken by @sgt-dan with his cell phone. NoSleepGang Logo created by @mhowii. Used by permission
Very inspirational. I am currently sharing this with our NoSleepGang family. It is wonderful that you have started this series of uplifting articles. See you in the streams my friend.
Tara Na!
---
---