2022 Week 3 - OneUp Summary ( X / 150,000oneup)
January 15th-21st
Well another week has gone and some crazy things have happened along the way. Below is the amount I had last week which was at 57,212

and this image below is the new amount I gained this week which is 59,105 or a gain of 1,893 oneup for the week and that's because I used one entire day's earnings to buy some starbits I needed so I lost about 310 oneup doing that.


Total OneUp gained from start of year.
January 1st-7th 56,116
January 8th-14th 57,212
January 15th-21st 59,105
So I ended up buying 10 packs of Chaos Legion cards off the Hive Engine Market at $2.90 each or about 25% off and I pulled a legendary gold foil 0 mana cost card sold it for $135 and a gold foil death summoner sold it for $31 then I immediately put my money back into the Leo:OneUp liquidit pool which now looks like this.

so over all not too bad I was making 70 oneup per day now it's gone upto 85 which is wonderful.
So far I'm at 59,105 / 150,000 goal of oneup for this year. I know as time goes by I will be able to invest more money into the pool and hopefully hopefully end my 90s day at exactly 100,000 oneup but who knows anything can happen in the next three months.
The following is what my daily curation looks like in case anyone was wondering. This is with 11 votes per day.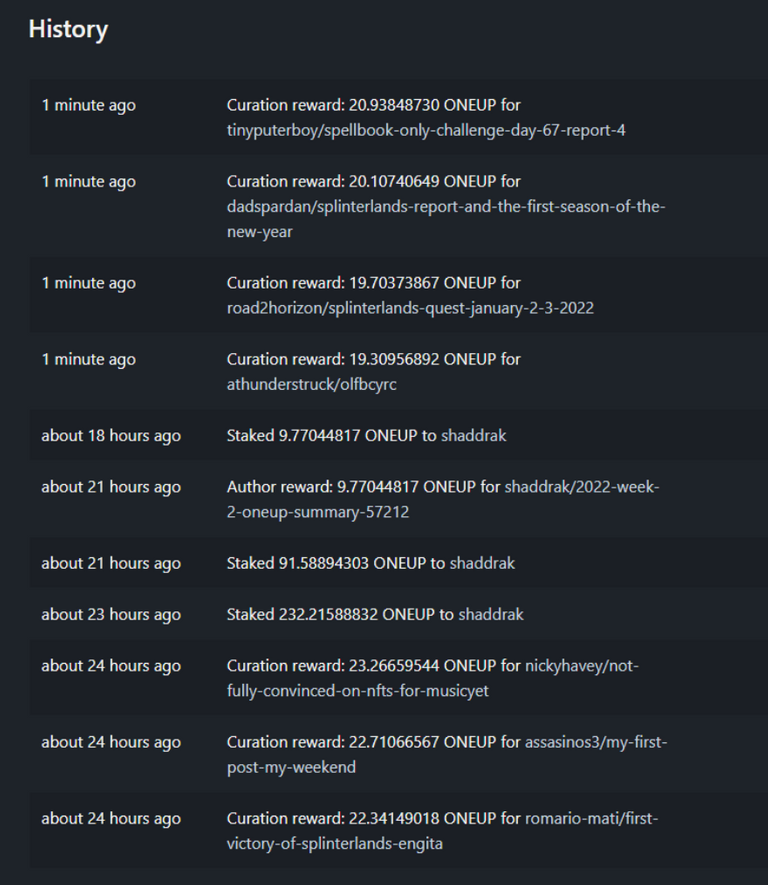 I was also very blessed because I was able to buy enough starbits to hit my 1 million goal with the rest of the money I made from those gold foil sells.
---
---