How Do You Manage Information?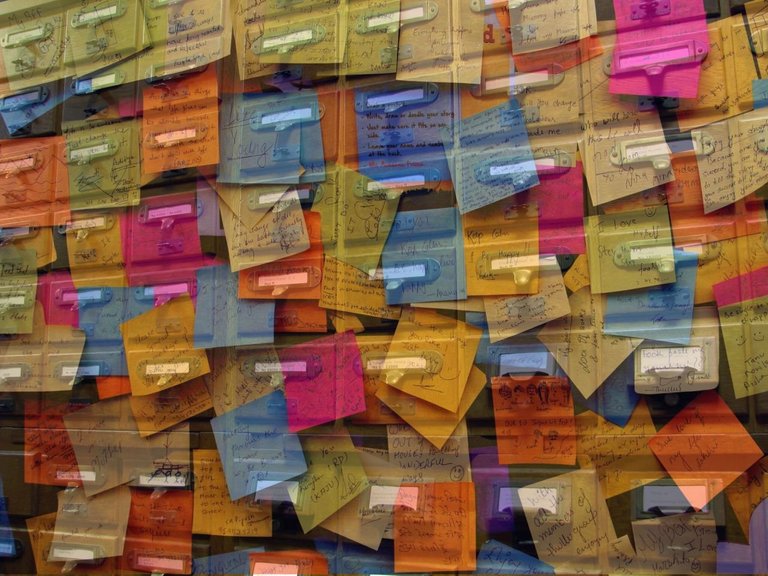 In April I wrote a post about the Zettlekasten or slip-box system most people would associate with the work of Nicklas Luhmann. He wasn't the first to use the slip-box system, his prolific writings from the contents of his caught people's attention.
The search for an effective note-taking system has created a market for PKM (Personal Knowledge Management) courses, books and articles. The challenge for most people is finding a system that works for them.
Some try to copy Luhmann's. I heard a person on a Twitter space today talking about his system and that it takes hard work and discipline to create and use his system. I'm pretty sure that the gentleman hasn't read Sonke Ahren's book, "How to Take Smart Notes".
Approaching A Note-Taking Structure
Ahren talks about Luhmann's method and how to use it. He also discusses how a note-taking system has not be so complicated that you get bogged down in creating and using it instead of it working for you.
In the past, systems I tried to create for myself often became bogged down in structure that only worked for one type of note source. Once I started using Obsidian, I started to see that I could create templates for multiple styles of notes. They can all interconnect easily.
As I explored further into Ahren's book, I've started to see that it's okay if at times some of my notes seem to chaotic in how they are stored. It's not as much the storing as being able to retrieve them.
Luhmann's system used a numbering system to store notes. He clearly understood the system since he designed it. My goal is to use a system I understand and can make work for me. While Luhmann's numbering and reference system worked for him, I take a different approach.
When I first started using Obsidian I setup vaults (like master folders) for the major subjects I would be taking notes on. It didn't take me long to realize, I was creating barriers both for future growth and exchanging information across topics.
I created one vault where all my notes will go.
Within the vault I use folders and subfolders to loosely organize my notes. It's in adding hashtags to my notes that allows me to pull up related notes and find connections.
With the help of a plugin, I can look at a list of every hashtag I've created to avoid creating new similar ones. The list helps me to keep focused on how I use them.
Purpose of Taking Notes
I take notes in order to be able to avoid doing similar research more than once.
I also take them to be able to have a record of ideas that resonate with me, even if it's something I'm not going to write about right then.
My notes on books and articles always provide me with a reference point so I can return to the original. I don't write notes to capture every detail, being able to go back later allows me to revisit details I didn't find relevant at the time.
As I build my notes up, I start to be able to see links between ideas.
Using a program like Obsidian lets me easily make those links. Later I may discover by looking at a map of the various links I've made, relationships between ideas I've not thought about before.
Deciding What Gets My Note-Taking Attention
I get several newsletters over the course of a week. I read a lot of articles I've discovered in my feeds. I also read books. Occasionally I 'll listen to podcasts and/or videos. I'm best at taking notes from written material so that is my preference.
A lot of information can be found in social audio, so that isn't something I should ignore.
When I'm dealing with the newsletters, I have a system.
open the newsletter, scan through it to see if anything in that edition catches my attention
if I can open what catches my attention in my browser, I do. If not, I start to read it then.
Once I've cleared the newsletters out of my inbox I then start reviewing the tabs.
I'll start reading the article or listening to the audio. If my attention isn't caught pretty soon, I close it and move on.
Once my attention is caught I'll settle into consuming the content.
The minute I hit something I want to take a note on I open a note in Obsidian. I leave the note open to add additional items and then the reference link when I finish.
I'll come back to the notes in a day or so to review them and look at them in more depth.
Some will be retained and I'll add some thoughts to them in individual notes and add them to my permanent note file. That doesn't mean the note will never be changed. It just means I've processed it and decided to hold onto it.
Final Thoughts
Right now, my note taking library is small by most standards but I now have a system that I can use to help it grow. Over time I'll be able to start going to my own library first when I want to write on a subject and then do research to fill in the gaps.
I would have loved to have been doing this 20 or 30 years ago but now is better than not at all.
---
---