Let's Look at the Hive Ecosystem
Crypto and Blockchain Empowering Users and Developers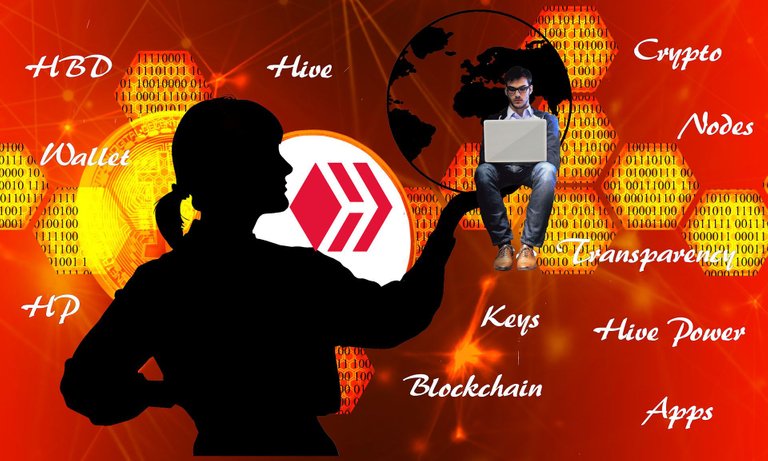 NOTE: This post was written for crypto curious people on Medium. It's the second in what is becoming a series. I'm posting it here for the benefit of new people who might find it helpful.
During the 20th century business models that scaled their structure successfully grew and flourished. This is not the case in the 21st century. In this century building scalable digital ecosystems is what is driving success. Companies like Google, Amazon and Apple have all successfully built digital ecosystems on their platforms.
Being An Entrepreneur on Amazon
Amazon has enabled millions of entrepreneurial people and organizations to build their own businesses over the last twenty years. They provide an ecosystem that makes it possible for the smallest of businesses to bring their product to a global market and deliver the goods. BUT, Amazon always has the upper hand. They always have control because it's their ecosystem and they are inviting those entrepreneurs in to add to their bottom line.
I publish my books on Amazon. I'm well aware that for every dollar I make, Amazon is also profiting. That's business. It's not without value return for me. The printing costs of the paperbacks are cheaper than I could get from any other supplier. I don't have to take the time and cost of shipping product. If my customer is a member of Amazon Prime the books are shipped at no charge. Amazon's algorithms do some of the marketing for me even without me paying for their advertising service.
BUT, that upper hand is always there. I must follow their rules and they have the right to shut me down completely if they believe I've broken the rules.
The Hive Blockchain
Recently I wrote about the last five years since I discovered the world of crypto and writing to earn it.
I also wrote about the value of taking the time for the learning curve in crypto.
As I prepared those posts, I realized there is much more I want to share about Hive but it would take more than one post. This is the next post.
How Hive Came Into Existence
Hive hardforked (split away) from Steem. Let's have a look there for the origins. I joined Steem a few months after it produced its first block in 2016 and about a month after it started paying rewards to content creators. The concept of content creators being able to earn crypto for producing content was so new, many called Steem a scam. They didn't believe the model was at all sustainable.
Steem wasn't intending to be just a place for content creators. The main development firm, Steemit Inc., was foreseeing a digital ecosystem developing. Unfortunately, their founders lacked the focus and commitment to enable their developers to rapidly bring the ecosystem infrastructure to the chain.
The sale of Steemit Inc to Justin Sun of Tron in 2020 led to the formation of the group that hardforked the chain and formed Hive. What they left behind was an ecosystem more centralized than decentralized.
Those who moved with Hive wanted to see a decentralized ecosystem with an infrastructure allowing anyone with the ability to do so, to contribute parts of the ecosystem.
The Hive Ecosystem
Five years is very early days in building an digital ecosystem. Many refinements to improve the user experience have been developed but many more are being worked on to create a user experience even people who have never encountered crypto can comfortably navigate.
The Social Apps
The blogging platform that Steem started with and was usually the first contact for many new people is just the tip of the iceberg. Even the blogging experience has changed in the first five years. Initially, there were expectations by the community that blog posts would be long. Short form content was actively discouraged. Using images and video was not always a good experience. Finding content of like minded writers was difficult.
Communities
Five years on, Hive has communities. Places where posts can be focused on topics and relevant discussions can take place. Anyone can create a community, their own rules and moderators to police the community. There is a broad range of communities available on just about any topic you can think of. If one isn't available, then create your own.
General Frontends
When I started there was one choice for posting content from. Entrepreneurs on the chain saw the demand for different ways of delivering content and started building apps designed to let people find their comfort zones.
Hive.blog and Peakd.com are two of the most commonly used frontends for bloggers. They are designed primarily for computer. Ecency can be used on the computer or you can download their app (Android or IOS) for mobile.
Connect Blogs to the Blockchain
If you have your own Wordpress blog and would like to expand to an audience on the blockchain, the Exxp plugin will enable you doing so automatically. It also enables adding the comments from the blockchain on your WP blog. This enables those taking part to earn Hive tokens from your blog.
Or you can build your own blog right on the blockchain at dBlog. Use your own domain, no hosting fees involved. They currently have three templates available. There is no charge to setup your blog, as you earn rewards they take a percentage as their income. This is a common business model across the blockchain.
Manage Comments Across the Chain
Speaking of comments, if you've been actively reading and commenting on Hive you can find catching up to replies a bit time consuming. Log into Engage to manage your comment replies. It will pick up where you've been mentioned, comments in your feed and on your posts and those coming from communities you take part in. All in one place.
Earn Multiple Tokens at the Same Time
The development of the Hive Engine and Tribes opened up a whole new way of taking part in more specialized content creation and earning multiple tokens at the same time you're earning Hive. Usually you can trigger earning the tokens by the use of tags on your posts.
I think I'm going to explore the Tribes in another post. Stay tuned, to find some really neat projects. Meanwhile, let's explore the variety of experiences you can find on the Hive ecosystem.
Do you prefer to create videos rather than text? There's 3Speak and D.Tube to post them on. You can livestream your content on 3Speak and VIMM
Do you prefer sending out short, Twitter like content? Use D.buzz and earn Hive.
Are you a traveller? TravelFeed offers you a place for your travel blogs. If you want to blog directly from your mobile as you travel, use the Truvvl app to post to Travelfeed, your own blog or to Hive. Your choice.
NFT Showroom
Hive offers an NFT Showroom built directly on the chain. While it currently is mostly digital art, you can also create NFTs for any digital product.
Games
An overview of the Hive ecosystem would not be complete without a look at the games available. Tokens earned in the games can be traded on the Hive Engine.
Splinterlands
Splinterlands is the most popular app on the blockchain, surpassing the blogging frontends. It's a collectible card game run on multiple seasons. Each season has a new release of cards.
Most gamers need to do livestreams of them playing games and build a responsive audience of followers to earn as gamers. With Splinterlands, you earn within the game. Any player earns. I'm not a gamer but I did buy some cards in the early days. I've made some profit selling those cards and still have some I've not checked in on for a while.
There is a mobile app available to play it on. A marketplace to trade, sell and lease cards. Guilds to join. Tournaments to play in. There is cross-compatibility with Ethereum, Tron and WAX. You can earn crypto and digital assets as part of building your portfolio.
Poker
Before Splinterlands there was Lucksacks Poker Leagues. Since 2020 it's been exclusively on the Hive chain. You play for free against other players in games like Hold-em, Omaha, Stud and Razz. You can drop by and play a few games or you can be part of playing in leagues. Want to create your own league or tournament, you can do that too. For a price.
Rabona
You a soccer fan? Build and manage your own soccer club and the stadium they play in in the Rabona game.
CryptoBrewmaster
Are you into brewing beer? Play the CryptoBrewmaster game. Complete quests and tasks to earn free ingredients for your own brew. Then trade your brew to earn the game money.
Final Thoughts
I've touched the surface of the Hive ecosystem here. I'm going to use separate posts to look at the Tribes and their role in the ecosystem and another for an overview of the projects. Many of the projects are tools that enrich the user experience.
If this has developed over five years, imagine what can come in the next five.
This has been built not because some corporate entity is allowing it. It has been built because individuals have invested their time, talents, energy and funds into building on the Hive blockchain. They see the value, the potential and have invested their commitment.

Shadowspub is a writer from Ontario, Canada. She writes on a variety of subjects as she pursues her passion for learning. She also writes on other platforms and enjoys creating books you use like journals, notebooks, coloring books etc.

She created Prompt A Day to share with others. You can subscribe to Prompt A Day to get started. You'll receive a new set Mondays and Thursdays.
---
---