The World Doesn't Deliver Your Expectations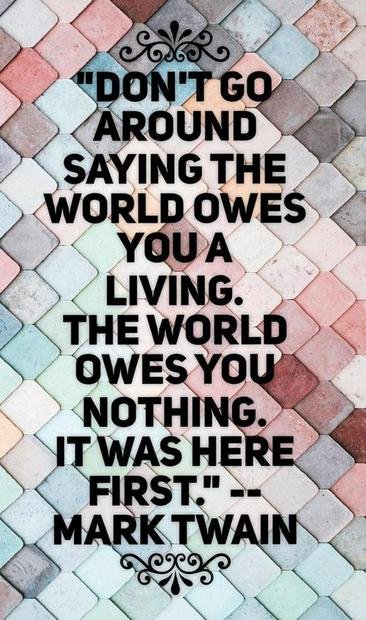 A lot of wisdom tends to be buried in humour and Mark Twain was a master at using it. I love the image of the world as the senior and us juniors needing to reign in our expectations of being owed a living.
We had a generation or two where the adults in kids lives couldn't stand to see their little darlings not get something for just showing up. Participation rewards they were often called. On the surface, that seemed like a good way to encourage kids to participate.
Unfortunately it also had the effect of building expectations in the child that all they had to do was show up and they would receive a benefit. It became a real shock for them when they arrived at the higher levels of education and then out into the work world.
They had to learn, life doesn't give to you just for showing up. You need to learn and put real effort into what you're doing to gain rewards. No one is going to give you a participation reward.
No one owes you a feel good.
I see so many with such a sense of entitlement. They feel they have been robbed or cheated of a good life when it's not handed to them. Everyone else is to blame for their failure to provide for themselves.
People who get that the world doesn't owe them put in the work and effort to learn and work toward what they want. If their efforts don't payoff, they study what they need to do to improve and go at it again.
When they do attain what they have been working toward, there is a well deserved sense of entitlement for a job well done. They take personal responsibility for working toward their success and accept their own role in any disappointments they have along the way.
People who don't put out the effort needed to attain what they want, but expect it anyways. They expect the world, and the people in it, to just give to them.
How often have you seen this on Hive? People posting how they have 'poured their heart and soul' into a post and didn't get the value they should have had.
Really?
Do they realize that value is in their mind?
It's not actually a quantifiable value they can claim loss on. It doesn't stop their sense of being entitled to rewards others didn't see fit to give. Or maybe the post wasn't seen because the creator didn't feel the need to get known to others and actually earn their support.
You can write the best content in the world on Hive but if you don't feel the need to visit others content, to read and leave meaningful comments, how are people going to find your content?
We see entitlement manifest itself in many ways.
I saw it in my young nephew who would explode in rage when he didn't get help. He hadn't asked for it, he just expected his need would be seen and filled. It took his mother repeatedly reminding him that those around him were not his servants, he needed to ask for help to receive it.
Don't get me wrong, the lad can be a very kind and thoughtful person. He just had the idea in his younger days that the world would automatically jump to his aid and give him what he wanted.
Younger generations didn't just fall out of the womb with their sense of entitlement. We gave it to them. We apparently remembered our own sense of hurt and disappointment when our expectations weren't met when we were young. We rushed to 'protect' our children from those feelings. We avoided the pain of watching a child be disappointed in life.
Changing it is not easy. It means parents grasping the idea that neither they, nor their children, are entitled to anything they don't work toward. It means the parents supporting their youngsters working toward what they want without jumping in and doing it for them.
It's painful watching a youngster fail. It can be rewarding to see them encouraged to rise up with the knowledge that failure is temporary if they try again and again to find the path to their goal.
There is nothing wrong with having expectations of what you want from the world. Just remember, it's your job to make it happen. Not the world's job to deliver it to you.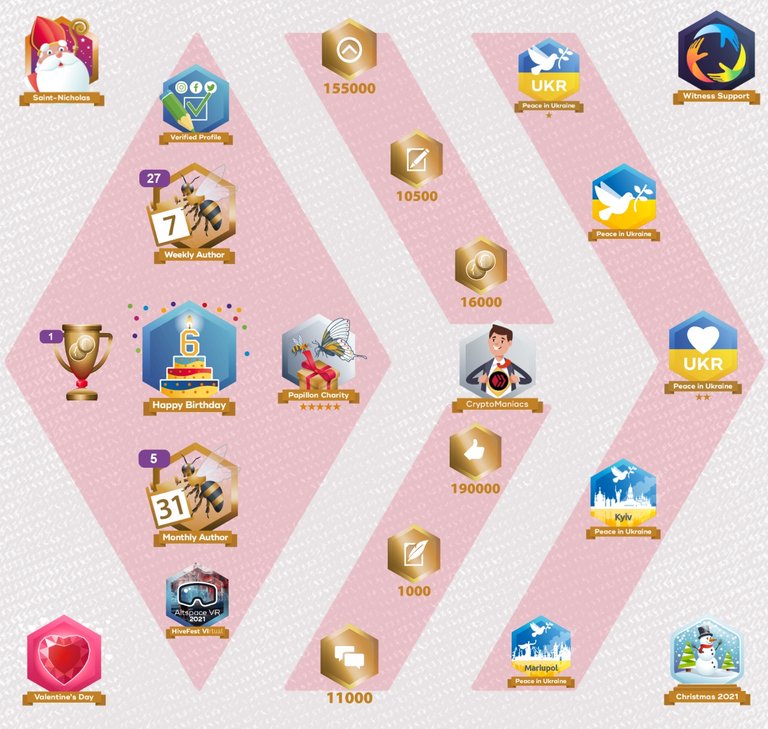 Shadowspub is a writer from Ontario, Canada. She writes on a variety of subjects as she pursues her passion for learning. She also writes on other platforms and enjoys creating books you use like journals, notebooks, coloring books etc.

Would you like to receive writing prompts regularly?
You can subscribe to Prompt A Day to get started.
Share your posts
---
---