We'll Be Celebrating Hive's Birthday on #HIVESPACE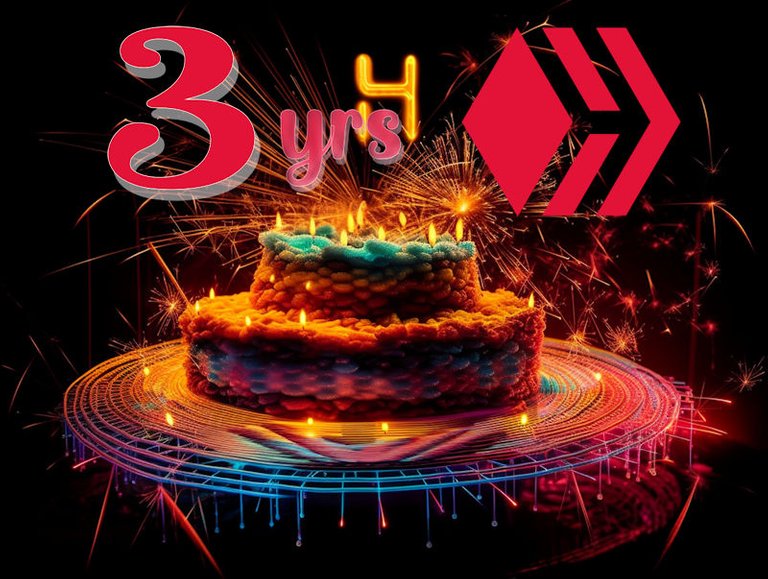 Almost a year ago @alessandrawhite recruited @epodcaster and I to cohost a TwitterSpace about Web3 and in particular talking about Hive.
#HIVESPACE is usually on Tuesday evenings but to celebrate the 3rd birthday of the launch of our beloved HIVE, we're moving the show to Monday, March 20th at 7pm EST. Come on by and share with us what HIVE is and has been to you.
UPDATE: Here is the link to the Space
You have to use your mobile or an Android tablet to take part. Click the link now and set a reminder so you'll get a reminder when it starts on Twitter.
I'm taking this opportunity now to talk about HIVE but I'll be in the Twitter Space tomorrow evening talking as well.
Started on the Legacy Chain
I started on the legacy chain about a month after it started paying out rewards. Took me a while to catch on to what I'd found but once I did I was hooked. Even with the issue about ninjamine. I was around and active all the way through the controversy which led up to the birth of HIVE and have been here ever since.
I almost stayed on both chains until the day I learned about the accounts stolen over there. People who had put so much into both chains had their funds frozen and eventually taken competely. There was no way in hell I'd stay on a chain that did that.
HIVE resolved the problem with the ninjamine by putting it to work to support community supported projects. Giving the community say in what gets funded and supported on the chain by us exercising out staked weighted vote. After watching years of wilynily delegating of the stake based more on who could curry favour than merit, it's awesome seeing the use that source of controversy has been put to use on.
The Core Values of HIVE
To me, the core of HIVE is the lack of algorithms and the community. I know, many will say the core values are censorship resistance and owning my content. Those are true, but any blockchain can claim those values. They can even claim the lack of algorithms, but to me, none can claim a community like HIVE has.
The only factors that decides who I find and interact with on this chain is how I decide to have a look around. I end up finding and connecting to people from all over the world because they can be found through their. There is no algorithm telling me that I should mostly connect with people from where I come from.
The result is, I've met some incredible people from many parts of the world. I've learned that while we may have differences in culture and attitudes, we're alike in a lot of ways. We worry about similar problems and we celebrate similar victories in our lives. We might do it differently but we're not so different at the core.
Community and Pimp Your Post Thursday
For over six years I've hosted Pimp Your Post Thursday, a live content curation show held every Thursday. It's currently hosted in the DreemPort discord server. The show attracts people from around the world. When participants can come onto voice, we get to hear the diversity of our ecosystem and the depth of content shared across the chain.
There are hundreds of formed Communities on Hive but we're not isolated inside of them. We get to jump from one to another sharing related posts and getting to know each other in so many ways. PYPT even invites and welcomes people from other content platforms to share their content. We get to meet great people and gently introduce them to Hive.
The Lack of Venture Capital
Recently, as the SVB meltdown was going on, Twitter friend from Australia who isn't on Hive but is curious about it asked me if the meltdown was going to impact Hive. I got the greatest feeling of pride when I answered him, "No, we're not into venture capital on Hive. It runs well without it."
There are some truly dedicated people who have put their heart, soul and resources into building and developing HIVE and the ecosystem. I'm naming some who come to mind, it's far from an exhaustive list but here goes:
@theycallmedan, @starkerz, @aggroed, @blocktrades, @arcange, @crimsonclad, @guiltyparties, @taskmaster4450, @good-karma, @chrisrice, @ausbitbank, @madhiyari, @jongolson, @acidyo, @asgarth, @brianoflondon, @mcfarhat, @themarkymark, @enginewitty, @neoxian
I'm sure there are many many more I've forgotten about or haven't met. My aplogies to those people. It's not that I don't value your work. It all matters.
Meeting Great People
Finally, what's great community without the people who are part of it. I've met people who have been around for a short period of time, those who stay around longer and those who have become valued friends. Once again I'm naming names, but will never remember them all.
@bluefinstudios, @dreemsteem, @snook, @alessandrawhite, @epodcaster, @pendris, @kenechukwu97, @thekittygirl, @jamerussell, @saffisara, @grindan, @pravesh0, @amirtheawesome1, @balikis95, @cescajove, @whatsup, @pennsif, @wrestlingdesires, @samsmith1971, @jfuji, @seki1, @zekepickleman, @abdul-qudus,
I'll apologize in advance for those I missed. It wasn't intentional.
So, everyone shout out HAPPY BIRTHDAY to each other for HIVE is everyone of us.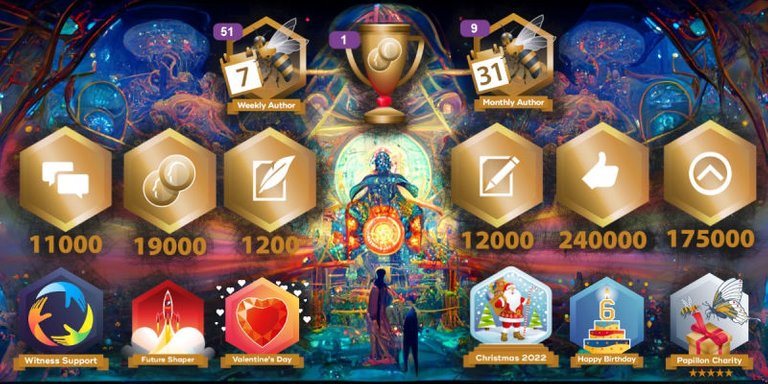 Shadowspub writes on a variety of subjects as she pursues her passion for learning. She also writes on other platforms and enjoys creating books you use like journals, notebooks, coloring books etc.
NOTE: unless otherwise stated, all images are the author's.

Some of the image work may have been done in Midjourney for which I hold a licence to use the imges commercially.


How to Connect With ShadowsPub:
Twitter: @shadowspub
Instagram: shadowspublishing
Medium: @shadowspublishing
Publishing Website: Shadows Publishing
Nicheless Website: Nicheless & Loving It
(Podcast & subscriptions for: Prompt A Day, PYPT Reminder & Newsletter)


Pimp Your Post Thursday (PYPT):
join us on the DreemPort Discord12pm EST Thursdays





Get eyes on your content and meet new friends. Join DreemPort.





---
---