Garden Journal | Friday 3 September 2021 - Late August/early September in all my gardens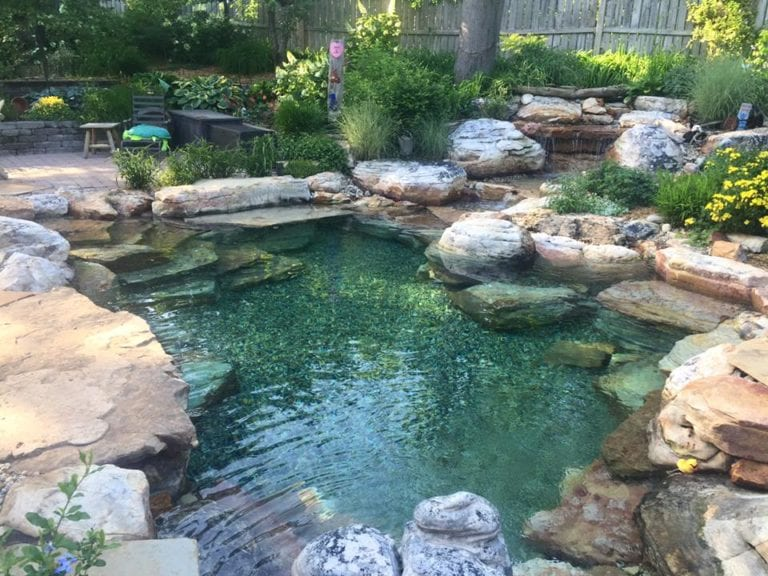 Source I've started researching ideas and plans for my wild paddling/plunge pool. I don't think this is a wild pool, it has an electrical water purifier system underwater, but I liked the visual look of it. I'm thinking about something with some edging that could be used as seating, so you could have several people dipping their toes in the water on a summer's evening. Plus a deeper section big enough for one or two people to immerse themselves.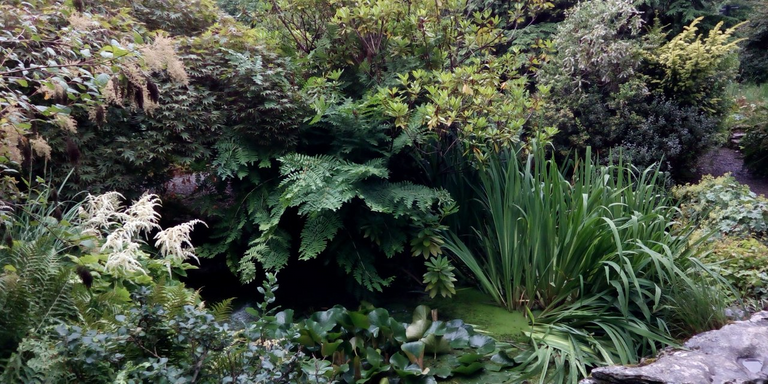 I also love the lush look of the foliage around this pool in the limestone garden in the Garden around the corner from me. I'm wondering how to provide some privacy and keep as much light as possible. Yesterday I was thinking about a sail to provide some screening from my neighbours' upstairs windows. I'd also like a plant barrier between me and traffic on the A6 trunk road.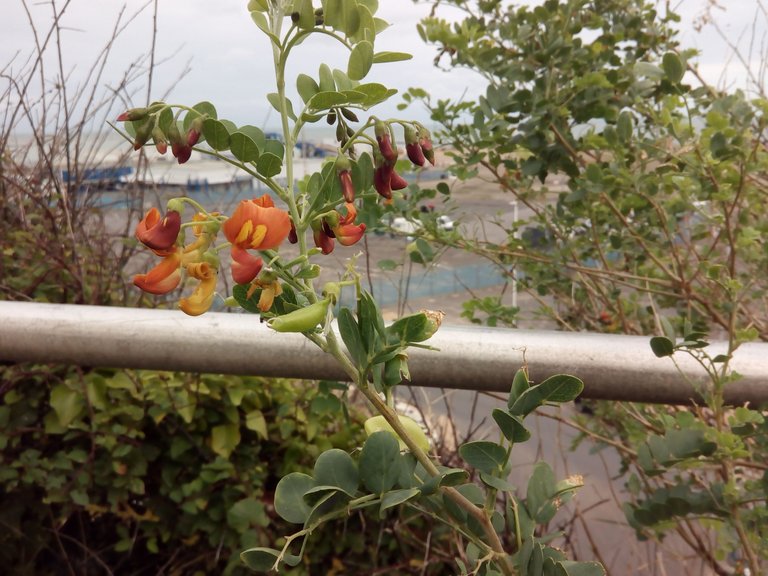 Wild Sweet Peas growing near the south-east coast, a beautiful colour, taken 29 August 2021.
The cool summer is cooling down even more as we head into Autumn, although we have been promised a little blast of summer after a soggy August, with temperatures rising to 29 degrees on Monday or Tuesday before lowering to 24 degrees by the weekend and some more heat later in the month. A little heat and sunshine will be good, maybe my abundant crops of tomatoes (the most I've ever had) will have a chance to ripen.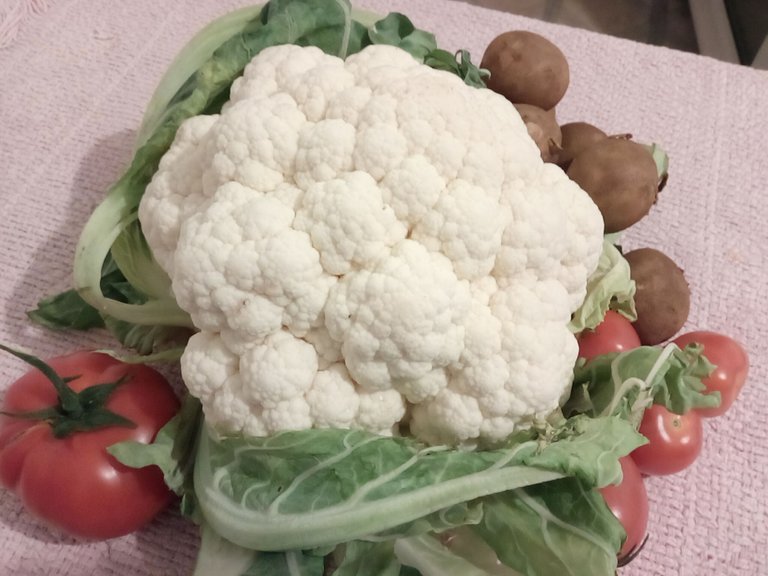 Look at the size of this cauliflower that arrived in my organic vegetable box this week! Grown in Lincolnshire, it weighed nearly 1.5k - and only £1.50! The tomatoes (some have ripened) and potatoes are from my garden - I had them with cauliflower cheese for my tea.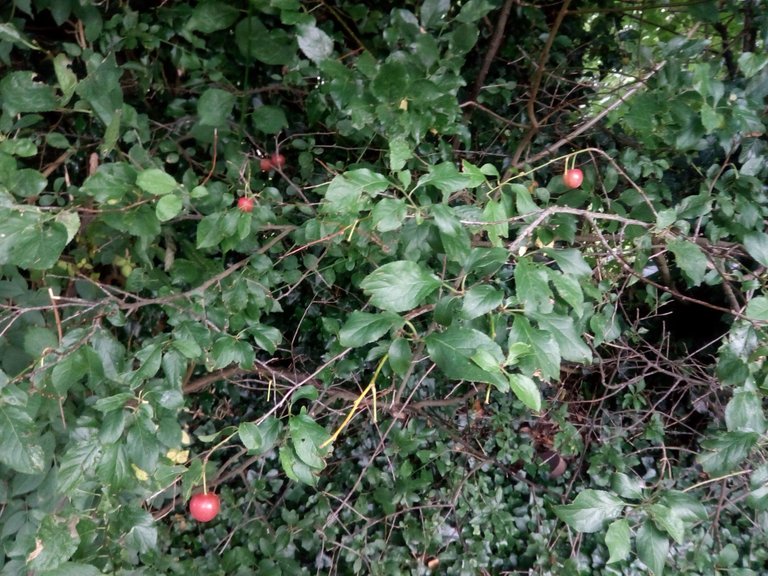 Here's what's left of the wild plums that grow in the border of the disused Sports ground at the back of where I live. The trees had been laden a week or so before. It looked like I was going to get slim pickings, but I managed to find enough for two jars of jam.
I also came across blackberries growing in the same border and with windfalls I collected from the Bramley apple tree in the Botanic garden, I made Apple and Blackberry jam to go with the wild plum and rhubarb and ginger jam I had made previously. All in all, enough jam for the winter from home-grown or foraged food plus three bags of sugar and some root ginger.
This is the first year I have got into jam-making - just small batches - but I adore bread and butter and jam for afternoon tea, more than cakes, so I am really pleased with my haul. I was grinning all over my chops when I was walking home with my foraged fruit. I've also been making bread with ancient grains - spelt (lovely), einkorn (nutty, more like a chewy scone than bread) and kamut. The spelt is best for sandwiches, but the einkorn slathered with butter and a dollop of blackberry and apple jam is heaven.
I found a couple of useful articles:
the science and magic of jam-making
how to make jam
There's a lot of rabbits down where the plums are. I have been wondering whether I would ever go rabbit shooting. I like rabbit pie.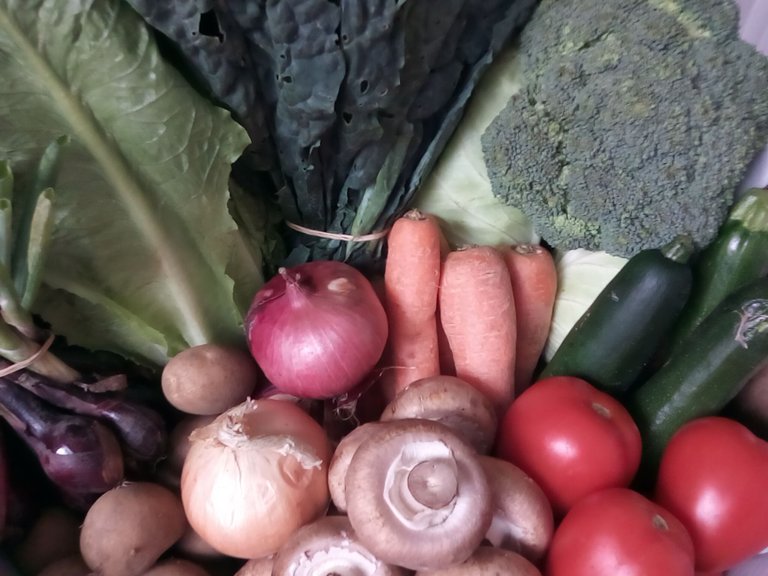 The organic vegetable box is changing from summer to autumn - Cavolo Nero kale has put in an appearance already. It has to be used quickly (also the broccoli) within a day or two of delivery while it is still at its best. This week I had it with lamb merguez sausages from Pick's organic farm, onions and potatoes from my garden.
Turning to Spring
I had a note from my milkman this week, telling me that he will deliver bulb fibre, multi-purpose compost and bark chippings which is great. It is time to start planting Spring bulbs for the balcony and outside the back door (others are naturalised in the garden) and I want to re-pot some plants that are looking like they need it.
I love deliveries - it's great opening the back gate and there's milk or vegetables or groceries or, now, compost, waiting for you. So much better than going to the shop and lugging great bags on and off trolleys, never mind the environment. It saves me money, too, because I only buy what I need, and all the deliveries are from small local businesses. Pick's Farm does deliveries, too.
There's also the cardoons to cut down. It was cloudy today so I didn't get a picture of them. They are magnificent architectural plants (you can also eat the stems but why would you) rising to seven or eight feet tall at the start of the summer, but by the time the flowers have arrived they are looking bedraggled and forlorn. The flowers are like very large thistle heads and bees and butterflies love them, so I keep them until the flowers are finished, but honestly, they are an embarrassment. I have to apologise to my neighbours for them, gaunt and skinny, and trailing yellowing leaves everywhere. I think this their last year. That is the very spot for a greenhouse.
Garden Journal is hosted each month by @riverflows in the Hive Garden Community.
Here's the latest post, entries are welcome until Tuesday 7 September 2021.
I'm tagging @raj808 (the famous tomato man) and @neumannsalva (who steals strawberries from the mouths of slugs) who may enjoy gardenjournal 😍


Saturday Savers Club
I run a savings club every Saturday over on the @eddie-earner account. We're aiming to save £670 ($800) by the end of the year using the 365 day savings challenge. You can join any time of the year and set your own goals and plans (some people are saving Hive, others Bitcoin, some their local currency). We share savings tips and there's a free giveaway every week.
Wednesday Wellbeing Club
I'm hosting a Wellbeing Club on Wednesdays from 11 August until 24 November 2021 in the Natural Medicine community. It's for anyone who wants to make a lifestyle change. We have a weekly check-in and share wellbeing tips, and a weekly giveaway. Here's the back story and the launch post with more information. Everyone is welcome.
First Monday - NeedleWorkMonday Community
Starting Monday 6 September 2021 at 7pm (UTC+1 for September) for an hour, I will be hosting a sit and chat and make session in the #knitandnatter voice channel in the NeedleWorkMonday Discord, and the first Monday of each month after that. Bring your knitting, sewing, crochet (or nothing, that's okay, too), a nice cup of something, and join us for a relaxing hour of chat.
Three things newbies should do in their first week and, for most things, forever afterwards!

---
---